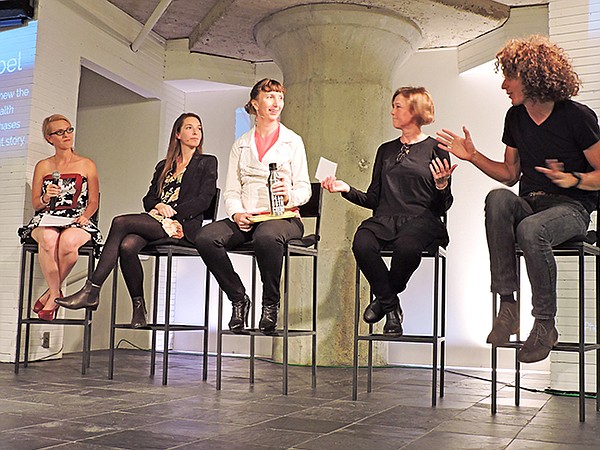 LA BEYOND THE LABEL
Sustainability in Fashion on the Agenda at TEDxLA Event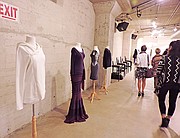 Members of the apparel industry and consumers with a passion for eco issues and sustainability met recently at The New Mart in Los Angeles for a TEDxLA event organized by LA Beyond the Label.
To encourage a discussion of sustainability within the fashion industry, the producers of LA Beyond the Label brought in filmmaker Andrew Morgan, whose documentary "The True Cost," released earlier this year, explored the fashion industry from all points along the supply chain, from field and factory to the final product on a fashion-week runway.
Morgan said he was inspired to create "The True Cost" after seeing a newspaper photo from the 2013 Rana Plaza garment-factory collapse in Bangladesh, which killed more than 1,100 people and injured more than 2,500.
"I had never really stopped to think about where my clothes had come from," he said. "Our world is made up and defined by the stories we tell. Stories, like people, can always change.
Morgan said the story his film told was "the story of fashion itself" and the connection between consumers and global consumption.
"It's not just about having better factory audits," he said. "What I'm interested in is a fundamental change within our world where clothing is not a disposable commodity."
Morgan was part of a panel discussion at the Nov. 9 LA Beyond the Label event, which is the first in a series leading up to next year's TEDxLA 2016 event.
The other panelists included Kathleen Talbot, who oversees sustainability and business operations for Reformation; Susanna Schick, founder of Sustainable Fashion LA, a sustainability consultancy; and Shona Quinn, sustainability leader at Eileen Fisher.
Citing the definition created in 1987 by the World Commission on Environment and Development, Quinn said sustainability is "development that meets the needs of the present without compromising the ability of future generations to meet their own needs."
Taryn Hipwell, who teaches "Sustainability and the Fashion Industry" at the Fashion Institute of Design & Merchandising, co-hosted LA Beyond the Label with Robin Shirley, the founder and president of Take Back Your Health International, and Milli Zivanovic, the president of Net Impact at Pepperdine University.
"There are so many different ways to do sustainable," said Hipwell, who moderated the panel discussion.
"As a brand we try to be as holistic as we can, and a focus for us is water," said Reformation's Talbot. "Fashion is the second-largest consumer of water."
Reformation looks at everything from the water needed to produce the fiber to the water required for the dye process to the water needed to care for the garment once it has been purchased by the end consumer.
Earlier this year, Reformation launched a lifecycle tool that measures water usage and CO2 impact in the company's garments, Talbot said.
"I think there's something beautiful in looking at the numbers in the aggregate," she said. "As of today, we've saved 200 million gallons of water and 2 million pounds of CO2 since April. You can tell customers we can make small incremental improvements and see that it measures up."
Reformation's RefScale measures factors such as garment weight, fiber content and care requirements.
"It gives us a rough estimate that we can use for education and awareness building," Talbot said. "Most people don't think about all the hidden waste."
Typically in business, the only measure of success is profit, but Morgan said that leads to further environmental exploitation and the likelihood that "vulnerable people will fall through the cracks."
Instead, he suggested we find a way to incentivize companies that are making good environmental and social decisions.
For Schick, who launched her consulting business in 2009 after working as a patternmaker in New York and Los Angeles, the pace of business has accelerated and the volume of production has exploded. "When I started, there were six deliveries a year, and now it's 12 deliveries a year and for some stores it's every day," she said.
For companies looking to produce more sustainably, Schick recommends choosing more-sustainable fabrics and producing closer to the end consumer.
Materials sourcing is one of the biggest challenges at Reformation, according to Talbot, who said the company does not use synthetic fabrics, which means they cannot take advantage of textiles with performance characteristics or some printing means.
"There are so many hurdles," Eileen Fisher's Quinn said. "This world is definitely not for the faint of heart."
Quinn said a complex supply chain means "connecting all those dots" between suppliers is an ongoing challenge.
"You have three options as a company when you think about sustainability," she said. "You can raise prices. You can take a hit on your own profitability. Or you can be really good about creating efficiencies within your supply chain."