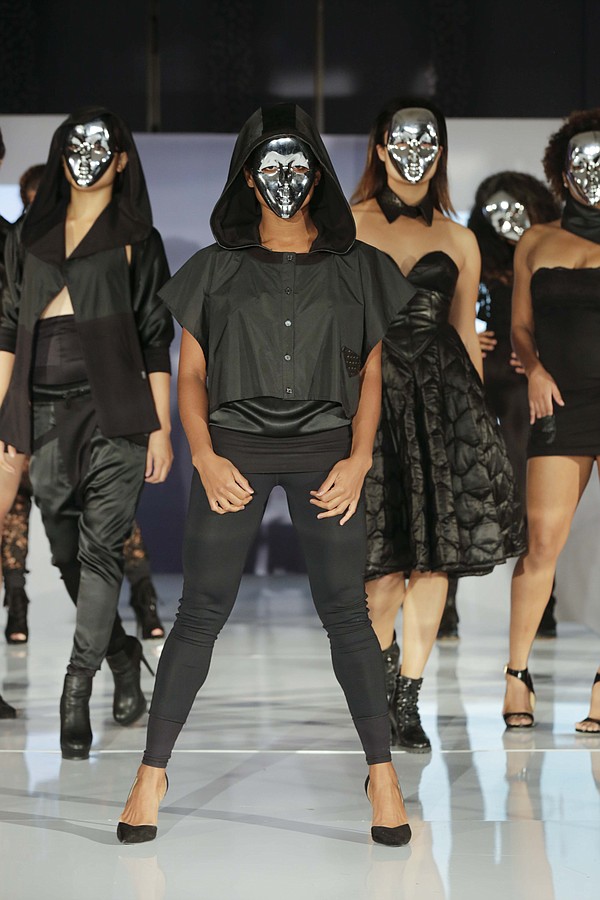 HOLIDAY & FANTASY
Holiday & Fantasy Looks with Fashion Speaks Show
After months of blazing temperatures, Southern California finally became chilly on Nov. 15. The cold was appropriate weather for Los Angeles–based label Want My Look's holiday styles, which were part of the debut of the Fashion Speaks event at the Le Meridien Delfina Hotel in Santa Monica, Calif.
Want My Look, which focuses on offering red-carpet styles for under $100, showed 20 of its looks at the show. Many of the Holiday looks were silhouettes from the label's Fall line—but they were dressed up in holiday colors and fabrics, including Christmas reds. Some of the jersey and the spandex fabrics of the Fall line were replaced with a festive lace, said Oscar Utierre, creative director of Want My Look.
The slate for the rest of the Fashion Speaks show focused on emerging designers, who were inspired by fantasy and whimsy. The event set the stage for a return for Los Angeles–based Merlin Castell. He had not produced a runway show for a year, but he created a 16-look show at Fashion Speaks. His collection was inspired, in part, by the Green Man, a mythical figure seen in many sculptures as a face surrounded by leaves. For the show, Castell made green masks to match the green silk dresses.
Cheryl Koo presented an 11-look runway show for her brand CM2K by Cheryl Koo. Instead of the typical show where models walk the runway, Koo's models showed her streetwear-inspired clothes with hip-hop dance routines. Her collection focused on clothes allowing an ease of movement. Leggings and harem pants were a major part of the line's looks.
Fashion Speaks gave time for a "special presentation" for the Andrew Christian label. It showed some of its men's fashion underwear, many with pastel colors and bearing playful words such as "Twerk" in the underwear's band.
Also taking the stage were the Dan Richters and the JNG Couture labels. One part of the Richters show was inspired by women's gowns with a strong edge. They were reminiscent of medieval armor. JNG showed a wide array of looks ranging from women's gowns to guys in distressed walking shorts. Rounding out the night was the Maor Luz label. After a show, which showcased lines with some fantasy looks, Maor Luz presented its version of atheisure and casual looks for men, which included plaids and gray sweats.
RELATED STORIES