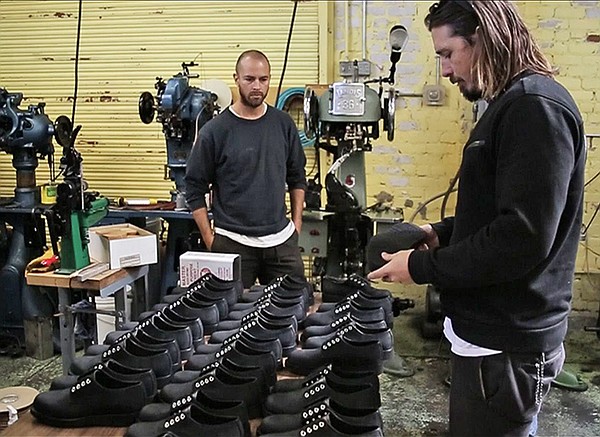 BROKEN HOMME
Broken Homme Aims To Crack Tough Made-in-L.A. Niche: Footwear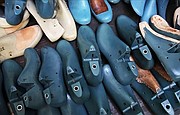 Southern California is a center for the design of casual footwear—think slip-ons and flip-flops—but Broken Homme, an emerging label headquartered in Long Beach, Calif., is waiting to see if the region is ready for manufacturing for a more complex footwear: work boots with a fashion edge.
The Broken Homme label is one of a handful of footwear manufacturers that designs and makes boots and men's dress shoes in Southern California. Broken Homme co-owner Jim Leatherman said he is looking to expand the wholesale business for the footwear brand in 2016, along with developing wholesale for a separate apparel business, called Port. The project might include opening branded boutiques.
But Broken Homme is pushing against conventional manufacturing wisdom. Most of the vast market for footwear—sneakers, boots, pumps, slippers and most everything else—is manufactured in Asia, said James Appleby, vice president of Etnies, a footwear label headquartered in Orange County.
"There are a handful of footwear companies that manufacture footwear in California, mostly traditional leather or women's shoes," he said. Michael Jonte, a cofounder with the Los Angeles–area Article Number label, said that there is an interest in manufacturing footwear in Southern California, but the large investment involved is considered prohibitive.
Big challenge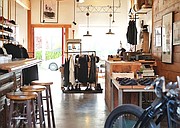 Leatherman spent a career in the marketing and design of fashion and footwear. He also served as brand manager for the Matix label in Torrance, Calif. He opened a boutique called Port in Long Beach as a side project in 2011. Call it good timing. Matix's former parent company, Podium Distribution, closed around 2012, and Leatherman found himself looking for a new gig.
A few months later, Leatherman's Broken Homme business partner, Joshua Johnson, left his job at the Ezekiel brand. Both men are avid bikers. Both had ideas about designing motorcycle boots. They were also intrigued by the challenge of manufacturing footwear locally.
"It's more difficult to get involved with; it's more technical and more costly," Leatherman said. "There are more barriers to break through."
While there is a growing group of manufacturers making clothes in Southern California, footwear factories in the region are few and far between. Materials were also hard to find, Leatherman said. When they started the project, Leatherman and Johnson did all of their sourcing for leather in Chicago, Texas or Colorado, Leatherman said. (Currently, around 80 percent of Broken Homme leather is sourced in the Los Angeles area.)
In 2012, they used an Asian factory to make workman-style boots, but they were continually dissatisfied with the materials used in the boots and the service they got from the factory. What made it tougher is that they self-financed the project and ran through the seed money for the venture. It was time for Plan B.
Things started falling into place when a group of private investors agreed to fund them and a friend introduced them to a boutique footwear factory in Los Angeles County. The factory was looking for new work when a service-industry client moved its account to a new factory.
A visit to the factory was similar to time travel, Leatherman said. The factory's method of making shoes had not changed since the 1970s.
"The factory was lined with classic machines," Leatherman said. "They looked like cars from the 1950s. The welting machines looked like small dinosaurs."
Americana/heritage styles
The old machines seemed to be a good fit for the brand, which designs boots with an Americana/heritage look reminiscent of mid-20th-century styles. However, Leatherman and Johnson updated the look by making the heavy boots lightweight. Broken Homme's "James" boot, for example, features the Vibrum 2040 sole, made from a combination of foam and rubber.
The heavy look and lightweight feel of the shoes was embraced by boutiques such as Lone Flag in Del Mar, Calif., near San Diego. Lone Flag owner Sam Larson said Broken Homme footwear looked like a boot but felt like a sneaker.
"Broken Homme is a lightweight, really wearable boot," Larson said. He is planning on opening a boutique in downtown San Diego in 2016.
Larson noted that heavier boots don't get much attention in Southern California because the weather is too mild for them if they are being worn for fashion. He also said heavy boots are too bulky to wear with the lifestyle and streetwear brands sold at his boutique.
Lone Flag has done several collaboration styles with Broken Homme since opening in late 2013.
It's part of the growing product mix at Broken Homme. Its factory turns out 100 pairs of shoes each week. They range from boots to oxford and chukka shoes to leather sandals. Retail price points range from $250 to $300.
Broken Homme and Leatherman's Port brands are sold at Port, the boutique in Retro Row, Long Beach's easygoing, vintage-inspired boutique district. (Leatherman has ownership stakes in both Port and Broken Homme, but he noted that they are different brands with different sets of owners.)
In 2011, Leatherman started producing Port T-shirts to sell at the Port boutique. By 2013, he introduced a full collection, which included button-up shirts, custom athletic-style fleece and chinos with a lot of elastic. "It's like leisure contemporary wear," he said of the Port brand. Collaborations are crucial to Port. It offers five-panel hats made with the brand The Quiet Life. Bags are made with Ebbets Field Flannels. Port produced a capsule collection of women's swim looks with the label Beach Riot.
Port also did T-shirt capsule collections with Pacific Sunwear of California and a separate men's collection with the workwear brand Dickies.
The challenge, the reward
Leatherman declined to state his brands' sales, but he said that they have grown 30 percent annually. Broken Homme has three employees, and both Port and Broken Homme recently hired the Ouragncy showroom to increase the wholesale distribution of the company. In 2016, Broken Homme and Port will exhibit at the Capsule trade show in Las Vegas and New York.
Leatherman is also building a boutique vertical retail operation. His company will make clothes and footwear in Los Angeles County and sell them online at www.brokenhomme.com and www.portlbc.com, as well as at its branded Port boutique at 402 St. Louis Ave. in Long Beach.
With establishing his brands, Leatherman expects more challenges and rewards. They are part of the business.
"It's not easy, but it is 100 percent rewarding," he said of manufacturing. "I love seeing the creations coming to a place where people can pick them up. It is the most rewarding part of the business. It is bringing ideas and products to market."