TRADE SHOWS
LAMM: Seeks Alternative in New Space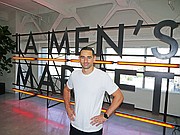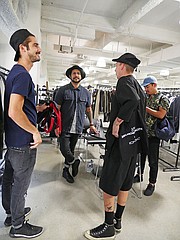 Now in its fifth season, the Los Angeles Men's Market moved to a new event location in the California Market Center called Space 10B.
This was the first trade show to produce an event in the new 45,000-square-foot events space, which is located on the 10th floor of the showroom building's B wing.
LAMM ran Oct. 12–13 with a mix of men's fashions, streetwear, action sports and footwear.
Biannual trade shows typically focus on the Fall and Spring season, but LAMM's shows focus on the "shoulder" seasons of Summer and Winter, said Kellen Roland, founder of LAMM. The trade show offers a platform for shoulder seasons, which don't receive as much attention as styles for major seasons, he said.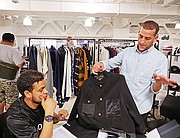 New brands making a debut at LAMM included PRPS, Daniel Wellington, RVCA, Palladium and Azul by Moussy. The label 27 Miles Malibu introduced its men's line at the show. Roland said that 120 brands exhibited at the trade show. Other brands making an encore performance there were Undefeated, Stüssy, Brixton, Happy Sox, Herschel Supply Co. and 10 Deep.
Retailers reportedly seen at the show included American Rag, Barneys New York, Equinox, Kitson, Shiekh Shoes, StitchFix.com, the Sundance Catalog, Zappos andAzalea SF.
Giil Gomez, owner of the Black Circle Agency, said one of the reasons he likes LAMM is because it is an alternative to the LA Fashion Market. It offers a trade-show format in a market where most of the market's action goes on in showrooms. It was also a welcome break from his work routine, which typically keeps him on the road or in his office. He said most of his business was pre-booking orders for the Australian line Annex and the Los Angeles line Dead Society.
For Geoff Nishimoto of sports-lifestyle line Brand Black, LAMM had a good pace. "There's a nice mix of brands," he said. "It's an opportunity to have a more extended conversation with clients."
The place also served as a powwow for salespeople who sell men's styles in Los Angeles' Fashion District, said Reno Calabrese, sales manager for The Park Showroom.
"The camaraderie is great. I see people who I have worked with over the years and I don't get the opportunity to see."
Cesar Cardona, West Coast sales for the Crooks & Castles brand, said the easygoing show also has a strong work ethic. "There are no rappers on hoverboards looking for free clothes," he said. "This is more business-oriented." However, he said he thinks LAMM management could do more to bring additional buyers to the show.
Roland said that he hoped to produce the next LAMM show in late March. It probably will return to Space 10B. He forecasted that it would offer 40 percent more brands than the recent show.