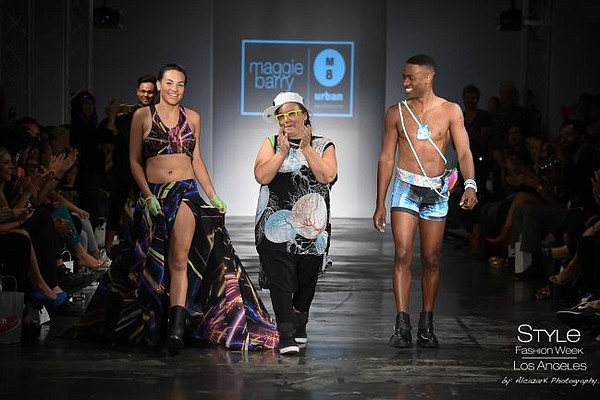 Maggie Barry at Style Fashion Week
Maggie Barry has designed costumes for almost every rock star from the 1980s on.
But when her M8 Urban label took the stage at Style Fashion Week on Oct. 15, the emphasis was her idiosyncratic take on streetwear.
The runway line was called Urban Lights LA UK. "It's a throwback to 1984," she said. There was a lot of British fashion in Los Angeles then, she said, hence the LA UK part of the brand's name. There also was a bright, urban attitude in Los Angeles during the year of the 1984 Olympics.
Perhaps the line could be called future past too. If there were influences from the Reagan era, there also was pop-art from the current era and styles that fashion savvy people might be wearing 30 years from now.
Models wore caps and dresses with an emoji cartoon of Maggie Barry drawn by the artist David Worth. Other models wore prints reminiscent of the otherworldly Northern Lights. Reflective fabrics also were found on the collection's vests, jackets and pants.
For all of the future looks, Barry cut the silhouettes not to make a costume, but to blend in to what people often wear. Think sweat pants with drop crotches, jeans and T-shirts.
For the show's finale, Barry showed two-piece dresses. "It's layered evening glamour," she said.
RELATED STORIES