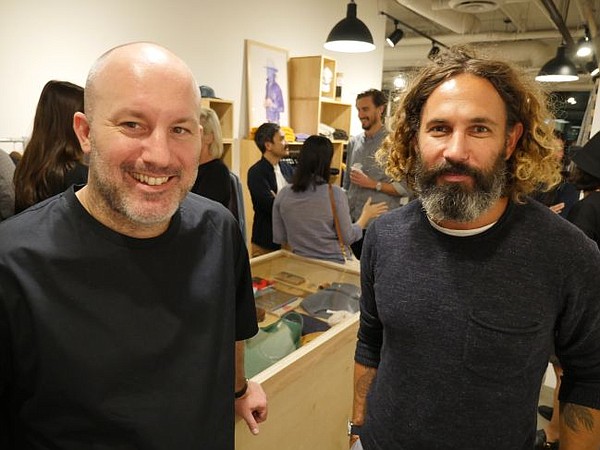 Outerknown Reveals At Wittmore
Below an art installation of salvaged surfboard fins, Kelly Slater's Outerknown label produced its first U.S. retail event, Oct. 15 at the Wittmore boutique in downtown Los Angeles' Arts District.
The label, which was co-founded by Slater, took a bow earlier this year. He won professional surfing's ASP World Tour a record 11 times, but the label has kept a low-profile stance. The brand hopes to build a reputation as organic as the fabrics used in its T-shirts, chino pants, sweaters and pea coats.
John Moore, the label's co-founder and creative director, said the label uses organic cotton, Peruvian Alpaca and nylon salvaged and repurposed from trashed fisherman's nets. The label also intends to join Fair Labor Association as an affiliate member. The FLA certifies goods made at factories and workplaces which adhere to the Washington D.C.-headquartered organization's guidelines for a fair workplace, Moore said.
"This was an opportunity to make clothes we want to wear, and produce them in a way we want to make them," Moore said.
The Outerknown collection was inspired by Slater and his travels. For example, the line's Traveler Chino features zipper pockets to keep passports and wallets safe when traveling. All pieces were intended for layering; if you travel from warmer to colder climates, there will also be an Outerknown garment you can layer of another one, Moore said.
The Wittmore boutique opened in the Arts District earlier this year. It stocks brands such as CWST, Levi's Vintage Clothing, Helmut Lang and Max N Chester.