MANUFACTURING
Overcoming the Challenges to Cotton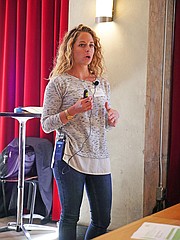 Cotton is crucial for the development of much of the world's clothing, but a handful of groups have been warning apparel companies that a number of issues challenge the global cotton supply, and major apparel companies have been listening.
The cotton supply chain faces challenges such as the drought in California, farmers' focus on higher-dollar crops and the increasing popularity of athleisure apparel made from synthetic materials. Some groups, such as the Better Cotton Initiative (BCI), are seeking ways to have brands work with farmers to ensure there's an abundant amount of good cotton for manufacturers.
Last month, BCI held a seminar at the stylish boutique Ace Hotel in downtown Los Angeles. In attendance at the red-curtained conference room were representatives from some of California's top action-sports labels, including Vans Inc. and Volcom, as well as Guess? Inc. and Deckers Outdoor Corp., according to Daren Abney, the North American membership-engagement manager for BCI. BCI is headquartered in Geneva but also maintains staff in the United States.
Also in attendance at the Ace Hotel seminar were suppliers including Buhler Quality Yarns Corp. and Tuscarora Yarns Inc.
BCI counts as members Nike Inc. and Levi Strauss & Co. Levi's set a goal for itself that by 2020 it will use 75 percent of the "better cotton" that BCI certifies. Natalie Hubbard, a sustainability specialist at Levi Strauss & Co., spoke at the BCI seminar. BCI's better cotton is different from organic cotton, which is grown without pesticides or genetically modified seeds.
"We're trying to get conventional farmers who use heavy pesticides to reduce harmful inputs such as herbicides and insecticides. It has an environmental benefit," Abney said, adding that BCI also had a goal to make farms more productive.
David Sasso, vice president of international sales for Buhler, confirmed that his high-end yarn company is in the process of having its membership reviewed by BCI. "You have some very large retailers that move markets," he said of BCI members. "That makes a big difference if they are behind it."
The support from major companies makes a point of difference for BCI, Sasso said. He noted that there are a number of groups looking to build programs that certify good cotton production practices. But certification is just part of the strategy for success, Sasso said. "A certificate is not worth much if there is no profitability," he said. "If their supply chain is not profitable, it won't be worth the effort."
The point of BCI's meeting was to gain the support of large apparel companies to support BCI's efforts to get farmers in India and regions in sub-Saharan Africa to grow sustainable cotton. It means improving the labor conditions of the people growing the cotton. The group's colleagues also will help in training the laborers in agricultural methods that are deemed less harmful to the environment.
BCI also hopes to build a supply chain that will consistently offer the better cotton that top brands demand. If the farmers cultivate cotton in the way deemed sustainable, they will be given access to markets where Nike and Levi's shop. The group also has been working with American farmers. Abney said that it is not BCI's mission to teach them how to grow cotton better. However, his organization will be able to give them a standard where they can prove to the world that their crop is grown in a sustainable way.
Retailers and major labels also have paid attention to groups such as Sustainable Cotton Inc., which is headquartered north of Sacramento, Calif. The group is hoping to develop what it calls a "cleaner cotton" supply chain in California's Central Valley.
Sustainable Cotton is funded by California's State Water Resources Control Board, said Marcia Gibbs, the executive director of the group. The group gives advice to farmers looking to stop water-sourced pollution, she said. The group's mission is also to help market the cotton grown by farmers working with Sustainable Cotton.
"It is important for us to keep farmers farming," Gibbs said. "We think it is important to continue to grow cotton in California. We grow some of the best crops in the world. We want to let people know that there are farmers who are good stewards of the land."
The group has trademarked its cotton as "cleaner cotton." Its cotton puts a premium of 10 cents per pound of cotton. San Francisco label California Cloth Foundry uses cleaner cotton in its product. Mountaineering label The North Face used the cotton in its "Backyard Hoodie" sweater from its "Backyard" capsule collection in late 2014.
Cotton and performance
Cotton is also challenged by the rise in fabrics made from other fibers. In the past five years, worldwide consumption for synthetic fabrics has jumped from 70 million tons a year to 80 million tons. For cotton, worldwide consumption for the fiber has remained flat, below 20 million tons each year, according to the International Cotton Advisory Committee, a Washington, D.C.–based association of cotton-producing countries.
One reason has been the popularity of athleisure clothes, said Jeff Shafer, a denim manufacturer and designer for brands Bluer and Agave.
"It is marketed as technology," he said of non-cotton fabrics used in athleisure lines. "It has antimicrobial and wicking properties, and companies have customers wanting it."
Buhler's Sasso said that cotton is getting more heavily involved in the research-and-development game. "Cotton is still the preferred fiber for comfort," he said. "What cotton will be doing is looking at how we can improve performance and still be natural. I see a lot of new innovation in design in yarn and fiber combinations that will pull cotton through in a performance area that is so large. A lot of new things are coming down the pike. It will take time."