SWIM/SURF
Venice Rani: Outfitting Independent Venice & L.A. Woman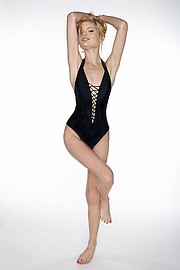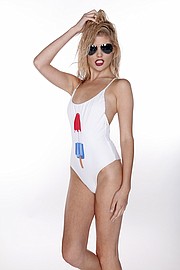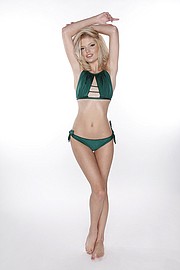 Surfing and skating by the Venice Pier during the day. Partying in the Hollywood Hills at night.
It's the lifestyle that Tina Rani intended to outfit with her independent, Los Angeles–made swimwear line, Venice Rani. The Venice-born and -raised Rani self-financed her brand to bring her vision of swimwear to the market.
Like the woman who wears her brand, Rani said, her styles look glossy but are strong. The swimwear is sturdy enough to withstand waves, but they are made with shiny fabrics, such as a high-quality shiny tricot, for a touch of glamor.
Rani also plans for her line to be provocative. The bottoms are cut in a Brazilian style. The halter top for the line's "Brooks" suit was designed to show a lot of cleavage. The fabric for the line's "Jones" suit is made in a polyester chiffon that is supposed to drape on the body in clinging fashion after a dip in the water.
The 16-piece Resort '15 line also features rash guards, lace-up swimsuits and graphics such as ice-cream cones that remind Rani of her childhood biking around Venice.
Rani started her design career with gigs making clothes for contemporary women's, men's and juniors lines. A client asked her to design a swimwear line, and that's when she found her niche. "I knew at that point that all that I have done in the industry was to bring me to this place, where I could build a brand that reflected my lifestyle and personality. Swimwear is so playful and sexy," she said.
Rani also works as a design and manufacturing consultant.
She introduced the line at the Salon Allure trade show, now called Hammock, in July 2014 in Miami Beach, Fla. Since its introduction, she has focused her business on direct-to-consumer sales through her website (www.venicerani.com). In the first quarter of 2016, she hopes to open a boutique for Venice Rani in Los Angeles' bohemian Venice section. She also forecasts that her line will collaborate on capsule collections with other brands. Retail price points range from $85 to $210. For more information, email info@venicerani.com.