RETAIL
Nike Opens Emporium at The Grove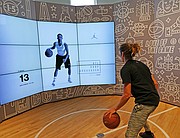 Nike Inc. opened one of the biggest shops in its fleet of stores, stretching out over 31,000 square feet at The Grove retail center in Los Angeles.
Housed in a three-story building that was the former address of an Abercrombie & Fitch store, The Grove's Nike store will serve as a stage for the prominent footwear company's product launches in the Los Angeles area, said Dennis van Oosanen, vice president and general manager for the company's North America direct-to-consumer division. He hopes that every jock will find a place at the Nike store.
"It's the store with the most experiences," van Oosanen said. "This is the one that brings it altogether."
The space, opened Sept. 10, offers shops-in-shop for sports ranging from basketball to soccer, running, tennis and golf. The store also features special areas such as a green strip where soccer balls can be kicked into a net. There's a treadmill and the Jordan Trial Experience area. It's a special basketball court where a screen will run people through basketball dribbling drills.
"It's not a gimmick," van Oosanen said of the experience stations. Shoppers can do more than try on sneakers for a fit. They can give them a test drive and see how they feel on a basketball court.
While shoes are a dominant focus of the store, there is a significant selection of apparel. It ranges from jerseys from the Paris-St. Germain soccer team from France to football shirts bearing colors and logos of the University of Southern California along with Nike sweat pants made out of technical fabrics as well as caps. The shop also will offer customized services such as fittings for sports bras and pant alterations.
With a nod to online commerce, the store also features three screens, located in different spots around the emporium, where shoppers can register requests for information. The information on goods, or perhaps gift lists they would like to relay to friends, will be later delivered to smartphones or tablets.
Noting the retailer's athletic vibe, salespeople are called athletes. The store manager is referred to as the coach.
Van Oosanen declined to forecast what the store's sales per square foot are expected to be. A Nike representative said the company's emporiums at Third Street Promenade in Santa Monica, Calif., and Fashion Island in Newport Beach, Calif., would continue to serve the company and do business in their respective locations.