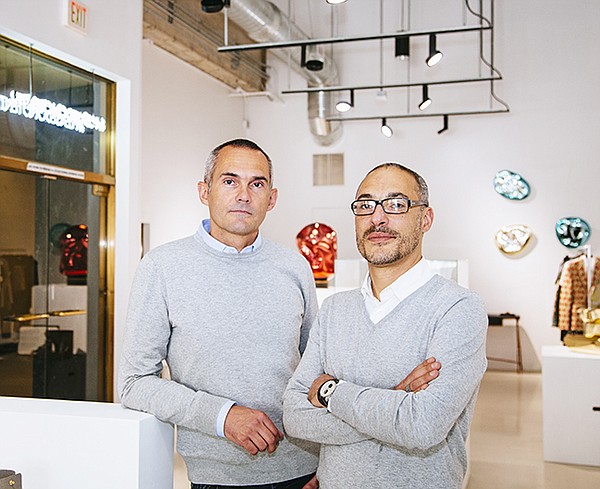 COME IN
Please Do Not Enter boutique Now Says "Come In"
The boutique Please Do Not Enter has finally set a welcome mat for the general public in downtown Los Angeles.
Once tucked away in the aeries of the 12th floor of the PacMutual Building, which is a neighbor of the historic Millennium Biltmore Hotel, Please Do Not Enter set itself up for a collision course with the public.
It moved to a 2,000-square-foot storefront space at the building, which also is the address for the headquarters of retailer Nasty Gal Inc. (PacMutual also made business headlines on Sept. 9. The 1920s-era building was sold for $200 million.)
Art kids, fashion people and the simply curious will be able to wander into the store, located at 549 S. Olive St. It offers European fashions for men and women, homewares, fragrance, accessories, jewelry, and books on art and architecture as well as pieces from European and U.S. artists and designers represented by the store's co-owners, Nicholas Libert and Emmanuel Renoird. They also maintain homes and run businesses in their native France.
Libert said that the time was right to move from their once difficult-to-find, appointment-only shop. Libert and Renoird moved to downtown because they loved its architecture and its arts scene. But with the recent revival of downtown Los Angeles into a district of nightclubs and restaurants with adventurous menus, the district is becoming more discerning and sophisticated, he said.
"It now brings the urban spirit that was missing during the past decades in the City of Angels," Libert said.
On Sept. 23, Please Do Not Enter produced "Metamorphosis by Jean Louis Gaillemin," an art show in the new space. The store also will offer apparel brands the co-owners find at Paris Fashion Week, including French and Belgian brands Misericordia, Walter von Beirendonck, Lemaire and Denis Colomb, an American brand.
The store opened for business in June 2014 with a name informed by a puckish sense of humor and an invitation to discovery. "Please Do Not Enter" is a sign often seen on art museum walls when an installation is changing. "You try to stick your foot in the room and see what is new," Libert said of his reaction to signs such as Please Do Not Enter. "The idea is a running story. Things are changing all of the time."