FASHION
Anne Fontaine's Gala South Coast Plaza Runway Show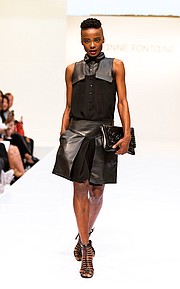 Designer Anne Fontaine made a trip to South Coast Plaza in Costa Mesa, Calif., for her label's first comprehensive West Coast runway presentation.
The 40-look show took place at South Coast Plaza's Jewel Court, and 200 style-savvy people took in the show.
On the runway, the audience saw Anne Fontaine's Spring/Summer 2016 season. Fontaine's iconic white shirts were a focus of the show. They were trimmed with back or embellished with ruffles and rosettes. The night's silhouettes ranged from A-line skirts and shoulder baring blouses to culottes, according to a statement from the fashion house.
Anne Fontaine has run a boutique at South Coast Plaza since 2002, and the long history helped Fontaine choose the luxury retail center as the appropriate place for the label's first comprehensive show. "The Segerstrom family sought us," she said of the family that owns South Coast Plaza. "This is one of the first locations that we opened in the U.S."
The Franco-Brazilian designer recently moved to New York with her family. A private reception for the designer was held at South Coast Plaza's Marche Moderne restaurant. Before the gala meal, Fontaine gave time for fans to meet her and take away one of the ultimate prizes of meeting a high-end designer—a selfie with the designer.