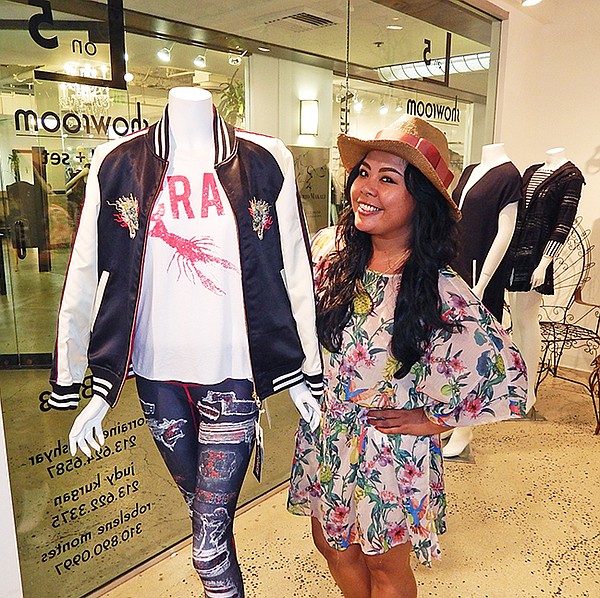 LA MARKET
Making the Most of a Quiet LA Market
The recent Los Angeles Fashion Market for Holiday/Resort 2017 appeared to be dead on arrival, but signs of life existed.
Several showroom reps in the California Market Center said it was a very slow market, but they were pleasantly surprised to see a few store buyers wander in from as far away as Florida, Colorado, Texas and Missouri.
"It [August] has always been the worst market and relatively slow, but we've had a few stores walk in," said Robelene Montes, who shares a space in the L on 5 showroom with two other sales reps on the CMC's fifth floor.
She said a mannequin dressed in a reversible PopKiller bomber jacket near the front of the showroom was attracting buyers who were also enticed by another mannequin wearing a Drones Clothing T-shirt that said, "I Feel Like Tacos," a slightly different version of the T-shirt message worn by Kanye West at Kobe Bryant's last basketball game with the Los Angeles Lakers. West's T-shirt said, "I Feel Like Kobe."
Montes said that during this market she opened up accounts with Anthill in Orange County, Calif.; The Magnolia Park in Burbank, Calif.; and Lush at BARtique in Springfield, Mo., which was buying very close to season with back-to-school merchandise. "We do have Immediates and ship four weeks out," Montes said.
Many of Montes' regular buyers said they would see her at the Las Vegas trade shows.
At the T&A Showroom, traffic trickled in with the second day of market being the best. "We didn't see any majors but mostly online stores. That seems to be the only thing now," said Tina Wageling, a brand rep at the showroom, which carries labels such as Colombia-based Color Siete and Rose Pistol. "It has definitely been slow."
She said in three days she had seen about 20 buyers, but in a normal market she would see up to 50.
Drop-in traffic was also present at The Hanger Showroom and the Dakota Showroom, which recently moved to new locations next door to each other on the CMC's fifth floor in the A wing. Each showroom has its own aesthetic. The Hanger primarily carries Australian lines, and many of Dakota's collections are from the United Kingdom.
"We expected it to be slow, but we had good traffic," said Selena Slogar, owner of The Hanger Showroom.
A buyer from the Soho Couture chain of stores, with 12 outposts in Florida and Texas, dropped by, said Christie Danielson, owner of the Dakota Showroom.
"In the past two days we have seen eight stores," Slogar said. "I think things are looking up in retail."
Locals and newcomers at The New Mart
Traffic was mixed at The New Mart, where some showrooms reported steady business on Monday and others saying Tuesday was the strongest day.
"It was great on Monday; we were steady the whole time," said Jeff Polanco, chief executive officer of Showroom 1205, on the third day of the show. "It's off-and-on today."
Polanco said he predominantly saw new customers, with his existing accounts saying they planned to see his collections at the Las Vegas shows.
Showroom 1205's resort collections—including Lula Soul, Ruby Yaya and Mia Marcelle—were doing particularly well.
"We retailed extremely well with our resort lines, so everyone is coming back," he said. "Generally everyone seems to be excited to move on to a new year. It's all about fun, bright colors."
The busiest day at the Rande Cohen Showroom was Tuesday, according to owner Rande Cohen, who said she was surprised to see retailers placing Spring orders in addition to the Holiday orders she was anticipating.
Although not all of her collections were ready with Spring, Cohen put the Spring collection for sweater and accessories line Wooden Ships on display.
"It's all happy colors," she said. "People are drawn to that."
For Mary Minser Sales, Sunday was the busy day, although owner Mary Minser said she thought she was the only showroom open on her floor.
"We had locals and a lot of Colorado," she said.
While Minser expects to see many accounts at the Las Vegas shows, she noted, "If they have bigger stores, they don't have enough time to see it all."
At the Jackie B Showroom, owner Jackie Bartolo and her team saw a few customers, including Dillard's, but between meetings they were booking appointments for Las Vegas.
"It's all about Las Vegas or they're holding off until October," Bartolo said. "We have a strong calendar booked for Vegas. Our customers block out more than an hour or two to do business there."
Jackie B did launch a new collection at Los Angeles Fashion Market. New York–based Banjara is a bohemian collection of tops, dresses and bottoms in knit and woven fabrications. Several pieces feature embroidery, hand-worked details and original prints.
Immediates, pre-Vegas meetings at Cooper
The Siblings Showroom had not received the Spring '17 collections from its clients, so it started the August LA Fashion Market with its remaining Fall looks. Showroom founder Israel Ramirez said the fashion market was worth it—even if August is a traditionally small market.
"Even if we just see 20 stores, this adds to our Immediates dollars," he said.
Most of Siblings' business came from independent stores around Southern California looking to add to their Fall orders.
Independent, local boutiques also looked for Immediates at Ted Baker London. However, many retailers were focused on the sprawling group of trade shows that kick off in Las Vegas later this month, said Lauren Ricca, Ted Baker's head of men's sales for sportswear. "It tends to be a lot of meetings before the [Las Vegas show] meeting," Ricca said.
Ted Baker saw a wide array of retailers ranging from majors to e-commerce emporiums to boutiques, Riccia said. Buyers from Revolve reportedly shopped the Cooper as did shops such as Her Boutique of Valencia, Calif.; Mom's The Word; and Cami Boutiques from Los Angeles County's South Bay area.
Fred Levine of the M.Fredric line of boutiques also shopped the Cooper and other showroom buildings in downtown Los Angeles' Fashion District.
"There was a lot of good product," Levine said. "There is some newness. There are the satin bomber jackets; that's a trend that will last through Fall. Graphic print tees are still going strong—rock tees and tees with slogans. Comfortable sweatpants are coming back."
Steady at the Gerry Building
Traffic was modest at the Gerry Building, where showrooms were open Sunday to accommodate buyers.
One buyer at the Gerry Building was Elyssa Goldberg, whose BG's El Paseo store has been in Palm Desert, Calif., for some 25 years. Goldberg prefers to come to the August fashion market rather than travel in mid-August to Las Vegas, where a throng of buyers and store merchandisers show up. "I like the slower markets because it is less crowded," she said.
July, August and September are the slowest months for her business, but she was getting ready to bump up her merchandise for the upcoming Desert Trip concert in Indio, Calif., this October. The new mega-concert is expected to draw tens of thousands of music lovers who will be seeing concerts by Bob Dylan, Paul McCartney and Neil Young and groups The Who and the Rolling Stones.
Traffic was busiest on Tuesday at the Miriana Ojeda showroom, which carries contemporary lines such as Elemente Clemente, Krista Larson, Sarah Pacini and Alquema. "It has been a strange market this time," Ojeda said. "The solid stores are coming and writing. They have more time to spend with each line, but the appointments this time are running through Friday."
For Lori Marchand, who owns the Impulse Showroom, Monday was her best day. "I thought traffic was good on Monday and Tuesday, and Wednesday was slower," she said.
But much of Marchand's business comes from frequent reorders on her Danish lace bridal line, Olvi's, especially around the busy bridal season. For her Harari line of artistic tops, she emails out new top designs to store buyers who can then order new merchandise.