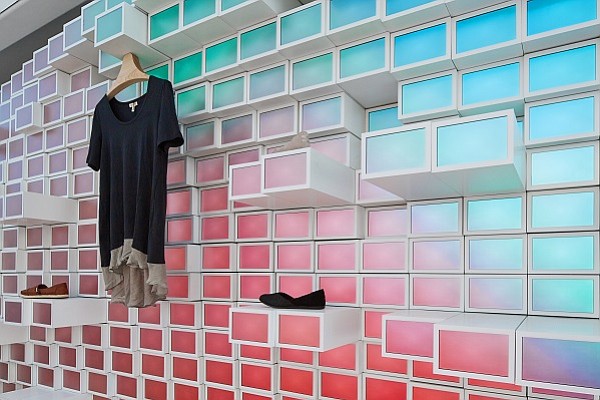 STORE OF THE FUTURE
Reshaping Retail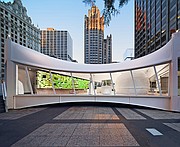 Everything about stores—from design to strategies for attracting shoppers to organizing inventory—has gone through major changes in the past decade. To take the pulse of these changes and see what's coming up next, California Apparel News arranges roundtable discussions on the "Store of the Future."
For this edition, we hear the perspectives of award-winning architect Giorgio Borruso—his futuristic designs can be seen at the WithMe store at Santa Monica Place in Santa Monica, Calif.; Adam Derry, founder of the ADBD brand and boutiques, headquartered in Los Angeles; Marshal Cohen, chief industry analyst for market-research company The NPD Group; and Wendy Bendoni, fashion marketing chair at Woodbury University.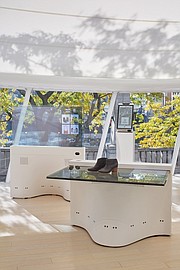 E-commerce and M-commerce have radically changed retail. What other changes in consumer behavior do you think will drive future retail technology?
GIORGIO BORRUSO: We are seeing a convergence between online retail, physical retail and real estate developments.
There will be new models emerging. Consumers are demanding flexibility and speed. In the future, brands will be able to quickly change locations and experiment in new markets without a long, drawn-out process.
We've been working on a new concept of store, starting from large mobile units to the inline spaces and common areas. Unique architectural spaces are set up in a network of locations—malls, universities, etc. Retailers would sign up to use the network, starting in one location—perhaps, Chicago—but, after a couple of weeks, move to the next location, maybe London. Their digital signage and catalog would be in the system. Moving would involve "changing files, not fixtures."
With this system, the format of the shopping center will change. Owners and operators could create areas devoted to retailers in the mobile network that would provide endless variety. People would come to the mall to see what is new.
ADAM DERRY: E-commerce and m-commerce have radically changed the retail process. The consumers' appetite to seek out product and brands has never been higher, and that is a huge asset for retailers. We're going to see higher layers of interaction between retailers and consumers, but not every experiment is going to work.
The consumers' need is to be transported to other realities that they can't reach by themselves. Pokémon Go shows us that we can create new realities and those realities can take consumers into the spirit of the brand. Now more than ever brands need a soul.
Also, technology is becoming conscious. It is learning our intentions. It helps guide ourselves to the brand experience that we want. Technologies like Waze and Yelp are other types of portals that consumers have been showing interest in. They help people with shortcuts to find something they've been looking for. Or brands that they may not know about but they will like. It's something that will guide us.
MARSHAL COHEN: Reactive shopping is now here versus proactive shopping. No longer do we wake up in the morning and say, "I want to go shop and find a new sweater." We now wake up and respond to incoming messages alerting us to deals of the day or new products available at our favorite stores or sites. We react to media messages and deals rather than seek them out. Retailers of all types need to learn how to thrive in this reactive environment.
What changes in the experience of the physical store are on the horizon? Will physical stores need to have added attractions such as a coffee bar or an art gallery? How could these possible changes influence the way the customer shops, tries on merchandise or finalizes a purchase?
WENDY BENDONI: Bricks-and-mortar is here to stay. While the shift is in shopping online, pick-up services at bricks-and-mortar locations are doubling. They encourage customers to visit the store at convenient locations with strong customer service. While they may purchase online, they want to visit the retail store to have the full brand experience. E-commerce is catching on with the opening of Nasty Gal and Amazon.com retail spaces.Bally in Beverly Hills is known for its customer service, and their new updated store experience has encouraged online shoppers to pick up its shoes at its retail location.
GB: It is important that the physical space is more experience-oriented. In the mobile store, there is a virtual-reality dome with 360-degree projection. Toms' Shoes used the space to take people with them on a trip to South America. Harley Davidson lets the customer sit on an actual motorcycle for a virtual ride through different landscapes. The VR dome is just one way to make the space a memorable experience.
MC: Stores of tomorrow will shift from cash and carry for all products to only some products. Stores which have finite space will compete with e-commerce stores that have infinite space by carrying broader assortments, and not stock it but deliver it by the next day to the consumer. One color of a style may be carried in all sizes to try one, but if you want another color it will be delivered direct from either a warehouse or manufacturer to your door.
A lot of retailers stall on new technology because of the cost of acquiring the new tech. Are there high-tech solutions for independent retailers?
GB: With this system we're working on, smaller brands can use the network without signing long-term leases or investing in an expensive buildout. Brands, small and large, can quickly inhabit a high-tech environment by using this system to add a satellite location, activate a promotion or test a new market.
AD: I don't think that small companies have problems investing in technology. They find the technology that fits the needs of their consumers, like brands that want to use a virtual-reality mirror to show other options, for instance. Unfortunately, most global brands roll their technology products out universally and it becomes one-size-fits-all. It's not the best way to approach tech. Tech is really just another means of access for consumers and brands to quickly realize there is no such thing as one-size-fits-all in any medium, especially technology.
Technology has allowed brands to do business in a more amplified way. I think technology is a bonus, an added value, a force multiplier. Your brand needs to have an identity even if all the power was lost and there was no access to tech at all.
MC: One high-tech solution is to find partnerships with manufacturers so they absorb some of the cost. One example would be for retailers to partner with manufacturers where the manufacturer will ship direct to consumers from its warehouse.
What new retail tech is on the horizon?
MC: See it. Snap it. Own it. Apps will be available that recognize products and will bring you right to a site where you can buy it. So you see a pair of shoes on a friend and you snap a shot of it on an app that will locate what retailer or site will carry it and let you buy it right then and there.
RELATED STORIES