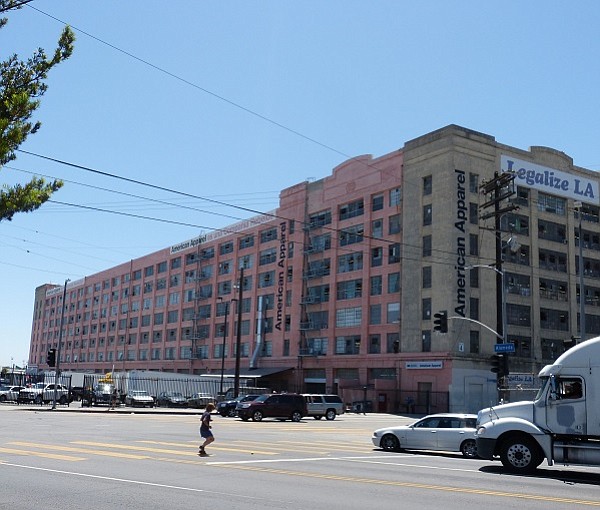 RETAIL
American Apparel Up for Sale and Eying Production Facilities Outside of California
American Apparel has a "For Sale" sign up just six months after exiting bankruptcy, according to sources close to the company.
Investment bank Houlihan Lokey has been hired to find a buyer for the Los Angeles garment and retail giant, which has the largest clothing factory in the United States, sources said.
Paul Zaffaroni, managing director at Roth Capital Partners in Newport Beach, Calif., said he knew there was a pitch book out there that had been issued by Houlihan Lokey, and it was a subject that was discussed at the recent MAGIC trade shows in Las Vegas.
An American Apparel spokesperson said the company has "consistently communicated to our employees, vendors and customers that we opportunistically evaluate strategic alternatives. We will not specifically comment on transactions that the company may or may not pursue."
The company's potential sale has American Apparel's founder, Dov Charney, wondering why the new owners are trying to get rid of the company so quickly.
Early this year, Charney and an investment group submitted a $300 million bid to acquire the apparel company, but that bid was rejected by American Apparel.
At its most successful, the company's annual revenues were in the vicinity of $650 million in 2013. Charney estimates the company will have challenges reaching $350 million in sales this year.
"They are obviously underperforming, and the hedge funds running the company are potentially in a situation where they need to get rid of the asset before it is worth less than it is now," Charney said.
Charney noted that American Apparel has laid off 3,000 employees since he left the company in 2014 and shuttered several facilities, including the denim factory in South Gate, Calif., where thousands of workers were employed as well as a sewing facility in Garden Grove, Calif., and a dyeing and finishing facility in Hawthorne, Calif.
In addition, American Apparel has closed the sock, shoe and sweater production departments at the company's downtown LA headquarters at 747 Warehouse St., Charney said. "This is what happens when you let Wall Street hedge funds take over American Apparel," he noted.
As many as 300,000 American Apparel T-shirts a month are being sewn by Los Angeles contractors instead of at the American Apparel factory.
There have been rumors that American Apparel is thinking about moving production to Tennessee, North Carolina or South Carolina, where the minimum wage is only $7.25 an hour. In California, the minimum wage is $10.50 an hour and expected to rise to $15 an hour by 2020.
Charney said moving production outside of Los Angeles doesn't make sense because American Apparel's distribution center is located here and the apparel workers in Los Angeles are among the most productive in the United States.
But the current chief executive, Paula Schneider, has a mandate to lower costs and increase revenues. Moving production out of California would make that goal easier.
Investment experts wonder whether American Apparel could fetch a very healthy price. Philippe Faraut, the chief investment officer at Knight Global who has put together several sales of apparel and shoe companies, said it's likely a new buyer would get rid of the more than 130 American Apparel stores in the United States and concentrate on the wholesale side of the business. "I wouldn't be surprised if they did something like the Rock & Republic deal, where the brand name was bought and then they went exclusively with one retailer [Kohl's]."
American filed for bankruptcy protection on Oct. 5, 2015, in federal bankruptcy court in Delaware.
The troubled Los Angeles clothing company, which started out making blank T-shirts and then branched out into a wide array of clothing sold at its own company stores, has been on a wild ride ever since it ousted Charney in late 2014.
Charney, who started the Los Angeles venture in 1997 by selling T-shirts to the wholesale market, had always been considered the heart and soul of the apparel concern.
In 2000, American Apparel moved to a large, 800,000-square-foot facility on the edge of downtown Los Angeles and three years later branched out to form its own chain of stores. At a time when many U.S. clothing ventures were manufacturing overseas, American Apparel became the largest clothing factory in the United States.
But the publicly traded company was bleeding money for years. In 2014, the company had a net loss of $68.8 million on nearly $609 million in revenues. In 2013, American Apparel lost $106 million on $634 million in revenues.
But Charney consistently maintains that American Apparel's earnings before interest, taxes, depreciation and amortization, or EBITDA, were always in positive territory.