RETAIL
Apolis Heads to New York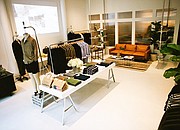 Los Angeles–headquartered Apolis Holdings LLC helped pioneer the city's Arts District, where it opened a flagship in 2011.
Recently, it opened a second flagship in New York City, where it plans to go native, said Raan Parton, Apolis' creative director and partner.
The flagship is located at 243 Centre St. in Manhattan in the SoHo area. Parton described his shop's neighborhood as an emerging retail street.
The formal name for the 1,500-square-foot shop is the Apolis Community Centre. "We're reimagining what the focus of a community-driven brand is," Parton said. "What Shea [Parton, brand director] and I have been challenged with is how to be a community-driven brand and be a community driver in the neighborhoods we exist in."
The New York store will produce workshops on subjects such as entrepreneurship as well as host live music from artists such as blind pianist Justin Kauflin.
The New York move also will have an impact on the brand's sales. New York's traffic and density can place the label in front of more eyeballs than most places. "You can't deny that a great number of people can change a business and awareness of a business quickly," Parton said. "New York is a tough market to break into, but it's a game changer."
He described the line as one of "travel-minded essentials," with a strong basics program. Retail price points range from $34 for a T-shirt to $350 for outerwear. It also makes chino pants, alpaca beanies, oxford shirts, and accessories and fragrance. Apolis works with farmers and manufacturers in the developing world to harvest organic cotton and do other work for the brand.
There are no plans in the near future to open more bricks-and-mortar stores, Parton said. But the brand plans to develop its e-commerce business, which it runs at https://store.apolisglobal.com. It also plans to look for opportunities for more shops-in-shop.
Apolis opened a shop-in-shop on the grounds of the Alchemy Works, a store owned by Parton and his wife, Lindsay, located in the Lido Marina retail area in Newport Beach, Calif. The first Alchemy Works boutique is located in Los Angeles' Arts District.
Apolis also wholesales to 300 stores overseas and domestically, including California boutiques such as the Mohawk General Store in Silver Lake and Stag Provisions on Abbot Kinney Boulevard in Venice Beach.