TRADE SHOWS
Trends are High at Swim Collective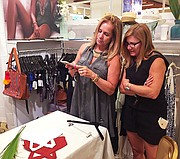 Swim Collective returned to the Hyatt Regency Huntington Beach Resort and Spa in Huntington Beach, Calif., for an Aug. 8–10 run that drew a sizeable crowd and an expanded exhibitor base.
With just over 500 vendors, Swim Collective featured an upbeat vibe with steady foot traffic on the second day of the show.
Brooke Jones, swimwear sales representative with Perry Ellis International, was showing three licensed brands under the Perry Ellis umbrella: Jantzen, Jag and Laundry by Shelli Segal. Jag featured sporty ex-pat gear and paddle pants along with boardshorts. Jantzen added more tankini styles to its collection, which is a largely one-piece–driven brand. "We are seeing high-neck and back-detailed tankinis as well as new one-pieces, coverups and caftans," Jones said.
The show was split between two floors at the Hyatt, which could have affected traffic, Jones said, but added that all her booked appointments came to the show as did drop-in visitors, but most buyers were taking notes rather than placing orders.
First-time exhibitor Mamazoo showcased its 2016/2017 collection to show versatility in the line. "Buyers mainly come by appointment, but it's also about getting brand recognition and it's hard to get it here because our category is up there," said Maria Ana Moura, owner and designer of the Brazilian swimwear brand.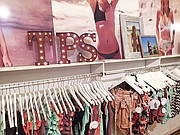 Now in its third season, Mamazoo is sold in specialty boutiques including In Heroes We Trust in Los Angeles' Venice neighborhood. The collection features a full range of separates, with six tops and bottoms that could be mixed and matched, as well as one-pieces with open backs.
"In Brazil, we do a lot of mix-and-matching [with pieces], so we like to produce classic pieces that keep tan lines in mind," she said.
Bohemian luxury resort line Gypsy Soul was faring well with mainly walk-ins, according to Brandi Dea, founder and creative director of the Canadian brand.
Dea, who launched the line five years ago, said she attended Swim Collective to connect with new retailers and network.
Brazilian line Sambarela was another newcomer to Swim Collective.
"Swim Collective is a new show for us, but we wanted to see a different demographic of buyers," Christina Chambers, senior sales director, said. "We are really big in the East Coast, Miami and the islands, so we wanted to get more exposure in other parts of the U.S. market right now. For us, it's not about quantity but quality, so we have made strong contacts on this side of the country."
The brand is known for its Brazilian cuts, expanded into one-pieces with an emphasis on solids and prints. Sambarela features exclusive patterns, and all manufacturing is done in-house in Brazil. Buyers showed an interest in Sambarela's exotic animal prints and vibrant colors. "People are shopping for summer, so it's been getting their attention. All of our fabric is biodegradable as well so it's eco-friendly. We use a CO2 fabric, which is an amazing selling point. It's huge in Europe and growing in the U.S.," Chambers said.
Abysse Official, designed by Hanalei Reponty, was showing its activewear and swimwear collection for the first time at Swim Collective. Taking a cool, fashionable, eco-friendly approach, the line features a mix of activewear pieces made out of recycled fishing nets and wet suits made from a lightweight Japanese "geoprene" material. The collection featured fringe details, bandanna prints, vintage '90s-style metallics and darker colors as well as '70s rainbows and paisley prints.
"Everything is [constructed ] from an Italian fabric, [which is] UV protective and dries fast," Reponty said. Neoprene bodysuits—which can be used for surfing, kayaking and swimming—retail for $230 while long-sleeve wet suits retail for $20 to $350.
Abysse is sold at Planet Blue in the U.S. as well as internationally in Paris, Turkey and Australia. "We are trying to branch out here with this show," she said.
Cassie Palmeri represents brands such as Ale by Alessandra, Blue Life and Tori Praver Swimwear. According to Palmeri, several large West Coast accounts stopped by Swim Collective.
"Resort and Spring have been getting amazing [feedback]. Since Resort has an 11/30 delivery and a [tight] deadline of next week, we have been getting a lot of orders in at the show," Palmeri said.
Key trends to look out for in upcoming seasons are stripes and ruffles for Spring, Palmeri said, also noting embroidered suits and high necks are popular this year.
L*Space introduced a lot of new body styles and top silhouettes this season.
"You have to keep reinventing yourself every season," designer Monica Wise said.
Angi Hart, L*Space's director of merchandise and sales, said neutral colors and saturated brights are trending as are new silhouettes.