TRADE SHOWS
Agenda: 1990s Inspiration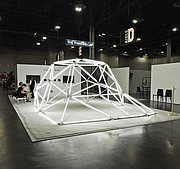 Hip-hop star 2 Chainz was being followed by a coterie of camera people and fans when he settled at his booth at the Agenda trade show in Las Vegas, which ran Aug. 15–17 at the Sands Expo.
Karl Kani, who many acknowledge as one of the founding fathers of streetwear, did not mind being placed across the aisle from the MC's booth. There were more than enough retailers dropping by his Karl Kani–brand booth looking for clothes inspired by 1990s looks. His influential brand was a pillar of '90s styles.
"The '90s are back," Kani said. "[Retailers] were looking for product. Retailers are back, baby!" Kani, an Agenda Vegas veteran, claimed the recent show was one of his label's best performances.
Another Agenda veteran, G Delacruz of the Crooks & Castles label, called business "steady" at the show. For Kellen Roland of The NTWRK showroom, the show was busy, and he got to see all of the accounts he needed to see. However, the show was scheduled after the first spring deadline for his client Herschel Supply Co., the prominent luggage, accessories and backpack maker.
"We looked at the show differently; we used the show to let accounts know about the story of Herschel and what we stand for as a brand," he said. They took a 20-x-20 space and filled the space with 20 metal poles, each carrying a unique Herschel silhouette. Other booth walls featured testimonies and pictures of Herschel fans traveling with the brand's gear. NTWRK also displayed skate brand DQM New York at the show.
Streetwear trends are highly influenced by looks popular in the early 1990s, said Wil Eddins, owner of the Las Vegas streetwear boutique Institution. "A lot of what is popular now is athleisure; anything that has to do with performance wear and technical looks is important," he said.
Sneakers are of high importance in this genre, and many look for clothes that will complement high-end sneakers from brands Nike, Adidas, Diadora and Vans. Southern California styles remain important. "California is all skate and cholo-inspired," Eddins said.