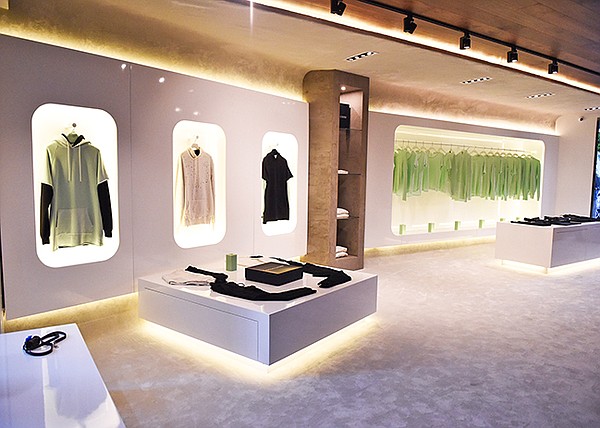 COTTON CITIZEN
Cotton Citizen Opens on Melrose Place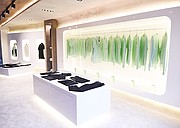 Just off of luxury shopping street Melrose Place in West Hollywood, Calif., high-end T-shirt brand Cotton Citizen is putting down its stake in the retail market.
The Los Angeles–headquartered brand is placing the final touches on a 600-square-foot space in a retail compound at 8463 Melrose Place, at the corner of Melrose Place and Alfred Street. It is scheduled to formally open at the end of August.
The Cotton Citizen shop faces Alfred Street, sandwiched between the popular watering holes Alfred Tea Room and Moon Juice . Adam Vanunu, Cotton Citizen's founder and creative director, hopes that the store's patrons will be attracted by the bold colors on the boutique's garments.
The focus of the shop will be a wall-sized light box. It will display every sort of garment made by Cotton Citizen—tank tops, hoodies, T-shirts, for example—all bearing the same colorway. New colors will be exhibited every few weeks. The bright light box will be juxtaposed with tables placed by the wall. They will only exhibit Cotton Citizen garments in the basic colors of black and white, Vanunu said.
"It's for us to experiment and be creative in a way we have not done before," he said of the shop. "It will help us launch new categories."
In the future, Vanunu hopes to introduce children's clothing and homewares to the shop. He'd also like to roll out shops in other cities, although no timeline has been discussed, Vanunu said.
Cotton Citizen opened for business in 2012 with a point of difference offering high-end basics for men and women dyed in unique colorways. The line was later picked up by leading boutiques such as Ron Robinson.
Since then Cotton Citizen has opened a sales headquarters in New York's SoHo neighborhood. Recently, the brand's top-selling items have been women's and men's shirts as well as French terry garments such as sweater dresses and sweatpants.
RELATED STORIES