TRADE SHOWS
Project: Business Good: Traffic Even, Vendors Say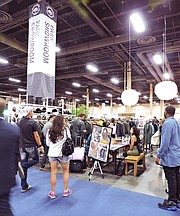 For Eric Martin, the most recent run of Project, held at the Mandalay Bay Convention Center, was highly profitable.
"It was one of our best shows yet," Martin said. He is the owner of The Park Showroom, headquartered in Los Angeles. The Park ran a 2,500-square-foot booth on the main aisle by Project's entrance. It also ran separate booths for clients Alternative Apparel and Jachs New York as well as a 4,000-square-foot booth devoted to the Superdry brand.
The size of orders increased over last year, Martin said. The average order ranged between $3,000 and $5,000. "Project Vegas is a writing show instead of a preview show," he said.
Manufacturing deadlines were looming, Martin said, and that was one reason why retailers were writing at the show. Another reason for the show's success was that retailers attending the show were the survivors of The Great Recession and are proven successes at retail.
The vendors interviewed for this story reported financial success, but some noted that buyer traffic hadn't grown. Rather it seemed to be even with Project's August 2015 show.
Robin's Jean made the trade show a destination event, said Kim Dillard, head of public relations for the brand.
"Show traffic had a slower tempo," she said. "But we were busy nonstop. We let all of our accounts know we were there." Robin's Jean showed its denims, leather jackets, new biker denim jackets, and looks embellished with crystals and occasionally spikes.
Project traffic increased for Mario Pasillas, West Coast sales rep for the 7 Diamonds label. With the MRket show moving adjacent to Project (MRket was formerly located at the Sands Expo), some old clients reconnected to 7 Diamonds. "The MRket guy typically wouldn't make the trek from The Venetian to the Mandalay Bay. … Traffic increased [for us]," he said.
The show also was the site for relationship maintenance, said Jake Campbell, West Coast sales director for AG Adriano Goldschmied. He reported that his group had wrapped up the season's business before Project. "Ninety-five percent of what we do is service existing business," he said. "It's more of a 'Hi, how are you? Can we solve any marketing initiatives for you?'"
For retailer Don Zuidema, Project is a place to see some of the denim brands carried by his store, LASC, in West Hollywood, Calif. "What the show provided us was finishing up buys that we started in Los Angeles and New York," he said, adding that he is always on a quest to find the new labels and designers for the boutique. "Denim is still a tough business," he said. "One of the challenges we have is to find companies that aren't so tilted toward big business."
Retailers seen at the event included Nordstrom, Urban Outfitters, Amazon.com, Zappos, Von Maur, Neiman Marcus, Planet Blue, Sundance Catalog, Pitken County Dry Goods and Nice Kicks.