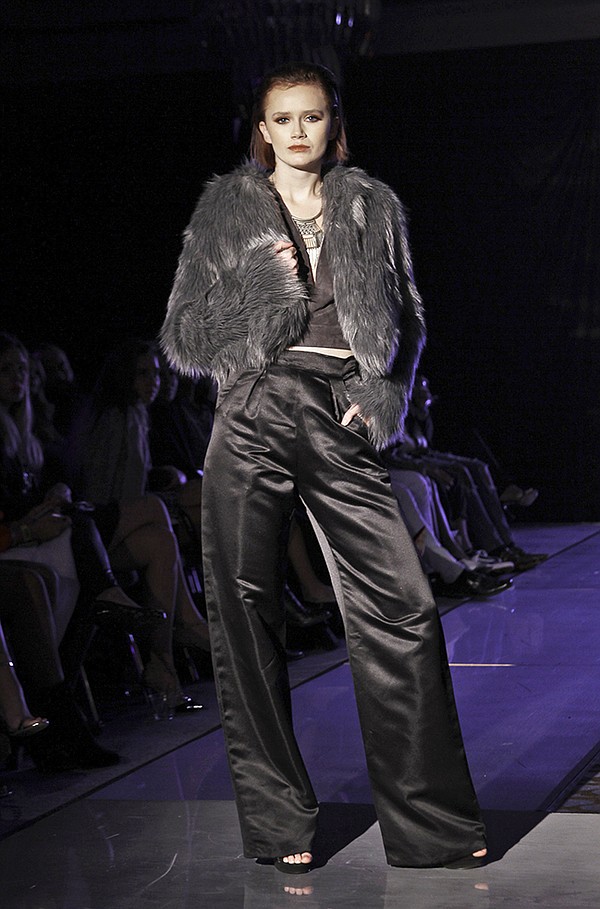 HAUTE HOLIDAY
Haute Holiday: The New Hollywood at Fashion Speaks
Photo Gallery
The New Hollywood at Fashion Speaks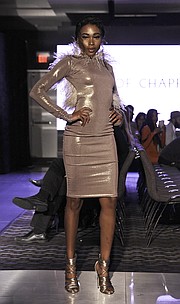 Concepts From Sketchbook to Runway, presented by Fashion Speaks and The Art Institute of California–Los Angeles. Photos by Vincent A. Chavez
For designer Adolfo Sanchez, it was time to show how streetwear could meet eveningwear.
He showed his collection, "The New Hollywood," as well as some holiday pieces on Dec. 11 at Concepts From Sketchbook to Runway, presented by Fashion Speaks and The Art Institute of California–Los Angeles. The event took place at Le Méredien Delfina Santa Monica hotel in Santa Monica, Calif.
"There's a huge hip-hop influence in fashion now," Sanchez said of streetwear looks, which have become increasingly prominent. "The New Hollywood took inspiration from Marilyn Monroe and Ava Gardner. It mixed those classic looks with what is happening with streetwear." Looks included a moto jacket with ruffled, brocade sleeves and cat suits bearing hoods. Bridal styles are important to the Adolfo Sanchez label. At the end of his 14-look show, there was a bridal dress with a beaded back and a tulle bottom.
The Fashion Speaks show was an encore engagement for The New Hollywood. Sanchez debuted at the Art Hearts Fashion show during Los Angeles Fashion Week in October. Fashion Speaks produced its Dec. 11 event as a drive for Toys for Tots, which collects toys for underprivileged children. Beth Bowen of the Bravo TV program "There Goes the Motherhood" emceed the show with Fashion Speaks producer Joshua Washington. The event was the fourth annual show for Fashion Speaks. In 2017, Fashion Speaks will produce biannual fashion shows.
Also exhibiting runway shows for the event were Maggie Barry, House of Chapple by Reco Chapple, Joshua Christensen and Naima X Hitoma. Students from the Art Institute of California participated in the show. The Art Institute designers were Nazeli Zeynalyan, Susie Carillo, Dagmar Lazcano, Vida Skaite, Martha Montiel-Moreno, Augustus Victor and Justine|Kristen.