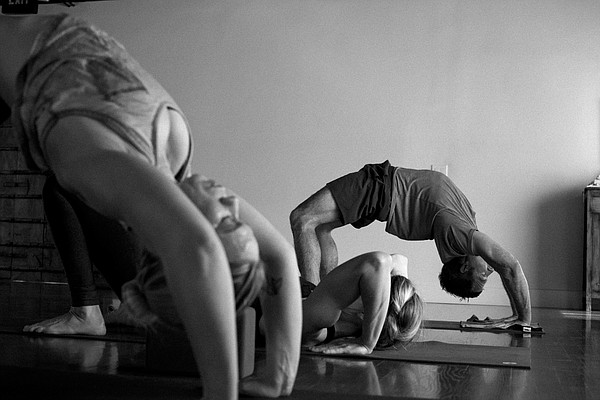 YOGA IS FOR REAL MEN
Kozm: Yoga Is for Real Men
After years of attacking powerful waves and wiping out on concrete and in the snow, the founders of the Kozm brand turned their careers to yoga mats.
Troy Eckert and Derek Sabori spent lives in the business surfing, snowboarding and skateboarding. Along with being surfers, they served as executives at Volcom, the multi-million-dollar action-sports company in Costa Mesa, Calif., that makes clothes for the surf and skate set. After racking up a number of professional achievements, both left steady gigs for the risk of starting new ventures. Last month they started Kozm, a new company making yogawear for men.
Eckert was a Volcom marketing vice president until 2011. Sabori served as Volcom's vice president of global sustainability until last year. He continues to consult with the action-sports label on its mission to cut pollution and waste in its manufacturing. If it sounds crazy to leave well-paid executive jobs for the unknown, Sabori said the new venture was a logical next step.
"Instead of making little tweaks here and there, let's try to make a new standard and show how business can be done in a sustainable way from the beginning," he said.
It takes a long time to change the way a big company such as Volcom manufactures. Volcom is serious about its sustainability goals. The action-sports label and its parent company, Kering, regularly publish progress reports on their actions toward becoming cleaner companies. Yet Sabori felt that a new company could move more quickly toward achieving environmental goals compared to a large, established company.
Kozm's first step in making eco-friendly clothes starts with fabrics. The brand's fabrics are made entirely from recycled cotton, or "upcycled" cotton in industry lingo. It is supplied by Spanish company Recover, a division of Hilaturas Ferre. No new virgin cotton is used, which cuts out issues of polluting farmland. No water is used to dye the fabrics, which saves water and cuts pollution from coloring fabrics.
Kozm takes Recover yarns and manufactures most of the line in Los Angeles, Sabori said. "It's one of the lowest environmental footprints I know of," he said. Kozm's hats and totes are made by Unionwear, a Newark, N.J.–headquartered union shop that also makes safety gear and spent the 2016 election making campaign hats for Bernie Sanders, Hillary Clinton and Jeb Bush.
There's another part of the brand's mission. It hopes to change minds about yoga. The exercise regimen has been considered by some to be an activity for women. It's one reason why there are many yoga brands for women and fewer companies that specifically make yoga clothes for men. To make the case for yoga to skateboarders, on the label's website, www.thekozm.com, there's a seven-minute film profiling Chet Thomas, a skateboarding star who talks about the physical- and mental-health reasons why he added yoga to his daredevil activity of skateboarding.
"It's harder and it's more beneficial than they think," Sabori said. "It's not only for women."
The brand is currently being sold solely as a direct-to-consumer line.
The company also plans to give 5 percent of its proceeds to the Warrior Spirit Retreat, a nonprofit that brings yoga to veterans.
For its first season, Kozm released four crew-neck T-shirts, which range from a black pocket tee to a camouflage tee featuring figures doing yoga poses, a white "Made Fair With Care" T-shirt and a gray T-shirt bearing the image of Skelly, the brand's icon of a skeleton doing a warrior yoga pose. The brand also offers a baseball cap, a beanie and a tote bag. Retail price points range from $23 for a beanie to $42 for T-shirts and the tote. For a special project, the brand partnered with surf and lifestyle veteran Jeff "Yoki" Yokoyama to make yoga towels made from upcycled spa towels and a mix of hemp fabric.
The clothes are lightweight and step away from using highly technical fabrics, Sabori said. "The inspiration always went back to yoga, how simple and elegant yoga is. There's not a lot you need," he said.