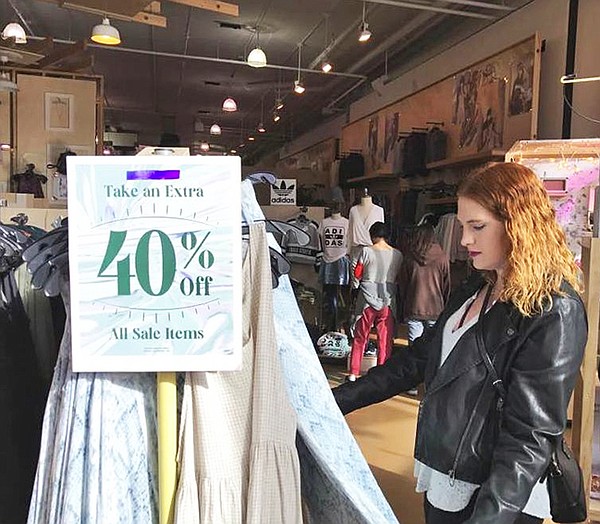 SCENES FROM A MALL
Mall Traffic Seen As Slower During Holiday
A mad, last-minute dash to the stores offered a silver lining to a tough holiday shopping season that was populated with promotions and sales.
Many retailers and Wall Street analysts described the crucial retail time as tough and erratic.
Before the season started, the National Retail Federation trade group forecast that holiday sales would rise 3.6 percent to $655.8 billion.
But bricks-and-mortar sales in the week ending Dec. 24 rose 6.5 percent over the previous year after having fallen for the rest of the month, according to analytics firm Retail Next.
According to MasterCard's holiday spending report, there was strong demand for furniture, home furnishings and men's apparel from early November through Christmas Eve, pushing up retail sales by 4 percent.
But those sales may have come at a cost. For independent retailers such as Alan Hall in San Diego, the 2016 holiday season was the first time his contemporary women's shop, Eden Boutique in the Gaslamp Quarter, discounted all the store's merchandise by 15 percent. Winter apparel was 40 percent off. "If you don't have a sale, people think something is wrong with you," Hall said.
With cold weather driving people to indoor malls and e-commerce deals keeping people on their computers and smartphones, Hall's store needed the promotions to lure people through the doors.
The deals worked somewhat, Hall said. Eden's loyal shoppers made larger purchases, but retail traffic did not increase. Hall described the season's business as "disappointing."
For Gila Leibovitch, who owns four boutiques in Laguna Beach, Calif., the holiday season also was about discounting. "We found ourselves giving deals. It is something we didn't do before," she said. "There were a lot of deals being made at the register, like 10 to 20 percent off, so we would not lose a deal."
Leibovitch and her husband, Johnny Alper, own Laguna Active, The Vault Men's, The Vault Women's and Melrose Place.
Promotions abounded during the holiday season and after. For its one-day sale after Christmas Day, Macy's offered suits that were discounted by 60 percent to 70 percent, which climbed into the pricing territory of off-price retailers.
Gap was offering 50 percent off some goods days before Christmas. Other retailers advertised extras on holiday deals such as free shipping.
Nanette Basin did a lot of her holiday shopping at Macy's. The Los Angeles resident bought brand-name clothing at prices discounted by 50 percent or more. "It's better than going to the racks," she said, referring to off-price stores.
Fred Levine, of the M.Fredric chain of boutiques in Los Angeles County, forecast his holiday business would probably be up in the single digits compared to last year. "The stores are doing well but not extraordinary as prior to the recession," he said.
For retail analyst Jeffrey Van Sinderen, who works at B.Riley & Co. in Los Angeles, this season might be one of diminished mall results. "For retailers who were struggling, there will be some 'give-up' on margin. If they were sourcing better, there could be a positive offset," he said. "The ones that did not get as promotional, their margins could be better, but those are few and far between."
Also, the pace of business was erratic during the 2016 holiday season, Van Sinderen said. E-commerce titans such as Amazon.com announced holiday deals early in the season that pulled business toward e-retailers much earlier. Amazon said it had its best holiday season ever.
As a result, bricks-and-mortar retailers lost some steam on Black Friday, the day after Thanksgiving and the traditional start of the holiday shopping season.
The weeks between Black Friday and the surge of shopping before Christmas are traditionally quiet, Van Sinderen said, but 2016 was tough. "Traffic fell off hard. It didn't come back until 10 days before Christmas, and it didn't come back in a way that was really robust," he said.
Ken Perkins, president of Boston-area market research group Retail Metrics, wrote that mall traffic declined, even on major shopping days. In a Dec. 22 research note, he noted there was a larger shift to e-commerce and mobile shopping, which lured people away from bricks-and-mortar.
Also during this season, there was more competition to traditional gifts such as apparel, accessories and jewelry. More people gave gifts of travel and dining. Perkins forecast that fourth-quarter earnings of his retail index would decline 1.9 percent.
The forecast comes at a time when many economic indicators seem to be on their way up. Consumer confidence increased during December, according to a survey from the Conference Board, a nonprofit research group that measures American consumers' economic outlook.
The Confidence Index climbed to 113.7, up from 109.4 in November. Lynn Franco, the Conference Board's director of economic indicators, said there was a "post-election surge in optimism for the economy, jobs and income prospects."