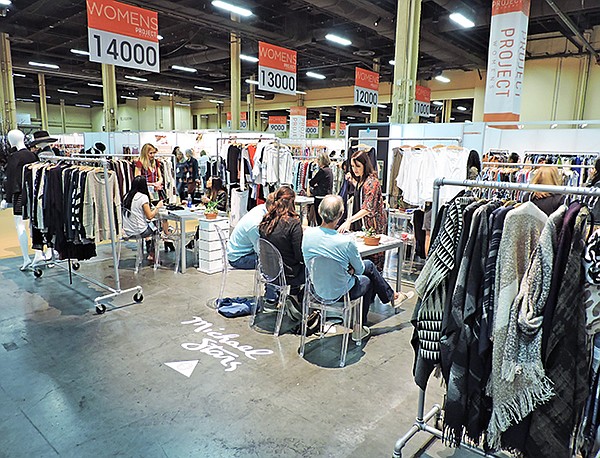 L.V. TRADE SHOWS
Buyers Navigate Multiple Venues, Categories at Las Vegas Shows
LAS VEGAS—They were lined up to get in.
When visitors arrived at the Mandalay Bay Convention Center in Las Vegas for the Feb. 16–18 run of Project, Project Womens, Pooltradeshow, Collective and The Tents, the registration line snaked around the lobby, forcing buyers to wait up to 30 minutes to get their badges and enter the trade show. Once inside, they got down to business reviewing Fall collections and placing orders—primarily for Immediate goods.
This season, the shows—part of UBM Advanstar's sprawling collection of shows, which also includes WWDMAGIC, Sourcing at MAGIC, FN Platform, WSA at MAGIC and Curve@MAGIC—had their layouts shuffled once again. This season, Pool was located with Project in the space that previously housed The Tents, which moved to the center of the hall.
The first day was "amazing," said Erik Ulin, UBM Advanstar's president of men's. Late in the day on Feb. 16 it was still busy, Ulin said.
"There's business and commerce going on, and that brings value," he said.
With more than 300,000 square feet of exhibition space, "it's so big you have to have those beacons of navigation," Ulin said. "We strive to merchandise the floor to make it a good experience for every retailer. [And] the exhibitors are happy if the retailers are happy."
Eric Martin, owner of the Park Showroom, was showing about 12 collections, including new brands Tom Tailor and Duvin. Martin brought along a staff of more than 20 to work the show.
"It started a little slow, but now every booth has someone working in it," he said on opening day.
At the Las Vegas Convention Center, WWDMAGIC got off to a busy start with booths crowded with buyers. In the always-busy juniors section, Vernon, Calif.–based juniors brand Timing began serving fresh-baked cookies on the show floor at 8 a.m. By 4 p.m., the company had gone through three cases of frozen cookie dough.
At Sourcing at MAGIC, there were up to 2,000 booths—an increase over last year's tally of 1,450 booths. Exhibitors included fabric, trim, wearable technology and garment-manufacturing resources, including 40 factories from Turkey.
But Advanstar's shows were only part of the apparel trade-show story in Las Vegas. At the Sands Expo and Convention Center and adjacent ballrooms at The Venetian was the Offprice show as well as the six trade shows of Modern Assembly: Liberty Fairs, Agenda, Capsule, MRket, Stitch and Accessories The Show.
Opening day was strong for MRket, Stitch and Accessories The Show, all organized by Business Journals Inc. It was nonstop appointments and drop-ins at Tallia Orange, a division of New York–based Peerless Clothing, which was showing at MRket. Traffic was similarly brisk and steady at Peter Jacobson's booth at Stitch. Jacobson is the owner of the Creative Concepts showroom in Los Angeles as well as the owner of FashionLink, which distributes European collections.
At Liberty, Courtenay Nearburg, co-owner of New York–based Krammer & Stoudt, was pleased with the traffic turnout.
"We are super happy with the show," she said. "We got a bunch of people we were chasing. They were significant accounts. We hope that we'll get confirmation from them next month."
Nearburg said she thought the recent run of Liberty was better than last year, particularly on opening day, Feb. 15, the day before MAGIC and Project opened. Krammer & Stoudt's sales director, Matt Aguirre, spent a month preparing for the show, calling more than 300 stores to request a meeting at Liberty, Nearburg said.
Adam Ahdoot, a partner at Flagship Agency, said the recent show seemed to be an improvement over last year. "There seems to be an upswing," he said. "We're seeing better brands [at the show] and new retailers. There is more confidence from the buyers. There is more of a willingness to experiment with new brands."
Kevin Moshayedi, designer of Uncl, is a show veteran, having shown at Liberty for three years. The made-in-LA and -based athleisure brand said the show draws important retailers such as Nordstrom, Saks Fifth Avenue, Revolve and Kith.
This was the first season at Liberty for Los Angeles–based Cross Colours. The company was showing new looks inspired by the brand's 1990s heritage. New looks include military and streetwear styles. "I'm satisfied with the traffic," Carl Jones, the brand's founder, said. "We've been fairly busy."
The story was similar at Agenda, where Manny Martinez, global brand ambassador for Champion Life, a premium brand from sportswear line Champion, said traffic was on par with last year.
"It was good," he said. "We wrote orders."
Martinez said he saw retailers from across the country, including stores in Michigan and Texas.
For David Gormley, president and founder of Zephyr, a Colorado headwear brand, this was the best Agenda. "At other shows, they are just shopping," he said. "This show was animated. They wanted to engage. They wanted to get business done here."
Gormley said he saw his big accounts, such as Lids and Sport Zone, at Agenda.
Jeff Staple of the brand Staple was upbeat.
"We've been crushed," he said. "It's been super busy."
Rob Jungmann, founder, president and chief executive officer of eco-friendly T-shirt brand Jungmaven, expected to double his sales over last February.
Jungmann showed his collection of hemp and organic cotton T-shirts at Capsule's Above the Tree Line section.
"We've been consistently busy," he said. "We're writing more orders than ever here."
At Capsule, Jungmann introduced the 10-year tee, a 10-ounce hemp/organic cotton–blend T-shirt celebrating the LA brand's 10-year anniversary.
At the Offprice show, located on the ground level of the Sands Expo, buyers scoured the hall for key items such as leggings and apparel with American-flag motifs as well as T-shirts emblazoned with Disney and "Star Wars" graphics.
Exhibitor Gitu Mehta, owner of India Boutique Inc., a company specializing in beach and resortwear, was similarly upbeat.
"There were a lot of new customers," he said. "They were in the mood to buy."
Even though the Women's Wear In Nevada show changed ownership last year, the basic format of the event was the same with tried-and-true exhibitors occupying many of the same spaces they do every season.
More than 2,000 lines were on display in the various ballrooms inside the Rio All-Suite Las Vegas Hotel and Casino—a short distance off the Las Vegas Strip. The show's first day started on Feb. 15, one day ahead of many of the other Las Vegas shows.
The result was that the aisles were jammed with buyers that first day as the various ballrooms buzzed with noise.
"There are a lot of shows now, so you only get one or two good days," said Alan Blau, owner of Ubu Clothing, headquartered in Forty Fort, Penn., where most of the company's knit tops are made. Their jackets are manufactured in China.
Blau said retailers were hunting for items that would make great window-display items and were different.
In that respect, Ubu Clothing fit the bill with its reversible rain jackets that often have a bright solid color on the outside and a vivid print on the inside.
This season included a new trade show in the mix. The International Fashion Jewelry and Accessories Group (IFJAG), the Rhode Island–based accessories trade association, which hosts trade shows in New York and Miami, launched its first Las Vegas show at Bally's Las Vegas Hotel and Casino.
The Feb. 15–19 show was held in hotel rooms on two floors in the hotel, where IFJAG members showed fashion jewelry collections and other accessories items to wholesale buyers.