MANUFACTURING
Wolves + Wildflowers: T-shirts for the Bad Girl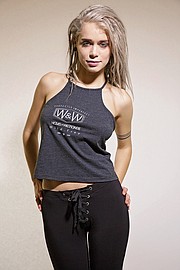 The Wolves + Wildflowers young contemporary brand, which will roll out later this year, was inspired by the girl who likes bad boys, said Tina Rani, a cofounder of the Huntington Beach, Calif.–based label.
"She is wearing her boyfriend's tee," Rani said of the looks, which might best be paired with a motorcycle jacket.
But even though the brand is inspired by tough rock 'n' rollers such as Joan Jett and Debbie Harry, Wolves + Wildflowers aims to manufacture T-shirts with a decidedly female silhouette.
The brand plans to release more than 30 T-shirt silhouettes when it formally bows in August. Among the silhouettes will be cropped tees, spaghetti-strap tees and tops with raw edges.
Other styles will take a cue from fashion found at rock 'n' roll festivals. Think T-shirts with distressed V-necks, distressed raglan-sleeved tops, sleeveless hoodies and cut-off T-shirts with large armholes and low neck lines.
Rani, the venture's creative director, partnered with Charlie Hayes, the line's cofounder, who also serves as head of product development for Wolves + Wildflowers. Kelly Kathleen heads up graphic design for the upcoming brand.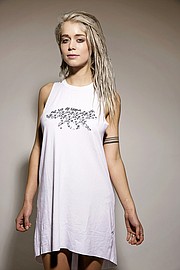 Using the brand's name, Kathleen inserted images of wolves and wildflowers into the graphics that will be found on the brand's tops. Other graphics were inspired by whiskey-bottle labels and the inside covers of pre-1940s hardcover books.
Rani got her start in fashion by designing young contemporary lines and printing T-shirts. For the past few years, she has worked as a manufacturer's consultant. She also introduced her swimwear and beach-lifestyle brand, called Venice Rani, influenced by the bohemian lifestyle of Los Angeles' Venice Beach neighborhood.
After Hayes and Rani worked together on several fashion lines, Hayes suggested the two partner up with their own young contemporary line. So last year, they started Wolves + Wildflowers.
Rani hopes to develop a lifestyle collection around the tops and place the brand in better specialty stores. She forecasts that wholesale price points for the T-shirts will range from $11 to $15.
Right now, Rani and her team are working on Fall 2016 styles. The preview for the brand will be for the Spring/Summer 2016 season, when Rani will be selling Immediates.
For more information, contact sales@wolvesandwildflowers.com.