TRADE SHOWS
Agenda: Streetwear Rebound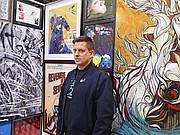 It was a time for a comeback at Agenda.
Streetwear and art brand 7th Letter made a return to Agenda after a three-year hiatus. In 2013, the brand opened the 7th Letter Gallery on Los Angeles' Fairfax Avenue, where it also exhibits art.
At Agenda Vegas, it produced a 20-by-50-foot booth, where it showed 90 street artists such as Retina, Saber and Push as well as photography from Dennis Morris, who gained note for his portraits of Bob Marley and the Sex Pistols.
7th Letter's Bill Hebner took people through the art show and explained the comeback. "We wanted to show the brand again," he said. "We wanted to remind people who the 7th Letter crew is."
Aaron Levant, the founder of Agenda, said that the show's Feb. 15–17 run at the Sands Expo and Convention Center also represented something of a comeback. Bobby Kim, a cofounder of prominent streetwear brand The Hundreds—also a vendor at Agenda Vegas—penned a widely read article on the state of streetwear in 2015 on Hypebeast, a forum and e-tailer. "This was one of our worst years on record."
But Levant said that business at the trade show had rallied. "Business has been up significantly. It's coming back stronger."
Many vendors said that trade-show aisles were crowded during the show. "People were excited," said David Gormley, president and founder of Zephyr, a Colorado headwear brand.
More than 250 vendors exhibited at the show. The number of vendors was basically even with the February 2015 Agenda Vegas, Levant said.
More Agenda vendors had been active in licensing plays, Levant said. Linear, a socks brand headquartered in Oceanside, Calif., made its Agenda Vegas debut. It exhibited socks bearing likenesses of characters from "The Simpsons" TV show.