RETAIL
Fred Segal, Barnabas to Move Into New Tech Enclave in Playa Vista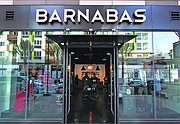 Major tech companies such as Facebook and Google already have offices in Los Angeles' Playa Vista district. Now it is time for fashion boutiques.
Fred Segal will open a 20,000-square-foot space in the beachside neighborhood, probably after the 2016 holiday season, said Monica Del Borrello, a representative for the pioneering boutique retailer. The retailer will disclose more details on the space in upcoming months.
Barnabas Clothing Co., another fashion retailer, is opening the last weekend of February at the exclusive Runway retail center in Playa Vista, which is located between Los Angeles' Marina Del Rey neighborhood and the Fox Hills section of Culver City, Calif.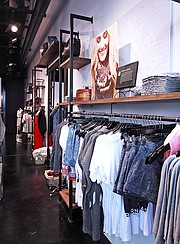 Alex Aquino, founder and chief executive officer of Barnabas, closed his previous space last January in the Paseo Colorado retail center in Pasadena, Calif., because he believed that Silicon Beach—the nickname for the colony of tech companies running from Venice Beach through Playa Vista—will grow into a great business.
"We are excited about the location because of the demographics," Aquino said. "You have startup people, venture capitalists and Silicon Beach players. … This location will be strategic. There are a lot of collaborations and networking that can happen."
In the gallery-style store, Barnabas will sell its California-casual-lifestyle clothes ranging from a graphic tri-blend T-shirt, which typically retails for $32, to a corduroy Sherpa button-down shirt, which will retail for $80. Aquino said that 10 percent of the company's sales goes toward Living Room International, a nonprofit that provides medical care in Kenya.
Aquino said that representatives of Runway sought out Barnabas, which Aquino runs with Julie Pacino. She designs the label's women's clothing.
He plans on introducing a children's line for the brand and reopening the company's wholesale business, which has been on hiatus. But he'll be focusing on producing what people in his shop's new neighborhood will want to buy.
Outside of the Silicon Valley uniform of hoodies and jeans, it's been hard to pin down how this well-off group of people wants to dress—or how they shop.
There has been fashion business discussion on whether tech-industry people embrace fashion as avidly as entertainment business workers and executives. Wendy Bendoni, chair and assistant professor of fashion marketing at Woodbury University's school of business, said that Silicon Beach people are fashion shoppers. "They will shop but typically via social community websites for basics," she said. They do shop bricks-and-mortar too. They also go to specialty shops for shoes, bags and lifestyle products, Bendoni said.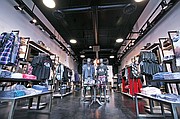 Silicon Beach people don't dress exactly the way their colleagues do in Northern California tech hubs such as San Jose, Mountain View and San Francisco.
"Lifestyle is a key. Wardrobe is built around health and fitness and the ease of the Southern California lifestyle," Bendoni said. Their clothes are less about logos and brand names, "more about a 'Normcore'-style tribe," she said. Normcore is a moniker given to the style of modest, basic clothes that many see as a reaction to fashion.
Silicon Beach is not the entire story of Playa Vista. Runway, the retail center where Barnabas is located, will include residences. Aquino forecasts that his store will be serving people in those residences as well as young families in the area. Barnabas also will be growing. In June, it is scheduled to open a store in the Pacific City retail center in Huntington Beach, Calif.
The merchandise mix in Pacific City will offer a handful of fashion stores including Tankfarm & Co. and Kin. But at Runway, Barnabas will be the only fashion boutique for now. The retail center does not have a standard retail-center merchant mix. Instead, it houses a Cinemark movie house, high-end burger joint Hopdoddy, Hal's Bar & Grill and 800 Degrees Neapolitan Pizzeria. The retail center is the address for fitness studios such as Bike Attack as well as a Whole Foods market. The grocery provides meals for a bustling crowd during weekday lunch hours. Cedars-Sinai Medical Center is scheduled to open offices there in late 2016.