RETAIL
Is Culver City Ready for High-End Boutiques?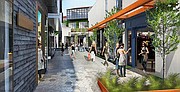 When the luxe mixed-use development Platform makes a formal debut in April, it hopes to shake up the area around the bustling restaurant and art-gallery neighborhood of downtown Culver City, Calif.
It will inject high-end boutique retail into an area that traditionally has not had much space for fashion shops. Platform will be half a mile away fromAlandales, which is said to be downtown Culver City's sole high-end retailer. Platform is located in the Hayden Tract, a development of creative offices a few blocks away from the downtown area.
For David Fishbein and Joseph Miller, partners in the Runyon Group, the developers of the $75 million project, downtown Culver City is on the verge of becoming a fashion retail neighborhood. The area is located around Washington and Culver boulevards.
Culver City has long been a district for restaurants and bars, many of which have gained critical praise. The neighborhood is typically packed with diners and people looking for an evening cocktail, which is one reason why the area is ready for boutique retail, according to the Runyon Group partners. The typical pattern of urban development suggests that after restaurants find success in a neighborhood, the place is ripe for boutiques and fashion retail.
"We always looked at it as a bigger picture," Fishbein said. "From a geographic standpoint, it's a central location in Los Angeles."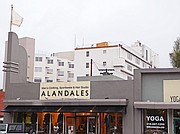 Culver City is located between major exits of the 405 and 10 freeways, the major arteries of Los Angeles' Westside. It's also a relatively short drive from the cities of Santa Monica and Beverly Hills as well as downtown Los Angeles. The project is adjacent to the Expo Light Rail Line Culver City Station, which has pedestrian exits on Washington and National boulevards. The Platform project is intended to be a central meeting place for people from throughout Los Angeles and the region. "It was the perfect canvas to create a place in Los Angeles," Miller said.
The space will feature 15 stores and five restaurants. Platform hopes to serve as an alternative. Its tenants will emphasize high-end, multi-brand boutiques, not mono-brand boutiques, which often dominate the top retail streets. The tenant mix will also include larger brands doing one-off concepts, Fishbein said.
Platform's boutique tenants will include Curve. The multi-line designer boutique runs a flagship on Los Angeles' Robertson Boulevard and four other shops around the United States. There will be Magasin, the first boutique concept from Josh Paskowitz, who has served as a fashion director for Bloomingdale's. Another shop will be Kilter, which is devoted to performance and athletic wear with a focus on design. It carries brands such as RVCA Sport, Undefeated Sport and Athletic Recon, according to its website (www.kiltershop.com). Another tenant will be Linda Farrow, an eyewear boutique. While the majority of the project's stores are scheduled to open in April, Platform's SoulCycle fitness studio is currently open.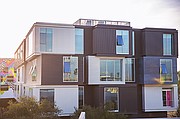 The open-air project will feature eight separate buildings, which will offer an industrial look, and a series of lush gardens. Runyon worked with Culver City firm Abramson Teiger Architects to build the look of Platform.
Mike Rielly, an executive vice president and partner for Townsend & Associates, a real estate brokerage and consulting firm not associated with Platform, agreed that Culver City is on the verge of becoming a retail neighborhood.
"As a submarket, Culver City has always shown promise … but it is finally peaking at the right time to justify legitimate retailer intent in placing a store and growing with that momentum," Rielly said.
Alandales has served as downtown Culver City's one fashion boutique for more than 20 years, said Irene Becker, the owner of the men's boutique, located at 9715 Washington Blvd. It has found success as a destination. Many of its clients are producers and executives at film studios, such as Sony Pictures Studios, located by downtown Culver City.
"They don't expect retail down here," Becker said of people visiting the neighborhood for a drink or a meal. "There's no place to shop. There's no place to walk." Becker acquired Alandales, which also offers a hair studio as well as studio services for film and TV, in 2008. She believes that more boutiques will build a momentum to make downtown Culver City into a pedestrian district for retail as well as eateries. However, she believes that the district's property owners prefer to rent to restaurants.
For the Runyon Group partners, the neighborhood is already on its way to becoming a boutique district. "There's a lot of creativity in the neighborhood, starting with food, art and design," Fishbein said. "We already have three elements there; we're adding another one."