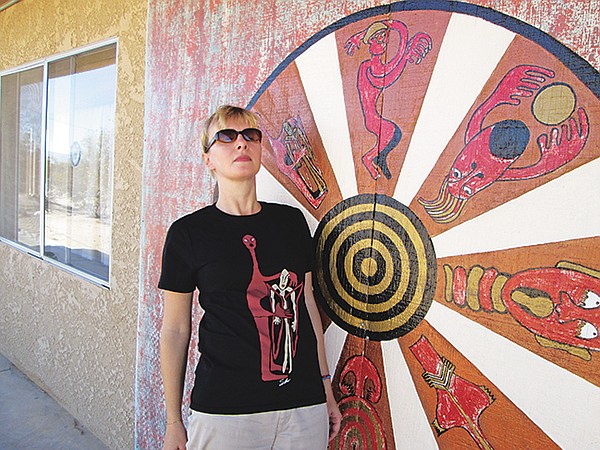 LINDA CARMELLO SIBIO
T-Shirts: Linda Carmello Sibio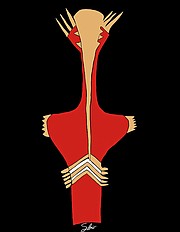 Linda Carmello Sibio got into the T-shirt business through teaching art to homeless and mentally ill people.
"What I'm trying to do is make mental-health issues palatable to the public," said Sibio, a fine artist based in the high-desert town of Twentynine Palms, Calif. "How can I get this message across and make it playful? By making the T-shirts."
Her T-shirt lines are called Octa Root and Hip Madness. Some of the graphics on her T-shirts portray the people she met through teaching art. One, titled "I Got the Blues," was inspired by a friend who had been clinically depressed. It shows a cartoon-esque figure in a fetal position. Then it shows that figure being reborn. "It's coming out of a depression," she said. Another graphic is called "Trauma Hole," which is inspired by the soldiers she met who returned from war with post-traumatic-stress disorder.
Sibio will be producing her first pop-up shop for her T-shirt line Feb. 13–14 at Rachel Rosenthal Co., the studio for the ensemble started by pioneering performance artist Rachel Rosenthal. It is located at 2847 S. Robertson Blvd.
Sibio's graphics are printed on blanks made by companies such as Next Level Apparel. She noted that the T-shirts she works with typically are soft and have a good drape. She's sold shirts through her website (www.crazyforaday.com). The shirts wholesale for $27.50.
The T-shirts are not just to create awareness of mental health. It's also to spark creativity. "I'm saying do something wild and new. I'm encouraging people to be creative. Wear a wild T-shirt," she said.
For more information, contact (760) 808-5326 or sibio@lindasibio.com.