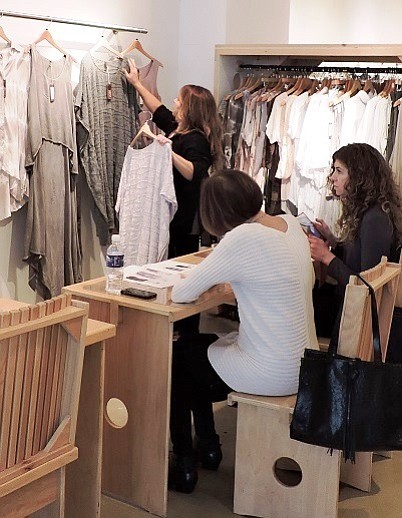 LA MARKET
Focused Buyers Turn Out
January market in Los Angeles is typically a low-key affair with retailers looking to fill in depleted inventories after the holiday season or buyers looking to review lines in a more-relaxed setting before the crush of the Las Vegas trade shows in February.
The Jan. 18–21 run of Los Angeles Fashion Market drew a solid retail turnout with many showroom owners and sales reps reporting buyers were focused and prepared to write orders. While attendees came from California and other western states, there were some from the Midwest and East Coast as well.
CMC's new "modern-woman" wing
Betty Bottom, a veteran CMC showroom, started the year by opening a 2,800-square-foot showroom in the "A" wing of the third floor of the showroom building.
Ernesto Mantilla, a co-owner of the showroom, said Betty Bottom is part of a movement of showrooms representing the modern woman (formerly called the misses category) that moved to the third floor's A wing.
"It will be the destination for our category," he said.
Also making debuts in the A wing were Sivalia Couture and Krishma Overseas. Another new showroom in the wing is Wells Apparel Group. Most of these showrooms moved from the "B" wing on the third floor. The CMC management closed that wing to remodel the B wing into trade-show space.
Wink Wells, a co-owner of Wells Apparel Group, said his showroom made the move to Suite A309 because the wing was becoming known as a place to buy merchandise for the modern-woman category.
More remodeling is on the way for the CMC. It will debut a new look for the B wing of the fifth floor by March. The Hanger Showroom will be moving into that new wing, said Selena Slogar, sales director for The Hanger.
For the January market, The Hanger worked out of a temporary showroom on the fifth floor. Slogar said that she had meetings with e-commerce emporium Revolve and Little Black Dress, headquartered in Chicago. The Hanger represents Australian brands such as Shilla the Label and Wish.
"January and August markets are usually the slowest," she said. "They are appointment-driven. But we had good appointments. People are coming."
Joyce Snyder of the Joyce Snyder Sales showroom said she saw boutiques from California as well as Rocky Mountain states, which she said is good news.
"The market was good overall," she said. "We came off a really challenging holiday season." Her showroom represents the Stop Staring! label and Asian Eyes scarves.
The men's division of The Park Showroom made its debut at the CMC at the October LA Fashion market. Eric Martin, owner of The Park, said many of his retailers were not ready to place orders during the January market. "The show was very slow," he said. "We have New York and Las Vegas shows following on the heels of it. People are buying Immediates. They are not ready to prebook until they go to the big shows and see the big picture," Martin said. MAGIC and its satellite trade shows are scheduled to run in Las Vegas Feb. 16–18.
For Mantilla of Betty Bottom, the January LA Fashion market was good overall. "The dollars are up," he said, estimating that sales were up 20 percent over last January. The showroom represents brands such as Effie's Heart, Yasuko, Eucalyptus, Cute Options, Peacock Designs and Flutter & Squeal.
"We've been consistently busy," Mantilla said. "We've been working late each night," he said.
Once again, the CMC produced its temporary contemporary trade show, Select, in the Fashion Theater in the CMC's lobby. Select also hosted a preview of ALT, an activewear and lifestyle trade show that will officially bow at the March LA Fashion Market. Several companies, such as Manhattan Beachwear, exhibited in the ALT preview section at Select. More than 24 brands exhibited at the Jan. 18–20 run of Select, said Rebecca Aguilar, a CMC spokesperson. Brands such as Magaschioni, a cashmere label; Shahida Parides, a fashion collection; and Casting, which is headquartered in Miami, participated in the show.
Buyers from Nasty Gal visited Select, but exhibitors said that the show was marred by low buyer turnout. Georges Levy, president of Casting, said January shows are typically tough. But this show, which focused on Spring clothes, was particularly tough. "Retailers still have a lot of inventory [left over from the holidays]," he said.
Orders at The New Mart
Showroom owners, reps and designers reported a solid turnout at The New Mart—especially on the first days of the show.
Suzie Hart, co-owner of the Niche showroom, said she had a strong turnout for opening day of market.
"A lot of retailers said they had a really good October, November and early December," she said. "We're not hearing any negativity. It's a nice place to be in."
Hart said many buyers were looking to add accessories to their mix. "Having accessories in the room makes a big difference in January," she said. Niche's accessories lines include Lisa Freede, a collection of architectural jewelry that can dress up an ensemble or be layered over a T-shirt, Hart said.
Another accessories collection that was a hit with buyers was Zacasha, a line of crystal jewelry with tassels. Other "fun" items buyers were looking for included ponchos, pieces with fringe and tie-dye, which Hart described as "grownup boho."
"A lot of stores are stocking up for festival season," she said.
Rande Cohen, owner of the Rande Cohen Showroom, opened a day early for buyers who prefer to shop on the weekend.
"Sunday was great," she said. Cohen had five sales reps working on Sunday and said the whole team was busy all day with buyers.
Many of those buyers carry PJ Salvage's collection of pajamas and loungewear, which Cohen said was a strong seller over the holidays.
"PJ Salvage did extremely well—it was their best year ever," she said.
Cohen also carries Oats, a cashmere sweater collection that she said has also done very well at retail.
"The weather has been working with us," Cohen said. "Now that it's cold, everyone is so into sweaters, and the colors are beautiful."
One of the newest additions to the showroom is Wooden Ships, a collection of sweaters and accessories handmade in Bali. Wholesale priced between $40 and $60, the collection includes cotton and luxe-yarn sweaters, novelty items, and accessories such as fingerless gloves, eternity scarves and hats.
Wooden Ships has a warehouse in New York, Cohen said, adding that the company "can turn things in four days."
This was the first market in The New Mart for Judy Wexler, co-owner of the Mystree showroom, which moved to the building in January from the CMC.
"Sunday afternoon we were busy," she said. "The vibe is good; the customers love shopping this building. I just wish more people in the building were open on Sunday."
Single designer Galina Sobolev was in the WBC Clothing showroom during market to meet with retailers, including buyers from Neiman Marcus as well as a team from Amazon.com's plus-size division, which has been carrying Single Plus styles.
For the core collection, Sobolev said she went "back to our boho roots" with a denim-friendly collection that includes Sobolev's signature placement prints "done in a modern way."
"Every item has to stand on its own and stand for something," Sobolev said. "The customer is getting more casual, but she still likes to dress up and she wears jeans."
This season, Single added some mixed-media pieces that paired Italian placement prints with a "buttery soft" Italian jersey. There were also tunics, caftans and peasant tops with a high-low hem as well as two-piece dresses for "the brunch girl" and airy and easy printed styles in Italian viscose. Single's red-print wrap dress, which was worn by Taraji P. Henson in an episode of "Empire," has been a top seller.
"I'm on my third recut," Sobolev said.
Steady at the Cooper
Retail traffic was busier than expected for a January market at the Lauren Moshi showroom at the Cooper Design Space.
"It was surprising because the last quarter was not good for retail," said Michael Moshi, president of the brand, of the January market. Lauren Moshi makes T-shirts, hoodies and accessories in Los Angeles. Lauren Moshi goods typically feature artwork from Lauren Moshi, a cofounder of the brand.
He said that buyers placed orders for Immediates and were more open to new products such as the brand's cashmere and accessories.
The multi-line Siblings Showroom noted a slight dip in buyer traffic compared with last January.
"It was steady, not great," said Israel Ramirez, the owner of Siblings. For the retailers who did not make it to LA market, Ramirez said he would meet them at MAGIC and its satellite trade shows in mid-February in Las Vegas. Siblings represents lines such as Veronica M, Tiare Hawaii and Two Four Six. Ramirez met mostly with California stores during the market, including Ambiance in San Francisco; StitchFix, also of the San Francisco Bay Area; and Revolve, headquartered in Cerritos, Calif. Also seen at Cooper during the market was EverEve, headquartered in Minnesota.
For Lien Vets, the January market was all about focus. Vets, the owner of the Noella Showroom, only worked on one line, Flannel, an Australian label, during the January market. "It was really nice," Vets said. "You can concentrate on one thing." Vets devoted her energies to one label during the January market because her other clients only do two seasons a year. They had no new wares for the January market.
Flannel, which also maintains a boutique on Abbot Kinney Boulevard in Los Angeles' Venice district, showed what Vets called a "true high summer collection." The summer collection offered lingerie-inspired silks with lace detailing as well as cotton gauze pieces and some skirts. "It was a smaller collection," Vets said. "We got into great accounts."
At the March LA Fashion Market, the Noella showroom will return to representing a large slate of clients, which include Swildens and Osei Duro, a fair-trade line that produces clothes in Ghana and sweaters in Peru, as well as MKT, Essentiel–Antwerp and Proud Mary.
Celebrating at the Gerry
The owners of the showrooms on the ninth floor of the Gerry Building were celebrating their fifth anniversary in the building during Los Angeles Fashion Market.
"This has become an important destination," said Arlene Henry, owner of Arlene Henry Sales.
"I like our group on nine."
Henry said business is up over last year. "We saw more stores this time," she added.
Henry's associate Sarah Kirakossian said Sunday, Jan. 17, and Monday, Jan. 18, were the showroom's busiest days.
"We were nonstop," she said, adding that she and Henry met with buyers from California, Arizona, Colorado and Washington as well as St. Louis–based retailer Soft Surroundings.
Kirakossian noted that January market in Los Angeles, like the August market, competes with the trade shows in Las Vegas.
"Buyers have a choice between here and Vegas," she said.
Still, among the buyers who did shop the January market, several said business was up, Kirakossian said.
Several retailers did well with faux-fur jackets from Staples, which are retail priced around $260," Kirakossian said. "They kept reordering until early December," she said.
Sunday and Monday were busy days at the Neetu Malik Showroom, according to owner Neetu Malik.
"Nobody took notes, they just wrote, she said.
Malik said most retailers reported having a good year in 2015, and many were looking for made-in-America collections.
"People did not buy a lot of Fall," she said. "Now they can fill in with my domestic lines."
Overall, Malik said, "for January, it's not bad."
She agreed that some buyers are choosing between shopping Los Angeles market or the Las Vegas trade shows.
"Vegas takes a lot of traffic, and it's in three weeks," she said.
This was the first market for Natasha Greizen, who recently opened the Now Showroom LA on the Gerry Building's fourth floor. Greizen's showroom carries a mix of apparel and accessories collections.
"Monday and Tuesday were great, then it was quiet," Greizen said. "We had a few appointments and a lot of walk-ins. Most were interested in the jewelry. We saw a lot of accessories buyers."
Lady Liberty: Appointment driven
The Lady Liberty building, which houses a mix of mid- to high-end contemporary men's and women's apparel and accessories, was bustling with traffic during the Los Angeles Fashion Market.
The sales representatives at the Globe showroom and Ocean showroom were busy with back-to-back appointments. One Showroom owner Kristen Aguilera was busy with existing retailer accounts reviewing the latest collections from Blank NYC, Scanlan Theodore, Meskita, Elliott Label, Hemant and Nandita, J Longobardo, Johanne Beck and newly signed Pop Active.
"Monday and Tuesday were our busiest days, showing pre-Fall deliveries [to Bodhi Bazaar, Nasty Gal and Revolve Clothing]," Aguilera said.
Aguilera said most of her retailers are very familiar with her collections and know what to expect. Major department stores such as Nordstrom, Saks Fifth Avenue, Neiman Marcus and Bloomingdale's follow the trends for that season and come to the One Showroom for a mix of denim, T-shirts, dresses and athleticwear.
For Trisha Alden, the show was a bit more relaxed. Alden carries Diane Cotton, Vanessa Jenik and Erica Molinari jewelry as well as the Louiza Babouryan collection, Department of Culture and Kelly Cole USA, a unisex belts and T-shirt brand. Alden was showing in Suite 401 with several independent reps and brands, including denim lines Kohzo and Talley. Alden said buyers came in for appointments only.
"It's not a heavily trafficked market, so it's usually the lines I've called my clients for that regularly [show up] and buy," she said. "We do help each other with crossover, though. Everybody is mainly gearing up for Fall."
The Globe Showroom, carries contemporary and high-end brands including Camilla and Marc, Augden New York, Smythe and White and Warren. Owner Tracey A. Burton said there was great traffic at market, with turnout from West Coast accounts—including Colorado, New Mexico and Utah as well as local retailers and stores from Northern California. "Business overall is healthy," he said. "The cold spell over Christmas helped the customers find a renewed interest in fall-like products."
Burton said the show was a good platform to help launch a few Fall 2016 collections as well.
"Although buyers were happy to shop Summer, they were also looking at pre-Fall and Fall from their core resources," she said.
Brigette Lubin, owner of the Ocean Showroom, was showing several collections, including activewear line Lanston Sport.
"Considering January market is usually a slower one of the markets, we were happy with the turnout," she said. "We were able to see a number of our key retailers selling both Immediate deliveries through pre-Fall."
Eclectic mix at D&A
The Jan. 18–20 run of Designers and Agents at The New Mart attracted an eclectic crowd. With about 40 exhibitors showing everything from apparel and footwear to accessories, D&A drew a steady group of buyers and retailers.
Helene Corneau-Cohen, designer of Corneau et files, reworks traditional clothing concepts into high-end pieces. Her brand includes delicate tops in an Italian ribbed fabric, lightweight fine knits, cotton batiste and cashmere-blend sweaters as well as sarongs in fine linen. Wholesale price points range from $75 for sarongs up to $160 for sweaters.
The designer started the company with the idea of making "elevated" sarongs for travel. The idea was to have coverage and look chic while walking along the beach, around the village, at a farmers' market or in the city. "Because I use all European cotton for the sarongs, you will always look put together," Corneau-Cohen said.
Specialty boutiques from Southern California cities and neighborhoods, including Del Mar and Venice Beach, as well as buyers from Dallas stopped by to place orders, Corneau-Cohen said. "It's a small show and a little quiet, but I'm happy because it's good exposure," she said.
This was the second time at D&A for Corneau-Cohen. Although the show in June was larger, Corneau-Cohen said she found this one busier. She received a number of walk-ins and made appointments with buyers who returned to place orders.
This was the first trade show for the newly launched Co + Co by Coco Rocha collection. International Sales Director Salvatore Ianniello said the response from buyers exceeded his expectations. He met with retailers such as Ron Robinson (where a Coco Rocha launch party event will be held), Jami Lyn and several better contemporary stores during the show.
"We can't be missed at a smaller venue because of our vibrant colors and high-end fabrications," he said.
The line is a bridge between athleisure and ready-to-wear, with wholesale price points between $36 and $125.
Buyers were responding well to Gold Hawk's mix of upscale sportswear and intimate apparel, said representative Danielle Ruble.
"The silk intimates can be worn with graphic tees, sweaters and cashmere," she said. The more contemporary pieces in the bohemian collection include new, burnout fabrications, lace, crochet and floral prints.
Gold Hawk is a longtime D&A exhibitor. Ruble said this season was surprisingly better than the October show. "We have been pretty busy, and traffic has been steadily moving with mainly walk-ins looking for Summer pieces," she said.
Curated mix at Brand Assembly
Brand Assembly was more intimate this season with 27 brands exhibiting. The highly curated show showcased a select group of high-end designers and emerging brands.
"This January, we had 29 exhibitors, which is an increase from our last [January] show," said Hilary France, cofounder of Brand Assembly. "Our buyer traffic increased from our January '15 show by 20 percent. We had majors such as Revolve, Nordstrom, Dillard's [and] Nasty Gal but also great local stores like Jill Roberts, Laguna Supply, Elyse Walker, Wendy Foster [and] Ron Herman."
The Jan. 18–20 run of the show at the Cooper Design Space had an airy, open feel that was easy to navigate. Exhibitors showed a mix of accessories, footwear, jewelry and contemporary, ready-to-wear, swimwear and resortwear.
Emily Lewis, director of sales for The SYDNY showroom, represents Australian brands such as Ministry of Style, Auguste and Tigerlily. "This market is [generally] slower than larger markets, but we've had a consistent number of appointments throughout the day," Lewis said, adding that although a few walk-ins occurred sporadically, existing appointments kept the traffic steady. "We have seen everyone from Revolve Clothing, which is consistent, to buyers from Colorado to Hawaii," she said.
Buyers were leaning toward existing trends but were drawn to the bolder patterns, Lewis said. Although many were looking for Summer merchandise and said they were waiting to write Fall orders in Las Vegas or New York, they said they were keen to see what was in store for Fall. "We are introducing new leathers and suedes," Lewis said. "But from our standpoint, lace is still hot. You still see it on the runways, but they are doing different iterations and colors. For Fall, you see darker [hues], especially larger print florals and blush [colorations]."
Returning exhibitor Ceri Hoover was showing the latest collection of handbags designed in Nashville and produced in Los Angeles.
For the Spring line, designer Ceri Hoover focused on two watercolor hues, peach and blue, and added colors that complemented the two. "[Hoover] wanted earthy tones with more feminine shapes. She carved out the edges of the piping, gathered the bottoms of a few bags and let it happen from there," said company representative Jaclyn Thomas.
For pre-Fall and Fall, there were darker colors, such as green, gray, and a few pops of red and black. Although only select pieces were shown at this market, Thomas said the turnout was good.
"The second day is usually the best, and [retailers] are getting used to the newer colors," she said. "Extending Hoover's market in Los Angeles overall has been promising."
Another returning exhibitor was M.I.H. Jeans.
"This market is a little bit slower than the larger market, but it's been steady; [we have seen] both appointments and walk-ins [looking] for pre-Autumn, Winter, Spring and Summer, including Immediates," said Senior Accounts Executive Brittany Harvey.
Buyers loved a 1970s-inspired denim flare style in M.I.H. Jeans' "Marrakesh" collection and a new crop flare style, Harvey said. Lightly brushed denim, body-conscious fabrics and traditional denim pieces were all doing well, Harvey said.
Emily Corbin, accounts executive for Rachel Zoe, agreed that this season the show was smaller than past seasons but said foot traffic was about the same in comparison with previous markets. West Coast boutiques made their appointments while bigger accounts were waiting to write orders in New York. Pre-Fall and Spring 2016 highlighted Zoe's rich florals and luxe fabrics. "We used to be licensed and Zoe recently bought the company back, so she is really working hand-in-hand with our designer in New York to make it more of a Rachel-esque collection," Corbin said.
Bloom Jewelry, based in Denver, introduced a new diamond collection featuring diamonds wrapped in sterling silver and 14-karat gold. Designer Lindsay Bloom said she believes in fine craftsmanship and providing quality pieces. In addition to diamonds, Bloom used other precious stones, including emeralds, rubies and sapphires. Wholesale price points range from $33 for stud earrings up to $450 for novelty items.
As a new exhibitor at Brand Assembly, Bloom acknowledged it was a quiet market but a perfect setting to see existing accounts as well as new.
"We are pleased to be here. What a pretty show," Bloom said.