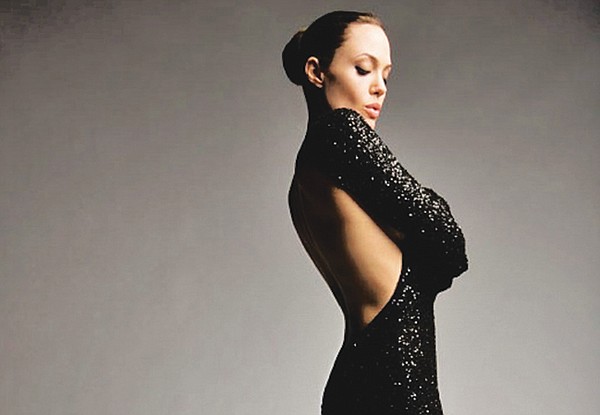 LA ATELIER
In Tough Times, Mark Zunino Opens Lavish Couture House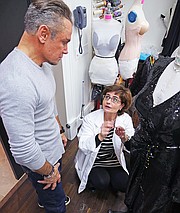 It's an era marked by retailers closing stores and scaling back, but Mark Zunino, a Beverly Hills, Calif., couturier, unveiled a 5,500-square-foot atelier with a staff of 40 people.
In early January, Zunino produced a grand debut party overflowing with champagne and guests at his Mark Zunino Couture at 181 N. Robertson Blvd. Photographers, friends and revelers took pictures of Zunino with models wearing his red-carpet gowns and eveningwear. The backdrop was the white-walled workroom, where sewers painstakingly construct one-of-a-kind looks for Zunino's clients.
Zunino has created gowns and styles for Sofia Vergara, Dame Joan Collins, Angelina Jolie, Beyoncé, Lily Tomlin, Shirley MacLaine, Sophia Loren, Liz Taylor and Barbara Stanwyck, among others. But he claims that he would not feel slighted on hearing the question, "Who is Mark Zunino?"
For more than a decade, Zunino kept a low profile while working out of a Los Angeles atelier with no sign on Beverly Boulevard. Clients walked in a back door for fittings. "It's a private, quiet thing," Zunino said of his couture. "[Clients] would rather you not dress anyone else. But it's time to lift the lid off and let others in," he said.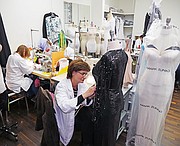 Zunino has opened a large operation and put his name out in front of his building in order to give his couturier business a higher profile and expand that business into licensing and e-commerce ventures.
Operations such as his are rare, said Frances Harder, founder and president of Fashion Business Inc., a Los Angeles–headquartered business incubator and nonprofit educational group for entrepreneurs.
"You look at any ateliers and courtiers in our town who make dresses for special events—most are starving," she said. Most red-carpet events also emphasize gowns and looks from high-profile fashion houses. "For the most part, when we see the Oscars, most of the gowns are from branded French ateliers and Italian ateliers, less from Los Angeles ateliers."
Zunino joins a coterie of Los Angeles red-carpet designers that includes Monique Lhuillier, Tadashi Shoji, Kevan Hall and Sue Wong.
His operation is independent. He is an owner, and the privately held operation has received funding from Sandra Moss, wife of Jerry Moss, who cofounded high-profile music label A&M Records. Sandra Moss gained some music-industry immortality when she was pictured on the front cover of "What Now My Love," a hit 1966 album by "Herb Alpert & the Tijuana Brass."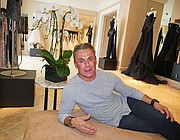 Before running his own shop, he worked with Nolan Miller, the famed couturier and costume designer who also ran an atelier in Beverly Hills. Miller gained his biggest notoriety for developing the brassy, influential, red-carpet looks for the 1980s prime-time soap "Dynasty."
Zunino inherited Miller's A-list clientele, which also includes wives of billionaires and women who are entrepreneurs. His atelier's parking lot is graced with a lot of Bentley and Jaguar cars.
Zunino signed on with Miller in 1983 while a junior at Pepperdine University in Malibu, Calif. He started as a fashion illustrator. Later he worked with actresses who learned style through Hollywood's studio system.
"Lana Turner and Jane Wyman told you what they were going to wear, what fabric they wanted to use and how their clothes were going to look," Zunino said. "It was like getting a master's degree in style."
He derived his point of difference from working with these stars. "You will not look like a hanger for somebody," he said. "You will look like how you choose to look."
This point of difference is one of the things that keeps him working, said Margaret Kott, a client of his since 2002. She attended the opening party for the atelier, where all the attendees were wearing clothes made by Zunino. "We had fabulous outfits," she said of the crowd. "But we were all different."
Clients start working with Zunino in an hourlong "getting to know you" session, where they are interviewed on their likes and dislikes regarding fashion and clothes. Clients are encouraged to share their perspective and be involved with designing the clothes. "The more creative the person working with us, the more input she has with the garments," Zunino said.
He continues to work with A-list actresses and performers. But he also works to build the wardrobes of private clients from West Los Angeles to Saudi Arabia and Europe, he said. He makes eveningwear and a bridal line, Mark Zunino for Kleinfeld. The contract for the bridal line runs out in 2017. Clients are also encouraged to bring their social calendars to the atelier so they can plan out what they should wear in advance.
He also joked that his operation was the "Kmart of couture." It was a relative bargain. Instead of flying to Europe and spending more than $80,000 on a gown, his well-heeled, California-based clients can forgo the trip and pay half of what they would pay at a high-profile European atelier. He also noted that there are no bargains at the atelier. "It's the same price for everyone. Either you want it or you don't," he said.
Another matter that makes his operation unique is the level of service, which spurs a sense of creativity. "Each individual creates their own classic," he said of his clients. "You create your own trend."
The Mark Zunino atelier might step out of couture in some future projects, said René Horsch, the atelier's director of public relations and its head stylist. He has worked with Zunino for 28 years, when Zunino worked with Nolan Miller.
"We're in the process of working with manufacturers and designing a ready-to-wear eveningwear line," Horsch said. "Mark will be a bigger name in department stores and e-commerce. But he will always be doing couture at our atelier. Couture drives the business."