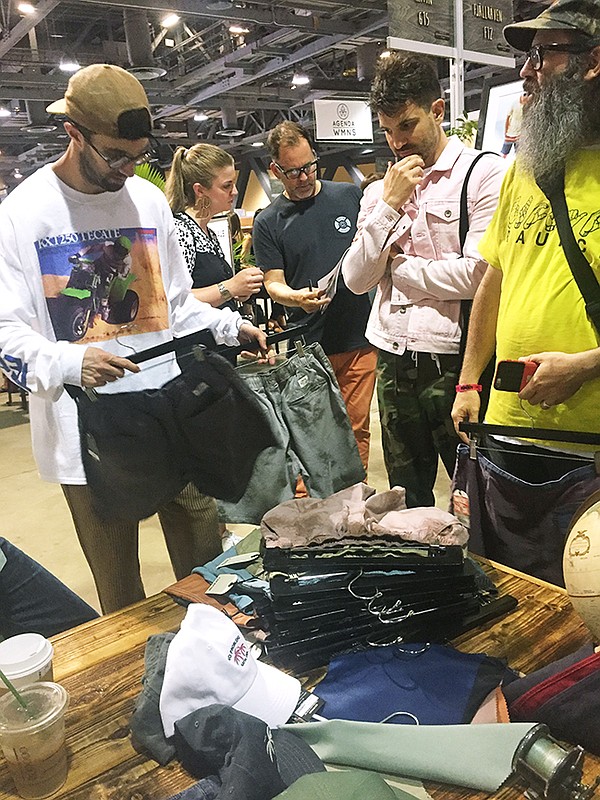 BACK IN THE LBC
Agenda Goes Back to its Roots in Long Beach
Energy was high during the July 29–30 run of action-sports and streetwear trade show Agenda, held at the Long Beach Convention Center in Long Beach, Calif.
Because the show was held right before the start of the Fourth of July holiday weekend, opening day was the busier of the two-day show.
Dale Rhodes, vice president of sales at Katin USA, said his company saw the best retailer turnout in three years—despite a few retailer complaints about the timing. Rhodes said he saw a steady flow of A-list accounts on both days, including Urban Outfitters, Azalea, Hobie, Austin Stag, SurfSide Sports, Zebra Club and Simmons, based out of Canada.
"We ended up showing 30-plus accounts," Rhodes said.
In total, 750 brands exhibited in the 250,000-square-foot space, including several new exhibitors, according to show founder Aaron Levant.
"There are always new companies that come in every season due to seasonality or just the market," he said. "There are always around 30 to 50 new companies that show every season."
One of those newcomers was Matt Hwang of Los Angeles–based Pizza Slime, a marketing and visual-content consultancy that recently launched an apparel collection. Hwang and his team have worked with artists, brands and companies such as Paramount Pictures and Major Lazer. At Agenda, Hwang was showing Pizza Slime's unisex collection of tees, hoodies, hats and accessories and hoping to generate brand awareness and connect with buyers.
Returning exhibitor Lost was showing men's and women's knits, wovens and boardshorts as well as the company's sister line, Sea Gypsies.
The timing of Agenda—which fell earlier in the summer than it typically does, provided some logistical challenges, said Lost President Rick Petree. The company had to speed up its production deadline and scramble to book sales appointments.
For Lost, the company beefed up its technical offerings, including its "Carbon Series" boardshorts, which are inspired by surfboards and feature functional features such as anti-microbial and quick-dry properties.
"We restructured and relaunched with more technical offerings," Petree said.
In addition to Lost's "Pro-formance" boardshorts, which are made from a high-density four-way stretch, the company was also offering a less technical "Bro-formance" style.
Sea Gypsies, which blends contemporary and beach fashion lifestyle, introduced its first swimwear collection at Agenda.
"We want a fashion line that can live both in a boutique and a surf shop," Petree said.
Lake Forest, Calif.–based Altamont was showing three new fits, including denim and shorts, as well as a capsule collection created with Operation Ivy's Jesse Michaels.
"We have been around for 10 years, and it was important for us this season to show what's new," said Apparel Design Director Jack Toledo. "We have had great responses, from prebooking to notes, and people are showing excitement about the new aesthetic of the brand."
Manuel Martinez is the global brand ambassador for Champion, which was giving away airbrushed T-shirts and embroidered hats and showing new product that updated the company's classic style.
"Our mission is to work with the Champion team and bring the brand back to its glory days," Martinez said. "We try to stay true to our heritage and play with different fabrics and applications."
Agenda WMNS
There were just under 60 women's brands in Agenda WMNS as well as 150 brands that carry both men's and women's styles, including Native Shoes, Herschel Supply Co., Vans, Obey, Nikita and Billabong.
Los Angeles–based Valley High returned to Agenda WMNS with a women's apparel collection inspired by men's silhouettes and updated to fit a woman's body. Cofounder and Creative Director Christian Ojeda and designer Chanelle Laurence were showing the latest collection, which featured prints and unique graphics and is designed in-house.
This was the 1-year-old brand's second season at Agenda.
"We won the Agenda Scholarship, which is [awarded] to small, independent brands that apply. They pick a brand they think has a lot of potential and offer them a free booth," Ojeda said. "We had a good reception the first time around, so we decided to do it again."
This was also Slate swimwear's second time at Agenda. The company, designed by Jessica Liao, launched in late 2015 with a clean, classic and modern aesthetic.
"The swimwear industry is saturated with prints and trims, so I wanted to bring something new with minimal colors, styles and basics with my own twist like sexy cuts and a 1980s inspiration," Liao said.
Slate is currently sold in swimwear retailers such as Diane's Beachwear, Azaleas, Jeffersons, and Boho Beach Babe.
"We received orders from new accounts and everyone's loving our multi-strap top that can be worn as a choker," Liao said.
Technical fabrics and denim
Many of the Agenda exhibitors were showing advanced technical fabrications for performance apparel as well as core active product and lifestyle pieces.
"One of the things we are trying to tackle is technology and function," said Volcom's Pat Lloyd. "We started working with Cone Denim, one of the oldest denim manufacturing companies in the world. What we came up with is not only new but functional."
The company was showing the third season of its "Stone Made Jeans and Chino" collection for Fall 2017. The collection features superior stretch, high strength, water resistance and an odor-resistant capability known as "stop the stench."
Irvine, Calif.–based men's clothing line Ezekiel introduced a new product called "Now Denim." The fleece, terry denim looks like regular denim but has a brushed feel and the stretch of a knit for increased movement.
"Our customers typically buy simple branded pieces, but we are moving into more of a grown-up style," said Visual Marketing Coordinator Ryan Mark.
"The show was great," said Kelly Murnaghan, Vans senior director of North American marketing. Vans received a positive reaction with its new boardshort, "the Era," which offers distinctive prints and colors and "Sturdy Stretch" twill for performance, comfort and durability. Vans is also launching an "Authentic Stretch Chino" short and pant for Spring 2017, which also features the "Sturdy Stretch" twill and combines classic styling with skateboard functionality, Murnaghan said.
The Spring 2017 collection for Laguna Beach, Calif.–based men's apparel company Roark is called "Monsoon Church" and was inspired by a trip to India.
"We traveled over there for a couple of weeks, rode our motorcycles, surfed and skated," said Ryan Hitzel, Roark's creative director and chief executive director. "While there, we collected inspiration, friendships and created this line."
The collection includes breathable waterproof jackets that perform in a hot environment.
"We also pulled different local textiles and art and transferred that into print design," Hitzel said. There's a traditional Indian rangoli print that appears on boardshorts. Other pieces in the collection includes tees, backpacks, hats, technical outerwear, boardshorts, pocket knives and even a head lamp.
"We try to come back [from these trips] and create different products that are less traditional," Hitzel said.
Hitzel said the turnout at Agenda included a lot of traffic and written orders. "This year traffic was up for us and writing increased," he said, adding that retailers "are more apt to get business done. Maybe with the current climate kind of changing with bricks-and-mortar retail, they are here writing orders as opposed to just looking at lines and writing orders later."