RETAIL
Next Stop for Streetwear Brand: Hotel Rooms & Lobbies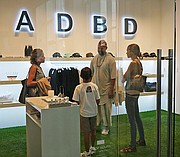 For Adam Derry, the hot new retail neighborhoods are hotel lobbies and hotel rooms.
He recently opened a second location for his ADBD-brand boutiques in the lobby of the W Hotel in Hollywood. The shop, ADBD Hollywood at the W Hotel, is 200 square feet. But the large sign for the ADBD store can light up the entire lobby at night as guests travel for a night's adventure.
They can also order ADBD clothes and accessories to be delivered to their rooms like a room-service meal at all hours of the day and night. "Adam is integrating fashion and in-room service," said Leon Young, general manager of W Hollywood Hotel & Residences. Derry has also worked with W Hotels Worldwide in the past on a project redesigning sheets using sustainable materials for the company's North American properties.
The lobby shop is typically open from 2 p.m. to 10 p.m. If hotel guests want ADBD purchases sent to another address, the clothes can be delivered by a driver. An ADBD Welcome Card is given to guests with room keys at registration. Guests will know about ADBD before they leave the W, Derry said.
Derry has run a boutique at 430 N. Fairfax Ave. in Los Angeles since 2013. The street often is considered the Rodeo Drive for streetwear. Many people who drop by the Fairfax shop are young and highly influenced by hip-hop music and culture.
Derry took a chance on opening a shop in a hotel lobby, which attracts a much wider group of people. "We want to be where the wider, global culture is. We want to be in that crossroads," he said.
Hotel branding consultant Bruce Himelstein said that hotels typically host boutiques that will attract a certain crowd, just like any mall. The hotel retail market features a wide range of boutiques from the boutiques of European fashion houses at Las Vegas Strip hotels to golf shops at golf resorts. It's a big market, but he also sees a trend of hotels scaling back on retail.
"A lot of hotels are eliminating retail. It's cheaper to carry a couple of toothbrushes at the concierge desk. They'd rather hold [retail] spaces for other things," he said. Himelstein founded BJH Group of Boca Raton, Fla.
At the ADBD Hollywood boutique, guests can find ADBD's gender-neutral hoodies and fleece pants, which are made from hemp and cotton jersey. Core price points range from $100 to $300. The line is manufactured in Los Angeles. The brand is branching out into leather jackets, and the clothes have been spotted on NBA stars such as Russell Westbrook, hip-hop star Post Malone and country musician Sam Hunt. Derry said that the look of the brand is minimal and—in his view—draws out the wearer's personality.
"It's so the wearer is not eclipsed by the clothes," he said.