TECHNOLOGY
PLM Helps Moods of Norway do Biz 'In Season'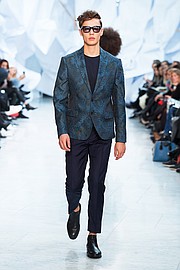 On runways in Oslo and Los Angeles, the Moods of Norway fashion label has been busy, having displayed looks from its Autumn/Winter 2016/2017 season in the past four weeks.
The Scandinavian fashion brand, which runs a major Los Angeles office, also made a technology announcement recently. After 12 years in business, Moods of Norway adopted its first product lifecycle management system. PLM software manages a product's development from design to placement on the shop floor.
Moods is working with Gerber Technology's YuniquePLM V6 management software. Thomas Frodahl, Moods' product director, said that the software program had given his company a strategic edge as the company shifts to an operation where it only sells "in season." With an "in-season" discipline, the label must monitor and adjust buying volumes to sales progress. It reduces the risk of excess stock at the end of the season, Frodahl said. He works in Moods' Oslo office.
"[YuniquePLM V6] enables us to be quick on our feet and, at the same time, be conscious about our product cost," Frodahl said.
PLM can consolidate data on a wide array of information, such as costs for freight-on-board prices, landed-duty prices, gross margin—things that may not be on a creative team's radar but could spell profit or disaster in the market, Frodahl said.
"If a trim cost changes, we can see how this affects our overall gross margin percentages," Frodahl said.
YuniquePLM V6 software also offers updates such as the software's "integrations" or partnerships with programs such as Adobe Illustrator. "The system now also provides our designers an easy way to update sketches and artwork," Frodahl said.
Moods' adaption of PLM came at a time when Yunique was making major changes in its software. Moods began to work with the system around the time the software publisher introduced its YuniquePLM In The Cloud program. Clayton Parker, a YuniquePLM product manager, said the cloud-based system gives companies an opportunity to work with PLM without acquiring separate machines or hardware to run the programs on. They could run the PLM programs on whatever machines were already being used by the company or even devices such as smartphones.
Along with YuniquePLM In The Cloud, the company offers its flagship programs plmOn and srmOn, which offer line management, digital asset management, materials management, specifications management, quotation and bid management, sample and production planning, and process tracking and management.
Cloud-based services have made PLM more affordable to small- and mid-size companies, said Jill Mazur, an independent business consultant focusing on technology. "Most larger companies have some sort of PLM, so the natural progression is to look to smaller companies for new sales," she said.
This year will be a time of growth for Moods of Norway. It is scheduled to open two more stores in Norway, bringing its store fleet to more than 18. Stateside, it wholesales goods to Trunk Club, a subscription service retailer owned by Nordstrom Inc. On March 15, it showed some of its looks at FWLA runway shows at Union Station in downtown Los Angeles.
Since 2013, Moods of Norway has run a flagship store at 7964 Melrose Ave. in Los Angeles, which is devoted to its branded clothes for men and women, said Stefan Dahlkvist, Moods' president for its North America region. With a slogan of "Happy Clothes for Happy People," the brand has offered an array of looks over the years ranging from outrageous tuxedos to sweaters, jeans and dresses, many of which make some nod to Norwegian rural culture. The label's main logo is a gold Norwegian tractor.