LEGAL
Robert Ezra Joins Freeman Freeman Smiley to Head New Fashion Law Practice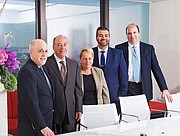 Over the course of its 40-year practice, Freeman Freeman Smiley LLP has represented apparel-industry clients, but until now the Los Angeles law firm didn't have a dedicated fashion law group.
Veteran apparel-industry attorney Robert Ezra recently joined the firm to head up a new fashion law practice and put together a team to represent apparel clients in all aspects of their businesses.
"Bob adds another dimension of industry specialization to our intellectual-property and litigation practices," said Steven L. Ziven, managing partner of FFS. "His specialized knowledge and expertise in the fashion industry has earned him a national reputation. Fashion law is a new area for the firm, and with Bob's leadership we are confident it will be a growth area for the firm."
FFS has 48 attorneys with specialists in everything from business transactions and tax law to labor and employment, real estate, transportation, bankruptcy, and intellectual-property issues. The firm handles complex litigation for Fortune 500 companies as well as startup businesses and individual clients.
"I don't think there's a firm in town that has a better breadth than FFS," Ezra said. "We have M&A counsel, we have people who deal with finance, people who deal with labor and employment. This firm has a foot in all those disciplines. I'm trying to make FFS the first choice in fashion law. We have the contacts, the experience and we're competitive."
In addition to offering clients legal advice, Ezra said he advises clients on business trends, such as new sourcing opportunities, regulatory issues and compliance.
"I have been involved in business on the ownership side. I understand the operational considerations that have to be made," he said. "I look at the business from the inside out—not the outside in."
Ezra has been practicing law for four decades. As a litigator, he has handled contractual claims, partnership disputes, unfair competition, intellectual-property claims and business torts. His experience includes overseeing licensing agreements, from determining the viability of the relationship between the licensee and licensor to understanding the needed capital to build the mark and requirements for meeting sales and production schedules. He provides general counsel advice to clients and their accountants on labor and employment regulatory compliance, financing opportunities and practices, the requirements of overseas manufacturing operations and advice on letters-of-credit transactions. As a Certified Business Mediator and a member of the Southern California Mediation Association, Ezra specializes in finding creative and cost-effective resolutions to business conflicts.
Ezra's roots in the apparel and textile industry stretch back to before he became an attorney. In the early 1970s, he was a loan officer with Manufacturers Bank in downtown Los Angeles, a position that gave him insight into the entire manufacturing process from spinning yarn to retail delivery.
A Chicago native, Ezra received his bachelor of science degree from DePaul University and his law degree from Loyola Law School in Los Angeles.
He opened the Law Offices of Robert Ezra in 1976. The firm grew to become Ezra Brutzkus Gubner LLC (now Brutzkus Gubner Rozansky Seror Weber LLP). Earlier this year, he left the firm he founded to take on a new challenge.
"I am excited to establish and build a fashion law practice at FFS," Ezra said. "I look forward to working with an exceptional team of professionals and utilizing their platform to further benefit my clients across the full spectrum of the fashion industry."
Ezra has already started building the fashion law team at FFS, which includes Todd M. Lander, a litigator who specializes in copyright and trademark issues. Lander represented JC Penney, which was accused of design patent infringement by Ugg boot maker Deckers Outdoor Corp. Lander also worked with Ezra for four years at Ezra Brutzkus Gubner.
"I have entrée into the business," Lander said. "We can be the first and the last stop for fashion clients. Fashion or apparel clients can come here and expect all their needs to be met."
Litigator Penny M. Costa will also join the fashion law team. Costa counsels her clients in business disputes as well as intellectual-property litigation and resolution. She helps her clients navigate the trademark-registration process. "The government doesn't rubber stamp every trademark," she said.
The third member of the fashion law team is Arash Beral, who specializes in business, commercial, trade secret and real estate litigation as well as state and federal trade-secret laws and trade-secret litigation.
Ezra has begun meeting with attorneys with apparel-industry experience to further enhance the fashion law department.
FFS is large enough to offer clients the support of a diverse pool of legal talent, Ezra said.
"Many attorneys work with several groups in the firm," Costa said. "The attorney will walk down the hall to meet with another attorney. It's a cooperative legal practice. Clients get coordinated advice, not isolated advice."
In addition to their expertise in business operations, FFS attorneys pride themselves on retaining clients for many years.
"We have a lot of third-generation clients," Ziven said. "I still have the very first client from 1976. Bob treats his clients the same way. It's a good fit."