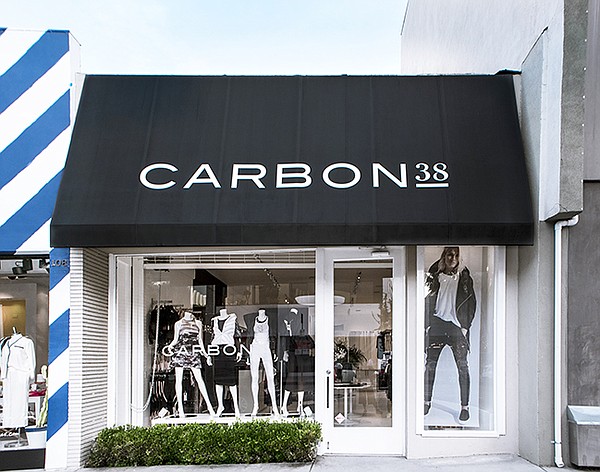 CARBON38
Carbon38 Pops Up on Robertson
Luxury athleisure platform Carbon38 opened its first West Coast pop-up shop on Nov. 15 on LA's Robertson Boulevard.
The pop-up shop, located across from Fraser Ross' Kitross store, will be open through Jan. 31 and showcase a selection from the brands carried by Carbon38 as well as the Los Angeles e-tailer's private-label collection and the launch of its two designer collaborations: one with artist Curtis Kulig, known for his "Love Me" campaign, and another with designer and CFDA/Vogue Fashion Fund winner Jonathan Simkhai.
Founded in 2013 by Katie Warner Johnson and Caroline Gogolak, Carbon38 launched as a platform to showcase workout wear but has expanded its offerings to address the full athleisure lifestyle.
Warner Johnson said she and Gogolak were both "born in spandex." The two Harvard graduates worked as professional ballet dancers and, in Warner Johnson's case, as a trainer.
"This is the style of clothing I wanted to wear," Warner Johnson said.
When the two launched Carbon38, "everyone had an activewear line but no distribution," she said. "We created a platform to distribute to smaller vendors and we started watching what was happening."
As the business developed, the two saw the activewear category evolving. As women began wearing their workout gear for more than just a trip to the gym, they began looking for clothing that would allow for a "seamless lifestyle," Warner Johnson said.
"We looked to the customer and responded to the shift in lifestyle," she said.
Warner Johnson and Gogolak began looking for ways to "take DNA of activewear and push into ready-to-wear." Last year, the two launched their own Carbon38 collection, which blends traditional workout wear such as leggings, T-shirts and jog bras with ready-to-wear pieces such as dresses, cropped pants and outerwear.
"When we launched our own brand, we included a blazer—"I've worn that blazer on a red-eye," Warner Johnson said, adding that the style is still in the collection. "The response has been unbelievable."
The Carbon38 collection is produced in Southern California "for the sake of scale and speed," Warner Johnson said, describing LA's production opportunities as "an untapped resource" that she's happy to help support.
"One of the rewards of starting your own business is the opportunities you create," she said. "This is what we should all be doing."
Warner Johnson is equally bullish about Robertson Boulevard. When she moved to Los Angeles from New York six years ago, Robertson was her go-to shopping destination.
"It's so central and accessible and iconic," she said.
For the launch of the Curtis Kulig collaboration, the artist will paint a custom "Love Me" wall in the pop-up shop, where the collection—which features Kulig's paint-splatter designs—will debut. In early 2017 the collaboration with Simkhai will debut in the store as well.
Described as "Jonathan Simkhai but optimized for the gym," the collaboration will blend Simkhai's feminine, detailed aesthetic with a "nod to comfort" and take the wearer from the gym to cocktail hour, Warner Johnson said.
The Robertson pop-up shop is the second for Carbon38, which hosted a pop-up shop in The Hamptons over the summer. When the Robertson space became available, Warner Johnson, Gogolak and their team had three weeks to meet the Nov. 15 opening date. Warner Johnson said the pop-ups are a chance to test the waters for bricks-and-mortar retail but added, "We're born and bred online, and there's significant advantages of being an online company."
Still, she added, the store gives the brand a chance to reach new customers—and a chance to put down retail roots in her adopted hometown.
"There's something about LA that feels limitless—especially as a woman," she said. "I love everything about this city."