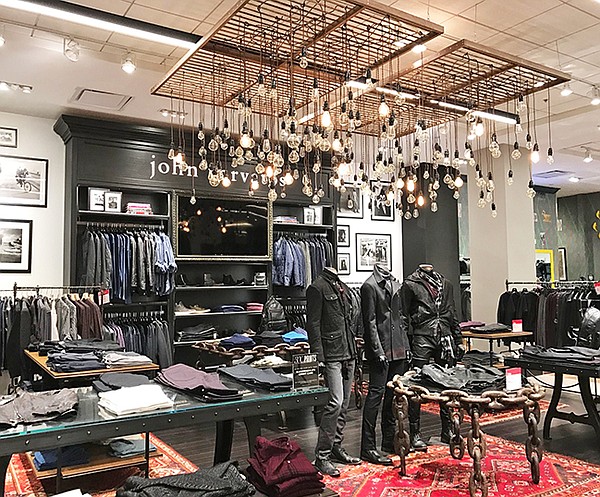 BLOOMINGDALE'S
Phase 1 for Westfield Century City Remodel: Bloomingdale's
Construction on the more than $955 million remodel of Westfield Century City in Los Angeles' Century City neighborhood has been underway since 2013, but the luxe center recently observed a low-key debut that will be key to the center's new look, said William Hecht, Westfield's chief operating officer.
It's a revamp of Westfield Century City's Bloomingdale's. The department store introduced an extensive remodel of the 20-year-old store, said Kathy Suto, vice president and general manager for the store. "We have redone this building from basement to attic," she said.
The 250,000-square-foot store is the address to 126 vendor shops or shops-in-shop for a wide array of brands including Canali, Sandro, Maje, James Perse, John Varvatos, Theory, Ted Baker, The Kooples, Turnbull & Asser, Vince, Eileen Fisher and Ralph Lauren. Footwear vendor shops include those for Gucci, Dior and Fendi. There's a Chloé shop for the brand's handbags.
Most Bloomingdale's offer vendor shops, but the Westfield Century City shop carries the greatest representation of the separate brand environments. The John Varvatos shop offers unique light fixtures, which have been a signature of the Varvatos boutiques. James Perse offers separate shops on the men's and women's floors. However, both store environments share a minimalistic West Coast aesthetic. Separate Burberry vendor shops for men's, women's and accessories are scheduled to take a bow in January.
The first floor of the remodeled Bloomingdale's is home to handbags, jewelry and men's apparel sections as well as a 35,000-square-foot cosmetics department. "It's an enormous beauty business," Suto said. The second floor features women's shoes and women's ready-to-wear. The third floor offers homewares, intimate apparel, activewear and kids' clothes. In March, a Forty Carrots restaurant is scheduled to open on the second floor. The Westfield Century City store also features iconic Bloomingdale's looks such as the black-and-white checkerboard floor. Artist Ysabel LeMay designed mosaics on columns on the store's first floor.
The remodel will contribute handsomely to Bloomingdale's bottom line after its first full year of business, Suto said. "We're looking for an enormous boost," she said. "It will be a 30 percent pickup from where we are now."
The Bloomingdale's remodel is phase one for Century City, which has planned to add 422,000 square feet to bring the square footage to 1.2 million. The shopping center serves the wealthy neighborhoods of Bel-Air and Beverly Hills and other enclaves on Los Angeles' Westside.
In April, the remodel of the retail center's Macy's flagship is scheduled to take a bow. The two-level building is scheduled to move from the Constellation Boulevard side of the mall to the Santa Monica Boulevard side. Nordstrom is scheduled to open a full-line department store at the center in October 2017. It will move from the Westside Pavilion shopping center in West Los Angeles.
Westfield Century City's makeover also is scheduled to feature 230 shops and high-end fitness center Equinox as well as other gyms and places to work out. Food will also be a key component of the renovated mall, including an Eataly, star chef Mario Batali's food emporium and market.
"What we are trying to accomplish is to put everything in one place; it will make it convenient for people from Bel-Air, Beverly Hills and the Westside to work out, see a movie or shop at Bloomingdale's. It will be an all-in-one facility that does not have a roof," Hecht said.
The new Westfield Century City will also feature increased green space such as strolling gardens and aesthetic touches by fashion and interior designer Kelly Wearstler. Wearstler's hand-painted tiles have already been laid in the retail center's flooring. Hecht also promised bathrooms that would rival those of five-star restaurants.
The new Westfield Century City will feature new forms of entertainment. Westfield acquired Scott Sanders Productions in August. The theatrical company will produce Broadway-style entertainments at the mall. Scott Sanders, the Tony award–winning Broadway producer, was named Westfield's first creative head of global entertainment. Sanders said productions could include launches for movies and products.
"It's very unusual for a property owner and developer to do what we are doing," Hecht said. "We demolished half of the shopping center. It was a very productive shopping center. It takes a certain amount of guts to do that. But this location is so important that it is worthy of such a better experience."
The mall also will offer space where visual artists can show paintings and other works. A preview of Westfield Century City's devotion to visual arts was unveiled last week. Donald Robertson, an Estée Lauder senior vice president/creative director whose extracurricular activities include painting under the name Drawbertson, created murals with some of his imagery such as lips and hearts. Drawbertson's Westfield Century City murals also feature other images such as surfers, giraffes, alligators and cars. The murals stretch from Santa Monica Boulevard by the Bloomingdale's in the mall.
"A big slice of the corporate pie is devoted to taking art to the community," Drawbertson said of Westfield's Century City remodel. "They put their money where their mouth is."