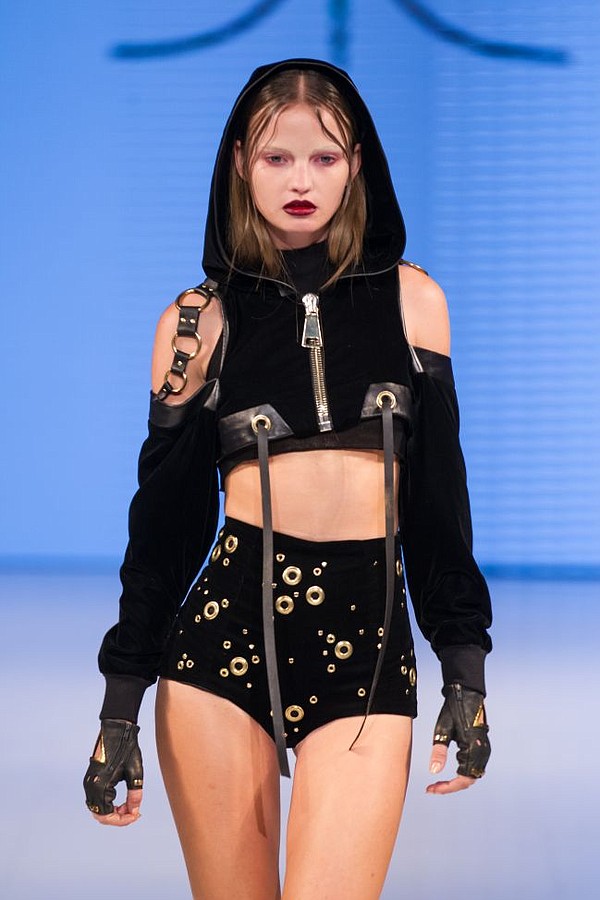 Ashton Michael's LAFW Surprise
The generator gave up one-third of the way into Ashton Michael's The Ritual Collection runway show the night of Oct 1. It took place at the LAFW series of shows at the Hollywood Athletic Club.
A minute passed, and when the power did not return, the crowd yelled, stomped their feet and waved their smartphone lights. There was no choice for Ashton Michael, a Los Angeles designer who has produced runway shows for more than six years. The show had to go on.
Models walked onto the dark runway illuminated by faint lamp lights and audience phones. A percussionist from group Spellbound Sky beat a strong rhythm on a large tambourine. It was a signal that the fashion show had veered into the unexpected, and the crowd let out a big cheer.
For the show's finale, Ashton Michael got on his knees and bowed to the crowd. When he walked off the runway, models and his show staff surrounded him and carried him out of the room with a group hug.
Technical difficulties or not, Ashton Michael intended the Ritual Collection to be a surprise.
"I'm seen as an urban goth," he said. If he had been pigeonholed in the past, The Ritual Collection was meant to go beyond perceptions of the designer's membership in any fashion tribe.
To make his points, he used materials that he had not used in his previous collections. There were velvets, fringed garments, graphic T-shirts and details such as gold colored circles embedded in the garments.
Looks included velvet overalls, leather bodysuits and flowing coats cloaked in a dark streetwear style. Some models also wore gold plated headwear, flowing earrings and talons designed by jewelry label H. Crowne. Here's to big surprises.