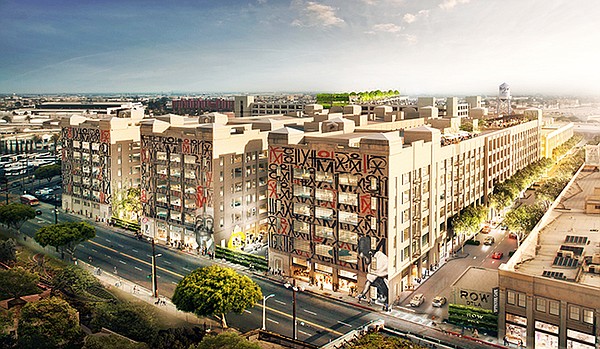 ROW DTLA
Row DTLA Takes A Risk in Gritty Area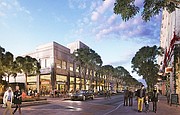 The area looks gritty, located in the industrial district of downtown Los Angeles, but in one year the 700 block of South Alameda Street will be the center of a unique, high-end restaurant and boutique retail district if things go according to the plans of developer Runyon Group.
Directed by young entrepreneurs David Fishbein and Joseph Miller, the Runyon Group is acting as consultants and brokers to a project called Row DTLA.
The 30-acre plot of land, which includes the headquarters for Splendid and Ella Moss, is currently a collection of more-than-90-year-old buildings and offices that once served as a center for the Southern Pacific Railroad, Fishbein said. Row DTLA is owned by Atlas Capital Group LLC, headquartered in New York City.
Eventually, Row DTLA will be a place where people can park their car in a sprawling 4,000-space parking lot and shop at retailers they have not seen before and eat foods they have not tasted.
"There has not been one area of critical mass in downtown Los Angeles where people can park and walk around for the entire day," Fishbein said. "Because we have 30 acres, we have the scale to be that place."
The developers hope the project will attract downtown Los Angeles denizens who sip coffee and shop in the city's once dilapidated Arts District, now the address of several pricy fashion boutiques and creative restaurants. The enclave is located less than one mile away.
Also, adventurous tourists who stay in downtown Los Angeles at places such as the Ace Hotel and the soon-to-open hipster hotel Nomad at Seventh and Olive streets are expected to drop by Row DTLA. The shopping district also expects to be a draw for shoppers and diners from across the region looking for a unique experience.
Fishbein believes there already is proof that affluent people will come to the warehouse area in search of a unique experience. Since June, Row DTLA has hosted Smorgasburg, a collection of unique food stands that attracts between 5,000 to 12,000 people every Sunday, he said.
Next month, the commercial complex will take its first leap into retail. On Nov. 1, Row DTLA will host the Holiday Collective, which will be temporary stores for brands currently only selling online. They'll include Bikyni, a high-end women's swimwear line, and Modern Citizen, a collection of women's fashions.
By next Spring, the first two permanent retailers will open at Row DTLA. One is Bodega, a Boston-headquartered retailer specializing in high-end sneakers and labels such as Stüssy and Nike Sportswear, which are popular with the streetwear set. Another shop will be A+R, a Los Angeles–headquartered store that offers home décor, furniture, lighting and other goods. It is scheduled to open next month. Both retailers have been doing business for 10 years.
Also coming up, Go Get Em Tiger, a high-end café, will open a permanent location at Row DTLA. Go Get Em Tiger already is located in Los Angeles' Larchmont Village and the Los Feliz neighborhood and also at the G&B Coffee stand at the Grand Central Market in downtown Los Angeles.
Australian restaurant Paramount House also took a lease to open a space at Row DTLA, Fishbein said. The downtown Los Angeles venue will be called the Paramount Coffee Project. It will be the second Paramount venue in the United States.
Runyon Group recently opened Platform, a four-acre enclave of shops and restaurants located in a former auto dealership in the Hayden Tract area of Culver City, Calif.
The 50,000-square feet of retail offers space to high-end boutiques such as Curve and Magasin as well as unique restaurants such as Loqui. "We're about discovery and creating experiences," Fishbein said. "It's not necessarily for everybody, but we appeal to a wide range of people."