YEAR OF OURS
Year of Ours: Athleisure as the New American Sportswear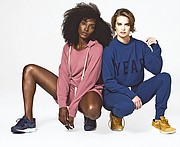 Los Angeles–based Year of Ours wants to put its mark on women's sportswear with an in-house production facility and made-in-America craftsmanship.
YOS debuted with its Holiday 2016 collection, which launches at specialty boutiques across the U.S., online retailer Stylerunner and the Year of Ours online store (www.yearofours.com) this month.
The line includes sweat sets, bodysuits and coach jackets, reminiscent of athletic uniforms with matching ribbed biker shorts and tanks and interchangeable cropped tees paired with drawstring sweat shorts. YOS takes inspiration from a time when athleticwear was made for comfort.
"We wanted to create an athleisure brand that paid homage to '90s sportswear while remaining true to current needs and lifestyles," said designer Alejandra Hernandez. "We felt there was a surplus of athletic brands emerging that were paying too much attention to technology and neglecting what women actually want to wear and need."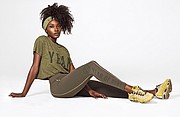 Founder Eleanor Haycock has experience in product development and fabric sourcing and is a sports enthusiast as well. Co-owner Lily Shen has been a factory owner in the manufacturing industry for more than 20 years. Hernandez is a celebrity stylist and vintage expert. Haycock's brother, Chris Haycock, handles branding and marketing.
The 20-item Holiday collection features active and lifestyle pieces, including Supplex track leggings with two-tone, side-striped paneling and simulated knee patches and football-inspired lace-up leggings. The leggings are wholesale priced at $52. A mock turtleneck bodysuit wholesales for $44, a racerback sports bra for $34, a long-sleeve jumpsuit for $57 and a pullover for $68.
The current collection takes inspiration from football, but the Spring 2017 collection will be hitting a home run with 35 styles with a baseball theme.
One of the standout fabrications is an athletic rib, which is used for tops and shorts.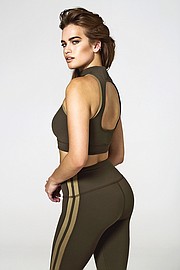 "The athletic rib has been our unexpected superstar fabric," Eleanor Haycock said. "Once we worked out in it, we realized it was something really special. It's a true active fabric with wicking qualities and support but is also comfortable and looks amazing on everyone."
Other fabrics include a 100 percent cotton French terry and a vintage style, tri-blend jersey, which is garment dyed to control shrinkage.
"With my background in fabric, I knew it was the backbone of the garment and it was a priority to find the best material," Haycock said. "We went through tons of fabrics and tested them before putting them in the line. They needed to be able to perform in activity, have strong washability and, of course, feel and look great."
With its own factory, YOS has full control of the brand, from the design stage through all phases of production.
"We get to see our products made and work with the people who make it," Haycock said. "A few of the many benefits of manufacturing our brand in the U.S. includes growing the local economy, fair labor, quality control and quick lead times. YOS plans on growing awareness of American-made clothing and proving that it can be affordable with the highest quality."
For more information, visit www.yearofours.com or email tara@yearofours.com.