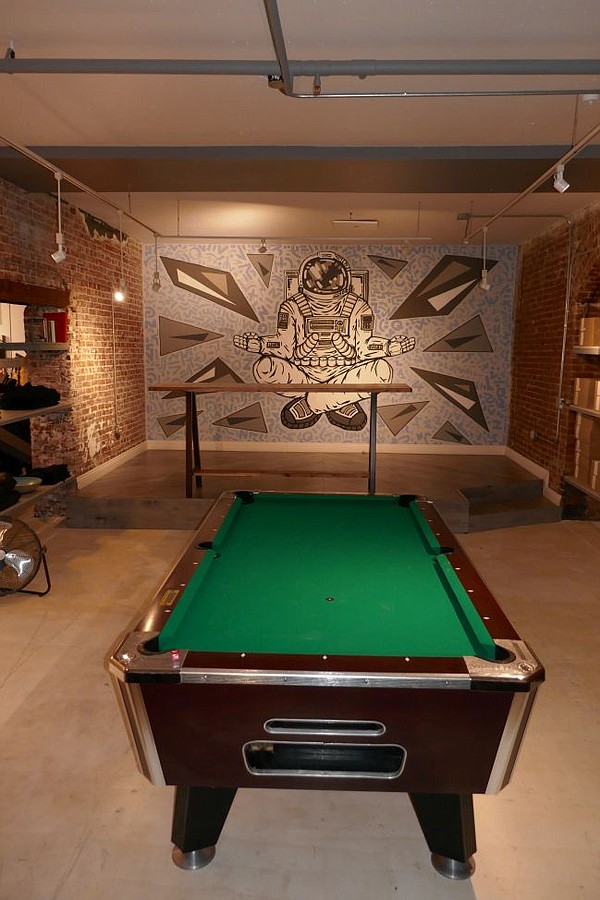 Rogue Collective Parks in Famous Punk Club
Nirvana played there. Beck gigged there. Perry Farrell and Red Hot Chili Peppers also reportedly paid some dues on the small stage of Al's Bar, located in is what is now known as the Arts District in downtown Los Angeles.
When these famous rockers performed at Al's, it was alternately known as a place to see the rawest upcoming talent. It also was notorious for being one of the filthiest night spots in a no-go area of Los Angeles.
Al's Bar closed in 2001. Fast forward to the present, the neighborhood's homeless and punk rockers are long gone. In their place, a stylish, well-to-do crowd buzz through the Arts District's busy restaurants and luxe boutiques of the Arts District.
Joining the throng is Rogue Collective, a lifestyle brand for men and women, which offers jeans, t-shirts,shoes, knits, and accessories. It moved into the Al's space at 305 S. Hewitt St. in December.
The space itself changed, to say the least. Colin T. McCarthy, vice president and creative director for Rogue Collective, said that the space went for a monumental scrubbing and renovation. But the original Al's stage is still on site. The boutique's entry still bears some of the original graffiti of the building's rock 'n' roll days. McCarthy said the Al's building is more than 100-years-old. Pre-World War I, it was reportedly one of a handful of buildings that would rent rooms to African Americans in Los Angeles. Decades later it was a safehouse for mobsters in Mickey Cohen's gang. Entrepreneur Mark Verge acquired the building in 2013. He also is an investor in Rogue Collective.
It also provides gallery space to artists such as Idiot Box and Bo Spencer. McCarthy says that the place will serve as an events space and make good on its name Rogue Collective. "It's a collective for creative artisans who want to join forces and help each other on multiple fronts. It's a supportive, inclusive environment for established and emerging designers," McCarthy said. Wanna know more? Contact colin@theroguecollective.com
Joining the merchandise mix at Rogue Collective are indie brands Humble Ceramics, SSCY Brooklyn Bags, Double Eleven, 2120 handcrafted footwear, Jawn's Notebooks and Skid Row Denim Academy. For those super thirsty, the shop sells Immordl Super Coffee.
For Apparel News geeks, Jack Ren Marquette, a webmaster, columnist and salesman for this periodical, booked some acts at Al's. He died in 2008 and was celebrated as a pioneer of downtown Los Angeles nightlife. 'Nuff said.