SWIM/SURF
Vissla & Billabong's Big Night at SIMA Awards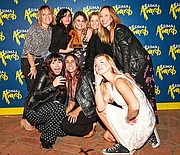 Vissla and Billabong racked up trophies at the 14th annual SIMA Awards, produced by the trade group Surf Industry Manufacturers Association.
The Vissla Upcycled Boardshorts by Vissla won the honor for Men's Boardshort of the Year during the awards night, March 31. The 3-year-old Vissla also got the award for Men's Apparel Brand of the Year. It is the second year in a row that Vissla has been honored with the award.
Irvine, Calif.–headquartered Billabong's women's division had a great night. It won trophies in three categories: Women's Apparel Brand of the Year, Women's Swim Brand of the Year and Women's Marketing Campaign of the Year for "A Bikini Kinda Life."
The event was a time of change for the SIMA Awards. The name of the awards show was changed from its previous moniker, the SIMA Image Awards. It also made a change of venue from its longtime home at the City National Grove of Anaheim in Anaheim, Calif. In 2017, the awards show decamped to Rancho Las Lomas, a private estate located a short drive from Whiting Ranch Wilderness Park in Orange County, Calif.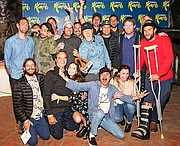 SIMA's award for Breakout Brand of the Year went to Slater Designs, a new surfboard brand helmed by Kelly Slater, one of competitive surfing's biggest stars. It marked the first time a hard-goods brand won the category, according to a SIMA statement.
Veteran surfing shops also were honored at the awards show. Mitch's Surf Shop of La Jolla, Calif., and Wave Riding Vehicles of Virginia Beach, Va., received the SIMA Surf Shop Gold Wave Award. The award honors core surf shops that have been in business for more than 50 years.
More than 400 people attended the awards show, according to a SIMA statement. Emceeing the event were action-sports personalities Rosy Hodge, a South African–born pro surfer and sports commentator, and Greg "GT" Tomlinson, the founder of the Von Zipper eyewear brand. He also had a gig working as an announcer for the X Games. The event was sponsored by the Surf Expo trade show and German auto manufacturer Audi.
In other SIMA news, the trade group announced it will introduce The Float Collective. SIMA members will make special products for The Float Collective. The sales will support the SIMA Humanitarian Fund, which is the charitable arm of SIMA. This fund raises money for nonprofits such as the John Wayne Cancer Fund and Surfers Healing. Participating brands will include Electric, Nixon, Quiksilver, Raw Elements, Rip Curl, Roark and RVCA. The Float Collective goods will go on sale at surf shops and boutiques in June.