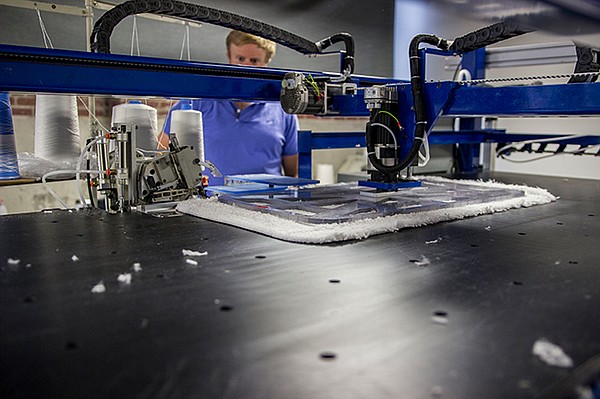 FASHION ROBOT
Fashion's Robotic Future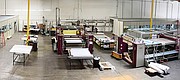 Many futurists predict a giant shakeup in the jobs market in the near future as bus drivers, construction workers, paralegals and pharmaceutical workers are forecast to be pushed out of their gigs by job candidates who don't have a heartbeat. They will be replaced by robots and artificial intelligence.
But apparel manufacturing might prove itself to be an exception to this robot future.
While a handful of entrepreneurs and inventors plan to build apparel factories run by robots and computers, they forecast that their projects will bring apparel manufacturing jobs back to America.
Brett Stern, an industrial designer in Portland, Ore., has been looking for investment for his Formafit Process machine. When he pitches this machine, which can make a garment in 45 seconds without human hands, he typically gets the same reaction.
"Usually the first response is, 'Oh, you'll put people out of work,'" Stern said. "But [many] of those traditional American cut-and-sew apparel manufacturing jobs were lost decades ago. The net effect of any automation in apparel manufacturing will actually bring high-tech technical jobs to the United States."
Stern does not forecast that automated sewing factories will make human sewers and cutters obsolete. Rather, American factories might create new jobs for them.
Stern is one of a small group of inventors and entrepreneurs planning to build apparel-manufacturing plants that are equipped with robotics and computers. They are different from typical apparel manufacturing facilities, which work from a model that has not changed much in a century and feature scores of workers who run sewing-machine stations.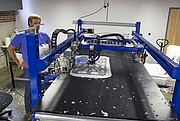 The robot entrepreneurs contend that they are the first businesspeople working in a very early stage of a new era of apparel manufacturing. No one form of manufacturing dominates the field. But if their plans succeed, they promise the same results: a manufacturing process that will save money and time in logistics and revive an industry in the United States. The entrepreneurs interviewed for this article are seeking funding or have recently marked company launches. These entrepreneurs outlined their plans for California Apparel News.
For entrepreneurs Mark Robinson, Tom Keefer and Scott Wilson, the next era in apparel manufacturing will start in Southern California. Their venture, Susarel Inc., intends to build a fully integrated vertical factory with an automated sewing component in Orange County. Robinson, the chief executive officer and president, said that the project is in its last round of financing. A soft launch is forecast by the end of this year.
Their plant could have the capacity to complete orders in 30 to 45 days, Robinson said. It can make T-shirts, yoga pants, leggings, boardshorts and hoodies for brands. Eventually it could make customized clothes for individual consumers. With a staff of high-tech workers and smart machines, it will basically serve as a place for the industrial tasks of cutting, sewing and dyeing.
Facility functions will include fabric making with high-speed, yarn-spinning machines; sewing with modified Merrow ActiveSeam industrial sewing machines; direct-to-fabric high-speed digital printers; and Susarel's proprietary Kinetic Colorization and dye sublimation, which make for a deeper, longer-lasting colorization in fabric, Robinson said.
Susarel's machines have the ability to make reversible garments with double-sided printing. The machines can print on cotton, nylon, silk and cashmere. People and machines working in the factory also will package garments to be warehoused in other facilities.
Susarel's project will focus on energy efficiency and being eco-friendly. A solar turbine system will be placed on the roof. During peak hours, the facility will provide 35 percent of its own energy. Keefer, the chief marketing officer, said that the long-term goal is to be as energy independent as possible. The project's Kinetic Colorization system will use a glass of water to dye a T-shirt instead of the 400 or so gallons of water typically used to dye the same garment, Robinson said. Kinetic Colorization does not use chemicals found in many other apparel-manufacturing techniques, and it is more eco-friendly, he contends.
In its first year of production, Susarel's 35,000-square-foot facility will employ more than 25 people. It will cost more to build an apparel factory with robotics and computers, but Keefer forecast that manufacturers will make their investment back quickly.
"The cost of the factory build-out will be higher in order to incorporate these technologies. The resulting efficiencies will makes us cost-competitive with offshore manufacturers who handle the lowest-cost labor pool," Keefer said.
Businesses do not have to contend with trade tariffs when apparel is made domestically, logistics are cut dramatically and speed-to-market is increased. "When the robotics come on-line, it will be a game changer with all other strategic components," Robinson said.
Soon, Stern forecasted, apparel manufacturers—as well as medical technicians, emergency responders and others—will use his car-sized Formafit Process machine to make clothes. The machine heat-molds off-the-shelf synthetic fabrics such as nylon, polyester, spandex and polypropylene into three-dimensional shapes. Simultaneously, the machine cuts fabric from a bolt of fabric in the machine and ultrasonically welds the materials together.
Instead of using a sewer to manipulate fabric so it can be sewn and embroidered, the Formafit Process moves fabric through different stages where it can be formed into loose-fitting or form-fitting clothes. Stern pitched the machine for athletic wear, work clothing and uniforms.
A cycle time is 45 seconds without human interaction. The Formafit Process can be placed in hospitals to make disposable medical scrubs. Retailers could scan a shopper's body to get fit specifications and then use the Formafit Process to put together a custom-fit garment in a short time.
Stern forecast that the machine will need people to feed fabric into it and operate it. The machine might look different, but it does not represent a break from apparel manufacturing of the past. "In theory, a sewing machine is a robot that automates human motions. What I am talking about is the next-generation machine to make clothing," he said.
Robots in sewing factories won't look like science fiction, said Palaniswamy "Raj" Rajan, chief executive officer and chairman of Softwear Automation Inc., an Atlanta company that copyrighted the word "sewbot," or a robot that sews.
Much like an automobile factory, apparel workers will handle machines that make an end garment, in this case, clothing.
As for the sewbots, their robotic arms will pick the garment, sew the garment and pass it onto a finishing machine. "What it will be able to do is take a roll of fabric and out comes a finished product," Rajan said. "There is no human touch in the middle."
His company sold its first sewbot in late 2015. Softwear Automation makes sewbots for manufacturers. It does not make clothes. Founded by academics from the Georgia Institute of Technology, Softwear Automation received a research grant from the Department of Defense's Defense Advanced Research Projects Agency (DARPA) to research robots to make clothing. Much of the research-and-development funds for robotics and apparel manufacturing come from government grants.
Rajan declined to state sales for his company. He did say that 2017 sales are forecast to be four times greater than 2016 sales. So far, the company has sold exclusively to American manufacturers. "The best place to make a product is where all of the raw materials and resources are," Rajan said. "You will see a sizable amount of industry moving back to the U.S."
While U.S. manufacturing has declined precipitously in the past four decades, Rick Helfenbein, president and CEO of the Washington, D.C.–based trade group American Apparel & Footwear Association, said there are opportunities to revive the sector. "It is not too late for apparel manufacturing to return to the U.S. as long as we can find a way to do it that makes business sense. Automation may be one of the ways to answer this problem," Helfenbein said.
"With advances in automation, there is definitely the opportunity to increase manufacturing in the United States. In fact, U.S. production has increased by more than 50 percent during the past six years. That said, there are a few important factors to consider. First, automation will be much easier to achieve with footwear. Due to the way fabrics stretch, it is much more difficult to automate the process for apparel. Second, these factories will look very different to the ones of yesteryear and will require employees to have different skillsets than those that make apparel and footwear today."