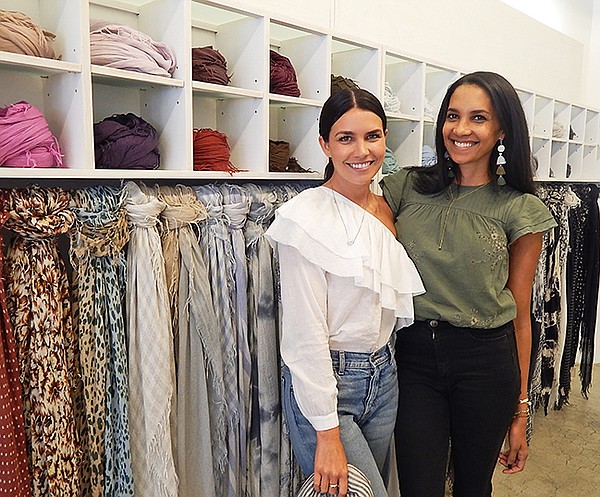 TRADE SHOWS
Quiet August Market in LA Yields Immediate Orders, Out-of-Town Business
August market in Los Angeles is typically a quiet affair, with exhibitors and buyers navigating a crowded trade-show schedule that includes the massive Las Vegas trade shows later in the month.
The recent run of Los Angeles Fashion Market featured light foot traffic, but many exhibitors reported meeting with a mix of local and out-of-state buyers and landing orders ranging from Immediate deliveries out to Spring.
For showrooms at the California Market Center, the August market was all about scheduling.
Long-held questions about the market were asked again: Is it scheduled too close to MAGIC and its satellite shows in Las Vegas? Is there just enough business during the season to make the market worthwhile?
Lisa Lenchner, owner of the Lisa Lenchner Sales showroom, suggested that the market's schedule be changed to after the Las Vegas shows.
"Instead of August, maybe we should look to September," she said.
Rosanne Tritica of the CMC's Betty Bottom Showroom said that the August LA Market is valuable for the retailers who do not travel to the Las Vegas shows. At the recent LA Fashion Market, Tritica said she saw Los Angeles boutiques as well as retailers from around the country. However, she estimated that buyer traffic was less than past August markets.
"I'm happy with the business. It's just a little dip," she said. "I expect to make it up at the WWIN show [in Las Vegas]."
The pace of retail traffic at the market didn't raise any eyebrows for Kellen Roland, director of sales, USA, for Herschel Supply Co., which has offices in the CMC.
"It was just a normal day for me," he said. "We have our appointments come in as we book them."
In the Fashion Theater, the CMC hosted The Temporaries, a group of cash-and-carry exhibitors showing apparel and accessories.
Rachael Broussard was selling pieces from five of the 22 brands carried in her Posh Showroom, located down the street from the CMC.
"We have Immediates and cash-and-carry," Broussard said, adding that her retail appointments were meeting at the showroom.
Jewelry designer Dani Paquin has shown her Agapantha sterling silver and 14-karat-gold jewelry at other CMC trade shows, but this was her first time showing at The Temporaries.
"It was totally worth it," Paquin said. "I placed an amazing order with a new account."
Paquin produces most of her collection by hand in Torrance, Calif., with the rest produced in Los Angeles. The designer said she met with local buyers at market as well as retailers from Oklahoma, Texas and Georgia.
For Mabel Martinez, designer and owner of 3rd Season, a Pomona, Calif.–based collection of apparel made from handprinted fabrics, The Temporaries was an opportunity to test the wholesale market. The 4-year-old company has been selling direct-to-consumer at markets such as the Renegade Craft Fair, but Martinez said she is looking to start selling to retailers.
This was the first trade show in Los Angeles for New York–based Rora, a contemporary collection of reversible apparel made from silk, cupro and vegetable leather. Designer Ashley Gill incorporates original prints and bright colors into the collection, which launched in February.
Steady at The New Mart
Grabbing one of the two elevators at The New Mart wasn't an issue at this market. Buyers were in the building but not the usual crowd seen during other markets.
"You know, it is August, so it is not too busy. This show is a little early and MAGIC is a little early," said Roni Arteaga, the West Coast sales rep at the XCVI showroom. "We've had steady appointments that have followed through, and they are leaving paper. But overall it is very quiet."
Kari Carpino, vice president of sales at Allen Allen USA, did see some of her major clients, such as Zappos and TJ Maxx. She had also seen stores from Washington and Oregon that took a look at the LA-made casualwear the line is known for. "But overall, it has been slow," she said.
Appointments were dribbling in at the Chan Luu showroom, where traffic was on the minimal side. "It was a little slower this time," said Carly Barcus, senior account manager for the collection of jewelry, scarves and ready-to-wear designed by Chan Luu.
However, retailer buyers with appointments were showing up from Northern California and Colorado. "We opened a few new accounts," Barcus said.
Immediates, international at Cooper
Retail remains challenging. Perhaps that's a good thing for designers, said Fred Levine, a partner in the M.Fredric line of contemporary stores. He shopped the Cooper Design Space and neighboring showroom buildings during the LA Fashion market.
"In the last couple of markets we've seen designers getting on trends and trying hard to hone skills so lines were trimmed down to the best of the best. We were happy to see our vendors working hard to get it right," Levine said.
Since retailers continue to buy close to season, the August market remains valuable because Fall goods are still available at many showrooms, said Israel Ramirez of the Cooper's Siblings Showroom. "We're still getting orders and business," he said.
Alexa Graff-Radford, director of sales for Cotton Citizen, worked out of a temporary showroom in the Cooper's lobby during the market. Even if the pace was slow, important business could be completed during the market, she said. During the market, a Dubai-headquartered retailer viewed Cotton Citizen's styles, she said.
Eddie Bromberg, Cotton Citizen's president, said that buyers passed through the showroom hoping to get forecasts on what colors will be in vogue in the next couple of seasons. Cotton Citizen is known for offering a wide palette of colors.
The August market was the right time for the Bandolier showroom to unveil a new look. The accessories showroom took a bow at the Cooper in June. For August, it finished the gallery style of the showroom, said Adam Derry, a partner and chief creative officer.
"It was a naked, unlit space," Derry said. Before the August market, directional lighting was installed, and 60 of the brand's cross-body iPhone cases and accessories were hung on the showroom walls, gallery-style. The new look of the showroom helped make the August market a success, he said. "It was a phenomenal market," Derry said.
Preparing for Vegas at Gerry
The halls were pretty empty at the Gerry Building, where everyone was talking about the lack of buyers in the building. Showrooms filled in with retailers who made appointments, but otherwise there weren't a lot of bodies.
"This show is always slow. It is right before the Las Vegas shows," said Smadar Clemetson of Tivoli Paris Collections, which distributes Deca and MC Planet, two European lines. "When buyers calculate the cost of going to a show, they take into account the number of outside lines they can see and the price of a hotel room."
She noted that many shows give buyers some financial incentive to attend their events. With hotel prices soaring in downtown Los Angeles, it gets very competitive to attract retailers.
For Yoli Villeda, an account executive at the Zero Degrees Celsius corporate showroom, she was filling in the slow times with some appointments. Otherwise, there wasn't much movement on the seventh floor. "It is slow. I am not flooded with customers," she said.
By the second day, she had seen three appointments for the company's contemporary womenswear line. Some were writing orders for Spring 2018 while others were filling in with Winter merchandise.
Brand Assembly's mini show
This season, Brand Assembly hosted a small showcase in a space adjacent to its permanent showroom, The Square by Brand Assembly, on the mezzanine of the Cooper Design Space—rather than in the sprawling penthouse space on the building's top floor.
Michelle Anavim, an account executive with New York–based contemporary label Drew, was showing among the permanent exhibitors in The Square.
"There is definitely consistent foot traffic," she said, noting that she met with retailers from Colorado, Montana and Washington in addition to local buyers.
This was Kris Mesner's second time at Brand Assembly. The longtime intimates rep was showing several intimates and lounge collections—including Eberjay, Skin, Else, Asceno and Thistle & Spire—as well as the athleisure line Y.ours Truly and Stella McCartney swim and intimates and Heidi Klum swim and intimates.
"This is an in-between market," Mesner said. "We're trying to get that crossover business."
Mesner said she saw several buyers at Brand Assembly she had worked with in the past and was getting orders ranging from Immediate deliveries all the way out to May.
For Nina Frank and Mags Dombrowski with New York–based Minnie Rose, business was brisk.
"We were slammed yesterday," Dombrowski said on the last day of the show.
Frank said all their booked appointments showed up, plus they met with new accounts, including some international retailers.
Designer John Eshaya was showing his Jet John Eshaya collection at Brand Assembly with the Brothers and Sisters Showroom. This season, Eshaya was showing embellished pieces—"anything that's not a basic; anything that's a 'wow,'" he said. "Everybody has been so safe for three years. Safe is boring. Wow is exciting. That's why embellishment is selling."