RETAIL
Le Box Blanc's Neighborhood Store in DTLA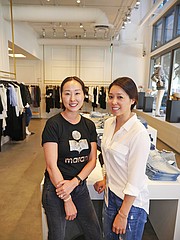 For the past two years, Le Box Blanc has been delivering contemporary fashions to people all over America from its e-commerce shop (lbbofficialstore.com).
Last month it opened LBB Official Store—a 1,800-square-foot bricks-and-mortar shop in downtown Los Angeles, in the Luma South building, located at 1100 S. Hope St., Suite C1, where its focus will be the surrounding South Park neighborhood, a short walk from Staples Center, where the Los Angeles Lakers, Los Angeles Clippers and Los Angeles Kings play.
Le Box Blanc opened the physical store because co-owners Emily Park and Esther Paik thought that the mostly residential neighborhood is underserved for boutiques. Maher is the only other women's contemporary boutique in the area. But South Park has a solid population of 6,000 residents, according to the South Park Business Improvement District, and it is the site of more than 20 construction projects, according to the BID.
It's a good bet to say growth is in South Park's future. Park said that the great majority of bricks-and-mortar customers are neighborhood women, mostly young mothers and professionals. Others coming into the store are students and people who work in the area. Just a little north of Staples Center is downtown Los Angeles' Financial District.
Brands sold at the LBB Official Store include ALC, Frame Denim, Iro and Elizabeth and James. "Our goal is to be something that goes with other items in people's closets. They are closet builders, not things that conflict with other things in your closet," Park said.
There are no plans to build other physical shops for Le Box Blanc, Park said. But the future continues to hold a lot of question marks. "We're curious on what happens when all of the construction here is finished. We have our eye on it," she said.