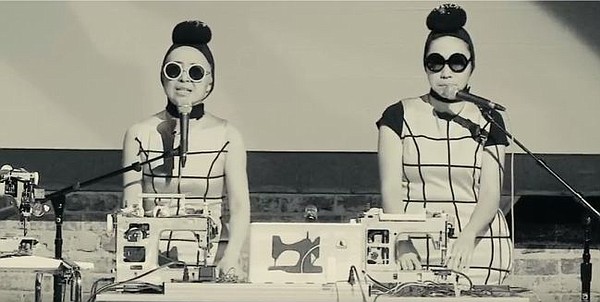 Menoh's Sewing Machine Music
It sounds like clicks and whirring noises to some, umm, actually to almost everybody.
But for Lun*na Menoh, there's a rock 'n' roll song in the sound of the sewing machine.
Menoh put the sewing machine front and center of her band Les Sewing Sisters. There was a performance last month at Art Exchange Gallery in Long Beach, Calif. Les Sewing Sisters was the soundtrack to A Ring Around The Collar art and fashion show. The show was inspired by the soiled, white collar shirt, the bane of existence for the salary man and a great business opportunity for dry cleaners across the land.
The fashion show featured fantasy costumes based on the dirty shirt. Menoh also painted a number of surreal paintings inspired by ring around the collar. Check out this YouTube video on the fashion show, or course accompanied by Les Sewing Sisters.