RETAIL
Odain Brand Opens 1st Shop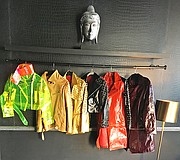 Odain Watson relaunched his Odaingerous brand in 2016, and on Aug. 17 he is scheduled to open a shop, also called Odaingerous, at 719 S. Main St. in downtown Los Angeles. It will be the emerging brand's first shop.
Watson said downtown is the right address for Odaingerous, a brand that tells people to take risks with style. "You can find authentic street lifestyle here," Watson said. "You can be a little radical here."
He also believes that there is a wave of edgy fashion brands moving into Los Angeles' downtown. The people seeking their styles will increasingly travel to downtown to check out the brands and discover emerging brands.
The focus of the Odaingerous brand is fitted motorcycle jackets that come in a wide range of styles. There are black leather jackets as well as gold-colored biker jackets bearing studs, red jackets and see-through plastic jackets made in a motorcycle silhouette. The jackets are made in Italy. Retail price points range from $499 to $899.
The brand's ready-to-wear and backpacks are made in Los Angeles. Offered are T-shirts, jogging pants and backpacks that are the accessories version of the brand's jackets. Like the jackets, the backpacks will bear spikes, studs and unique leather.
The store also will offer a bespoke service, where people can design their own jackets. It also will offer the brand's skin care and unisex fragrance.
The 350-square-foot Odaingerous store also was designed like one of the brand's jackets. It features a crocodile-embossed wallpaper, an installation of a zipper, a trim bearing spikes on some of the walls and Buddha statues.
Odaingerous brand items only will be available through the boutique and at the brand's website (www.odaingerous.com). It will be for people who want to make a statement. "I shy away from plain and basic," Watson said. "If I'm going to do a red jacket, I'm going do a red jacket. [People wearing Odaingerous] feel like this is more than a jacket; this is an experience for me."