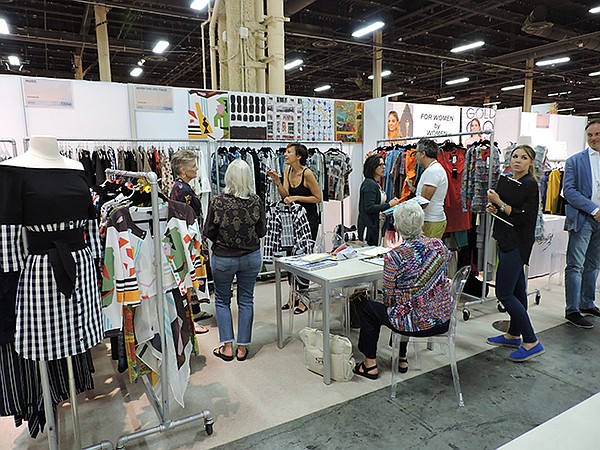 LV TRADE SHOWS
Orders Despite Uncertainty at Las Vegas Trade Shows
LAS VEGAS—It was hard to gauge the traffic at the recent apparel and sourcing trade shows in Las Vegas. With 19 trade shows spread across four venues, retailers had a wide field of merchandise to shop.
At the center were the trade shows under the UBM Fashion umbrella: WWDMAGIC, Children's Club MAGIC, Sourcing at MAGIC, FN Platform, WSA@MAGIC and Footwear Sourcing at MAGIC at the Las Vegas Convention Center as well as Project, Project Womens, Pooltradeshow, The Collective, The Tents, Stitch, Curve Las Vegas (a partnership with Eurovet) and Coeur x Project (in partnership with lifestyle show Coeur) at the Mandalay Bay Convention Center.
At the Sands Expo and Convention Center and the adjacent ballrooms at The Venetian were Agenda and Capsule (both part of the Reed Expositions portfolio of trade shows), Liberty Fairs, the Offprice show and the PGA Expo. And at the Rio All-Suites Hotel and Casino was Womenswear in Nevada (WWIN).
Many exhibitors and attendees reported buyer traffic starting at the Las Vegas Convention Center on Aug. 14, opening day of WWDMAGIC, before heading to the other venues.
The scene inside the Las Vegas Convention Center was the typical party atmosphere with various streams of music blasting and vendors serving snacks such as popcorn, cookies and lemonade to buyers shopping for juniors and young-contemporary apparel as well as accessories.
There was little consensus on whether traffic was up or down this year. "Traffic is down but volume is up," said Steve Jung, sales manager for Cleo, a Los Angeles–based line. "Retailers are cautious right now and only want Immediates and anything that is exciting they love."
At Project and Project Womens, many exhibitors reported seeing the most traffic at the Mandalay Bay Convention Center on Aug. 15, the second day of the show, when many booths were jammed with buyers reviewing lines and writing orders.
Erik Ulin, president of men's for UBM, estimated that the numbers of exhibitors was basically even with the August 2016 show. However, he noted, the challenge is making a large show easy to navigate for buyers.
"It's a big show floor," Ulin said. "Making the 'big' 'small'" is our mantra.
Project continued its strategy of building neighborhoods where buyers can easily shop categories that they need to view, Ulin said, adding that he and his team hope these neighborhoods facilitate discovery and inspiration.
At The Tents, Alex Faherty, cofounder of the Faherty brand, estimated that traffic was even with last year's turnout. Faherty said some buyers took photos and notes, while about "10 percent wrote on the spot."
"Everyone's business is good," Faherty said. "Specialty stores have rebounded. They are looking for new brands to put in their stores."
This season, the Z Supply booth grew to take up a 20-foot-by-80-foot space at Project Womens. The expanded space housed all the Irvine, Calif., company's lines, including Z Supply basics and swim, Black Swan, White Crow, Rag Poets, Others Follow and Icons of Culture.
"The people are showing up, and they want to buy multiple brands," said Heidi Muther, Z Supply's chief operating officer.
Tony Sanchez, Z Supply's director of sales, said the company had booked more than 250 appointments scheduled over the three-day show.
"We saw 99 on the first day," he said on the second day of the show. "Today we'll see 125 if not more."
At Pooltradeshow, there was the typical mix of up-and-coming and independent companies showing graphic T-shirts, novelty socks, gift items and apparel. This year, the lineup included Los Angeles Apparel, the new T-shirt blanks company from American Apparel founder Dov Charney.
"We like Pool because we don't want to compete with [wholesale] apparel," Charney said.
Charney plans to limit the distribution of Los Angeles Apparel to wholesale accounts and a direct-to-consumer channel, which will launch in about a month.
"We've had wonderful support," Charney said. "I'm overwhelmed by the welcome. There's been a lot of goodwill."
Stitch, UBM's show for upscale, updated apparel and accessories, was bustling with activity.
At the Nally & Milly booth, sales reps were juggling back-to-back meetings with buyers.
Stuart Marcher, who represents the line in the Julie & Stuart Marcher showroom in Los Angeles, said traffic was steady on opening day and very busy on the second day of the show.
Marcher credited a lot of pre-show work, including emails, phone calls, faxes and mailers—"whatever we need to do"—to get the word out to buyers.
Business was also brisk at the Felina booth on the second day of the show at Curve Las Vegas. But opening day was not as busy, said Rob Gardner, vice president of sales for the Chatsworth, Calif.–based lingerie line.
Gardner was hoping to finish the show with another strong day.
"We need two of the three to be good," he said.
This season saw the launch of Coeur x Project, a tightly curated section of gift, lifestyle and accessories collections.
"Buyers are coming for ready-to-wear; they're coming for men's. These brands have an opportunity to rub elbows with a different kind of buyer," said Henri Myers, cofounder of Coeur. "People are coming through and [exhibitors] are making sales."
Sourcing at MAGIC this season shined its focus light on Vietnam, the country that is now the No. 2 supplier of imported apparel to the United States.
A group of more than 40 companies filled the Vietnam pavilion, which sat toward the front of the sourcing show at the North Hall of the Las Vegas Convention Center.
Vietnam had been expecting to rev up its apparel exports to the United States through the Trans-Pacific Partnership, a free-trade pact that was negotiated between the United States and 11 countries located around the Pacific Rim. But after President Trump vetoed the accord, Vietnam is going to have to work a little harder to compete with other low-cost manufacturing countries.
Giang Suong of Top Royal Flash Vietnam Co.—which has made clothing for Zara, Costco, Fred Meyer, Gap Inc. and VF Corp.—said his company, with seven factories and some 3,500 workers, decided to attend the show to gain direct access to customers. "We wanted to have a closer approach to the buyers and know more about the market," he said, noting that the company gets most of its business from an importer and wanted to cut out the middleman.
At the Sands and The Venetian
Sharifa Murdock, a partner at Liberty Fairs, estimated that the number of vendors was even with last year's show while the number of attendees dipped somewhat. "It's more quality than quantity now," she said.
Liberty vendor Jarah Emerson agreed that there were fewer attendees but praised the quality of those that turned out.
"You don't have a lot of people coming to the show saying that they are going to open a store," Emerson said, referring to attendees at past shows who came to the show before opening their businesses. Emerson, who represented the brand Engineered for Motion, said a tighter retail market had pushed out people who were not serious about the business.
Aaron Levant, founder of Agenda, estimated that buyer attendance was flat and the number of vendors exhibiting at the show had dipped less than 5 percent from last year. However, he said, show vendors reported increases in business this season.
Jeff Staple, of the veteran Agenda vendor Staple, confirmed that business was brisk. He said that traffic at his 30-by-30-foot booth—which was designed to resemble the rooftop of a Brooklyn building—didn't give sales reps much time for rest breaks. "We've been jam-packed busy," Staple said.
Jason Bates was at Capsule representing DRKN, a new high-end brand for video gamers.
"It's been busy," Bates said on opening day. "Given the state of the business, I'm happy if the pace continues."
The Offprice show was filled to the brim with goods that would make bargain hunters feel as if they had landed in shopping heaven. There were rhinestone-studded leather belts for $2.50 and Hawaiian shirts for $7.
The four-day show, which ran Aug. 12–15, always starts two days before the other apparel trade shows in Las Vegas, taking up a huge area on the ground level of the Sands Expo at The Venetian.
Many of the exhibitors have been attending the event for decades, bringing in overstock apparel and leftover inventory that didn't make it off store floors.
This year, exhibitors felt that buyer traffic was off a bit. Even the off-price market is feeling the competition from e-commerce sites selling goods directly to consumers. And there are just not as many stores out there.
"It feels like every show there are less and less people," said Ran Vaknin of David's Place, an off-price distributor based in Los Angeles. "There are vendors that have been showing here for 20 years who haven't shown up this year. It can cost as much as $40,000 to $50,000 to be here."
Sold out at WWIN
Retailers from across the country as well as from as far as Japan meandered through the various ballrooms that make up the Womenswear in Nevada (WWIN) show at the Rio All-Suites Hotel and Casino.
For the past two years, the show has been under the guidance of Urban Expositions, a company that organizes several gift shows around the company.
However, the organization of the show hasn't changed for years. The trade show is still at capacity and has no room to grow right now.
Exhibitors at WWIN saw good traffic the first two days and then slowed after that. But no one was complaining. Many vendors felt that there was renewed enthusiasm among retailers even if they were still cautious and guarded. "We are getting re-orders for pre-Fall, and that makes me happy," said Margaret Cox, who represents the Lindi line. Cox even got orders from stores that had not bought her line for the last couple of years. "We've had a couple of win-backs, which really makes me happy."