TRADE SHOWS
Agenda: Show Floor Debuts & With Look To Future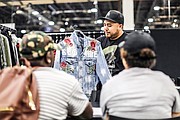 The Aug. 14–16 run of Agenda at the Sands Expo and Convention Center featured debuts and some new fashion styles. There also was a promise of change, said Aaron Levant, the show founder.
"Trade shows are a reflection of the health of the market. Direct-to-consumer is increasing tenfold, Amazon is becoming more powerful, there are more retail bankruptcies," he said.
Trade shows will continue to be a strong business, but he forecast that they will get smaller. Levant promised a revamp of the format of Agenda's Las Vegas show for its February 2018 run. The show might offer more educational content, he said.
"Education and inspiration are needed to turn around the business," he said. "[As a trade show] we got your attention. Can we help inspire you to make changes in the industry? That's what we want to do to make shows meaningful again."
For the most recent show, retailers including Nordstrom, Tilly's Inc., Pacific Sunwear and Las Vegas boutique Feature shopped the show looking for new styles.
Pioneering streetwear brand Staple celebrated its 20th anniversary by introducing a group of collaboration lines at the show, including a collection with prominent graphic illustrator Ron English, well known for his treatment of The Rolling Stones' lips and tongue logo.
Making a trade-show debut was 56 Nights, a streetwear brand owned by DJ Esco, a DJ for prominent rapper Future. Athletic brand Champion introduced its Champion Girl brand, a line of athletic-inspired streetwear for women, which included looks such as sweatshirt dresses.
Wil Eddins, founder of the Las Vegas boutique Institution 18b, walked Agenda for his new gig as a director of business development for the upcoming venture Wanderset, which will debut next month. Wanderset will mix e-commerce with content such as video and editorial. Greg Selkoe, founder of streetwear e-tailer Karmaloop, is the founder of Wanderset. Eddins said that he will continue running Institution 18b.
"There's nothing super new," Eddins said of fashion trends on the Agenda show floor. "Brands are digging into their closets and finding looks that were relevant in the 1990s. There are more oversized looks. The California skate look always will remain supreme."