MANUFACTURING
Shafer Exits Agave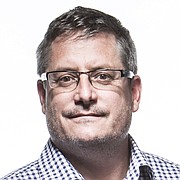 Jeff Shafer, the founder of Agave, a premium-denim line that has been sold at retailers such as Nordstrom, recently announced that he was leaving the label after a 15-year run.
Shafer had most recently served as Agave's creative director after Los Angeles–headquartered XCVI purchased the company for an undisclosed amount in May 2016. On August 1, Shafer posted a message on his Facebook and LinkedIn accounts announcing that he was going to leave Agave to start working on new ventures.
"I have worked very hard to integrate the two organizations (Agave and XCVI) to ensure the investment worked for the new owners," he said. "Given the state of the industry, I left Agave in amazing shape."
Shafer said that he made a commitment to XCVI to work a transitional period in order to ensure that Agave's brand identity, product quality and retail customers would be in the best condition for the new owners.
Agave started business as a men's-focused line. XCVI distinguished itself as a women's-focused company.
Along with other ventures, he will continue manufacturing the denim line Bluer, which is made in Los Angeles and sold at its direct-to-consumer website (www.bluerdenim.com).