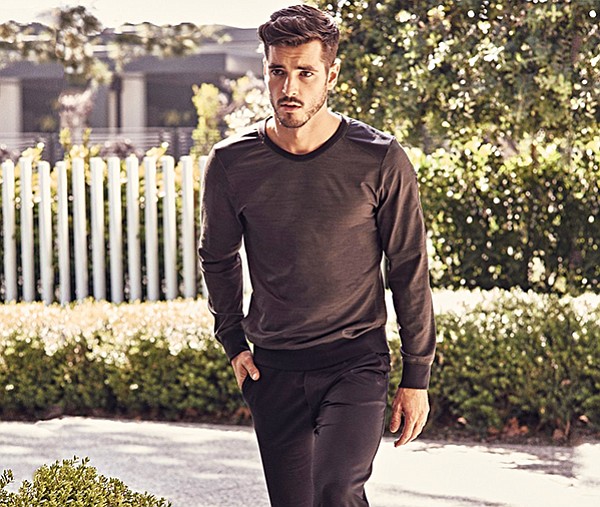 HIGH-END ACTIVEWEAR
EYSOM: Riding the New Fitness Wave
People told Stan Cheung that no man would pay $180 for a pair of athletic shorts, but the activewear maker begs to differ.
His Los Angeles–headquartered brand, EYSOM, which stands for Exercise Your State of Mind, is offered at high-end fitness studios such as Equinox and luxe boutiques that sell the label's gym shorts for men for $180. He said they are priced at not much more than it costs to make them and are designed for the guy who appreciates well-tailored clothing.
Cheung believes he is riding the crest of a trend that men will splurge on workout gear. Before Lululemon Athletica opened, the EYSOM founder met women who scoffed at the notion of paying more than $100 for leggings.
Years later, fashion leggings are selling for close to $800 at luxe department stores. Men's styles are riding a similar trajectory. "It's still relatively new," Cheung said. "There are not a lot of men's activewear players with a point of view out there. I saw this as an opportunity to create something new."
Universal Body, a luxe fitness fashion boutique near West Hollywood, Calif., sells EYSOM. The store's cofounder Scott Sykes also forecasts that luxe fitness will be increasingly embraced by men. Style will be more of a concern than sticker shock. "People want something different," Sykes said. "They want clothes that are going to last longer."
EYSOM started as an idea that won a contest in Esquire magazine's Axe White Label Collective competition in 2015. Cheung was selected to be part of the collective's group of designers in a program that included mentoring from fashion designer Billy Reid.
Reid's advice for fashion labels was to find a balance between running a business and creative freedom. Cheung took that advice seriously. He believes that there is a male consumer willing to support luxe fitness.
EYSOM uses high-end fabrics made out of recycled plastics and the clothing is manufactured in Los Angeles. Shorts made by EYSOM have shorter inseams, which include five, eight and 11 inches. EYSOM also makes T-shirts as well as sweatshirts and jackets.
Brand logos are small, and colors come in olive green camo, navy blue, charcoal and white for shorts.
Fit is crucial. The activewear maker complained that many athletic brands employ male fit models that are big, muscular men. For men who don't match that body type, athletic clothes might look baggy or too big.
"The clothes are designed for people to feel better about themselves," Cheung said. "It they look good on your body, you'll feel confident."
Photos courtesy of EYSOM.